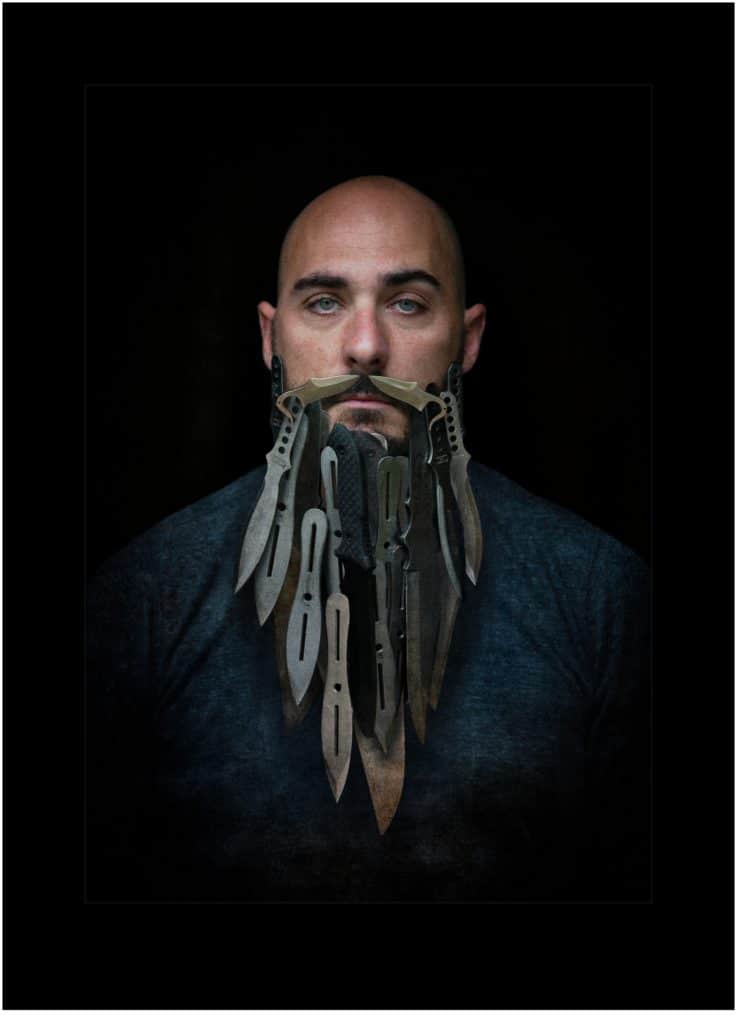 Creating images of people and their passions is one thing I love about being a photographer. For this concept, "Steel," I worked with a knive throwing enthusiast. I am thrilled with the results!!
The Process
Jay was nice enough to lend me, a perfect stranger, his throwing knives to create a "beard" out of them for the photoshoot. It took a bit of trial and error, but I eventually came up with the idea to use super strong fishing wire to link all these knives together. It was my best chance of not having a ton of photoshopping to do, as far as removing the fishing line from the photos, and the line was strong enough to hold the knives without breaking, which could have been disastrous considering Jay was literally wearing this beard with the tips of the knives dangling above his lap.
We took several photos of Jay in various poses and facial expressions without the beard, then had an assistant stand behind Jay and hold the beard on his face while I photographed him, and then we photographed the front and back of the "beard" by itself. Then, to create a "mustache" for him, he held his smallest knives up for a few photos, which would create his "handlebar mustache" in the final image.
I put all these photos together in a composite using photoshop and the final image is titled "Steel". It merited at the state level, but barely, and I decided not to put it through to district level competition. However, even though it didn't do well in competition, Jay was more than thrilled with the final product, and it makes a super fun addition to the beard series!