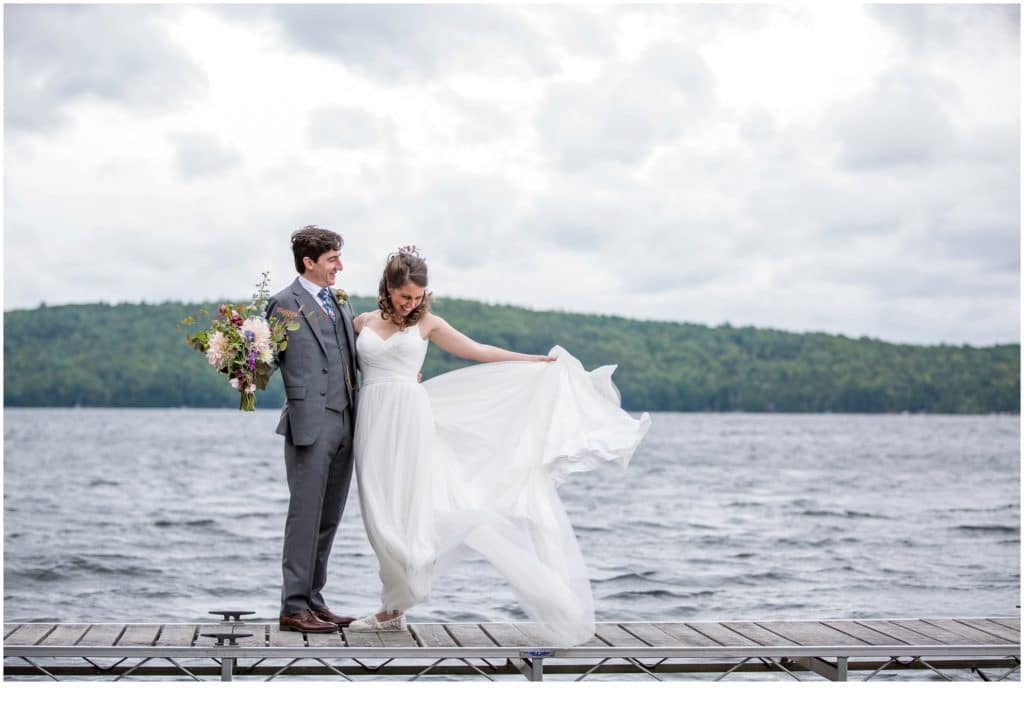 I love photographing a camp wedding! Rachel's family camp in Rome, Maine has been the location of the weddings of two generations before her, so the fact that Rachel and Dan came all the way from Alaska to be married here and honor that tradition was truly special. It was amazing to capture this day for them.
Dan and Rachel love to water ski, so they made sure to have Rachel's grandfather's antique red and white water ski in the boathouse where Dan prepared for his wedding ceremony.
Personal Touches
Rachel chose a flowy dress that would be easy to wander around and dance in, and for comfort, she stuck true to her outdoor spirit and wore flats. Who knew Toms has a shoe made for weddings!?! Very special touches came into play, including family heirloom handkerchiefs, wooden ring boxes that Dan handmade himself, a gold pocket watch handed down to Dan, and a full set of wooden accessories for Dan, including a wooden ring, a wooden tie clip, and wooden cufflinks.
Exchanging Love Notes
It's such a wonderful and personal moment I get to be part of, when a bride and groom open gifts from one another, and read a heartfelt note from one another, just before they see each other on their wedding day. Dan and Rachel chose to do this. Rachel received a beautiful diamond bracelet. Dan received a journal…. so special, in fact, that Dan (who NEVER cries), had a hard time keeping it together as he realized what he was holding in his hands. Rachel had written in the journal every single day for one full year leading up to their wedding. Each page reflected a little on her feelings that day, her love for him, and her growing excitement as their wedding day got closer and closer. This was quite possibly one of the most amazing gifts I have ever seen on a wedding day, and just being present to watch him pour over the pages in silent shock over her efforts was quite emotional.
First Look on the Dock
Choosing to do a first look is a personal decision, but one that is becoming very popular for several reasons. This couple chose to do theirs on the dock, and I love that I had a view from the other side of the boathouse to capture it. Rachel had to pull out her handkerchief for a moment and the two talked and laughed and became even more excited for the ceremony.
We used the time they had before the guests started to arrive for photos around the camp, and photos with their "VIPs". Rachel and Dan chose not to have a traditional wedding party, but they did have a group of friends that were quite close to them present while they prepared for the day. These men and women played special roles in the wedding day, but were more VIP guests than true wedding party, and I loved this idea.
A Unique Ceremony Entrance
Dan decided to take a canoe out onto the water and enter for his ceremony from the dock. The guests on the hill could see him rowing up, and the crowd roared for him as he approached. His parents met him at the top of the steps and escorted him the rest of the way to the arbor. Rachel approached from the farmers porch, escorted by her father.
I love that Rachel and Dan took my advice on what to put their vows in, considering the officiant was not hired and was instead someone near and dear to them. Since they could have their officiant read from anything they wanted, I told them to ditch the three-ring binder that I see so often and instead go for an old hard-covered book. That way the book, which appears in almost every photo during a ceremony, would add to the beauty of the day and not take away from it. In this case, Rachel decided to use her favorite book growing up, "The Kings Stilts," by Dr. Seuss!!!
I have to say, too, that their facial expressions immediately after their first kiss as husband and wife were knock-your-socks-off amazing. The best!
A Boating Break
Rachel and Dan exited their ceremony and went straight for the boathouse, knowing they had a few minutes before their guests would be on their way to the reception. They used that time to take her father's boat out, and allowed me to come with them for some super fun photographs! What a perfect surprise, too, when the sun came out for the first time that day, just as they got out onto the water!
A Reception at Snow Pond Center for the Arts
Snow Pond Center for the Arts in Sidney, Maine usually functions as a high school during the school year, but Rachel and Dan snagged a couple of the buildings for their reception dinner and dancing.
There were ball games on the lawn, group photos with college friends, and touching speeches inside. One in particular I thought was worth mentioning was by Rachel's father, who told the guests about a tin cup that Rachel had asked the family to donate their change to when she was growing up. The contents of that tin cup went to the homeless and those less fortunate than her family. Her giving spirit started at a young age. Her father had held onto that cup for decades and presented it to her during his speech, telling her to put it in her home and someday if she had a family of her own, to teach her children how to give to others the way their mother and father do.
After dinner, there was a short walk across the lawn to where a live band and dessert table were ready to kick off the rest of the evening. What a fun first dance between Rachel and Dan, which set the mood for the rest of the night. They chose not to have formal dances with their mother or father, and they also chose not to cut a wedding cake, instead focusing on their guests and live music and dancing.
What a thoughtful and caring couple with a sense of adventure and fun that helped shape one incredible wedding day!
Reception Venue: Snow Pond Center for the Arts
Linens: Childs Linen Service
Catering: Heritage House
Tents: Wallace Events
Tableware: Wallace Events
Flowers: Lazy Acres Farm
Music: The Tricksters
Hair: Jen's Hair Studio
Transportation: Northeast Charter & Tour
Wedding Coordinator: Julie Guerette