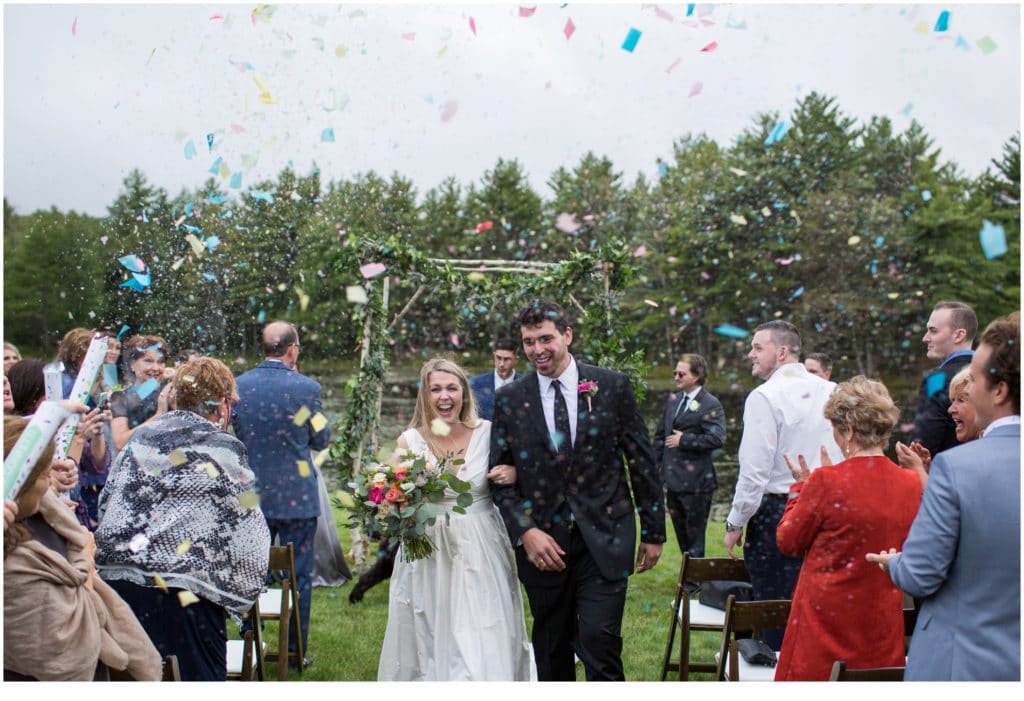 Parker Mountain Lodge in Strafford, New Hampshire was one amazing venue. It was a sheep farm eons ago, and the original buildings stand and are now beautifully decorated with authentic antiques.
Being Taylor and Zak's wedding photographer was nothing short of energizing. They are such wonderful and thoughtful people who smiled through an unusually cold day in September, laughing, going with the flow, and even having their dog Ziggy be part of the ceremony!
The Fun of a Farm Wedding
Having a farm venue that gives you full reign of the property is fantastic, since the wedding party can occupy any room they choose, and we always have a ton of options for indoor and outdoor photos. I love that Taylor chose this upstairs space to get ready. The antique artwork, chests, and cabinets added such a cool vibe, and the handwoven rugs and wide pine board floors made photographing the details so easy!
I love how much Taylor smiles and laughs, and her hair-down curls match her personality so well. I also adore that she put her own shoes on, something that her flowing dress allowed her to do since it wasn't as restricting as some wedding gowns, and this made for some amazing photos. It's always a treat when I can back up and photograph the quiet moment of a bride fastening her shoes. Don't ask me why, but it's one of my favorite parts of a bride getting ready! When Taylor was finished getting dressed, her mother surprised her with a small glass mouse that used to be Taylor's favorite item of her grandmother's, and both women wiped away tears as Taylor placed the little mouse in her pocket for the ceremony.
Downstairs, Zak and his crew filled the lodge and living room areas of the farmhouse. The exposed wood beams and wooden "derby hats" on the wall added a unique touch to space. His family heirloom watch and new buffalo cufflinks were the perfect additions to his suit, and the simple black ties looked so classy!
The Ceremony
The wind was pretty strong as Taylor walked down the aisle with her father, and just as she rounded the corner where Zak could get a good look at her, her long veil caught a gust of wind and flew to one side, along with her lightweight ballgown style dress. The crowd gave a collective sigh in awe of the moment, and I'm so happy I was able to capture it as it happened.
They decided to write their own vows. Or, as Zak always does, he simply spoke from the heart, and in such an eloquent way you'd think he had memorized lines from a movie.
The recessional was spectacular! Photographing confetti as a couple walks back down the aisle is something I cross my fingers for at every wedding. It brings such a fun aspect to it, creates some great expressions, and as a photographer I simply have a ton of fun photographing recessionals like these. Taylor and Zak were originally not going to have confetti, but Taylor's mother found biodegradable confetti cannons and when they went off it was a complete surprise to Taylor and Zak!
The Importance of Scheduling Enough Time
One thing I think almost all couples underestimate is how much time to give for fun and creative photos of the wedding party and of themselves alone around their venue. Zak and Taylor made sure to schedule in extra time and make their family photo list rather short in order to give me enough time to create some truly one-of-a-kind photos for them. The perfect toss of a dress or veil, special requests (like their request for a "photo with the creepy house in the background"), as well as composited images of the wedding party looking like they are the ad for a television series, all take time.
The photo you see of the groomsmen together took only about 10 minutes to create but is a combination of 9 images composited together to create this look. 10 minutes on a whirlwind day like your wedding day is a lot of time, but this image will soon be hanging, I'm told, in the groom's "guy room" in their new home. Well worth scheduling in the extra time!
A New Take on a First Dance
Taylor and Zak had a simple entrance for their reception, which didn't include their parents or wedding party. The toasts were heartfelt, and even Zak stood for a welcome speech (which of course he didn't prepare ahead of time but it still came out perfectly). And for their first dance together they chose The Lava Song from a Disney Pixar short film. The song is quite long, and they knew many of their guests had never heard it before, so they decided to project the film on the inside of the tent and allow guests to watch for a bit before they quietly stood and walked to the dance floor without a formal introduction to their first dance together as husband and wife. I have to say, it was not your typical first dance, but it was absolutely sweet and romantic, and dancing with no formal announcement made it feel so organic. I totally swooned over that moment.
It was a beautiful farm wedding, this couple wowed me at every turn. So willing to make time for photo ideas, so funny and smart and welcoming….. I really hope our paths cross again!
Cake: Three Sisters Bake Shop
Planning: Special Events of New England
Catering: Tuscan Kitchen
Flowers: Heidi H. Designs
Farm Venue: Parker Mountain Lodge
Makeup: April Gusler Makeup
Hair: Sister-in-law
Dress: White Dress by the Shore
Suits: The Black Tuxedo
Officiant: Best Friend