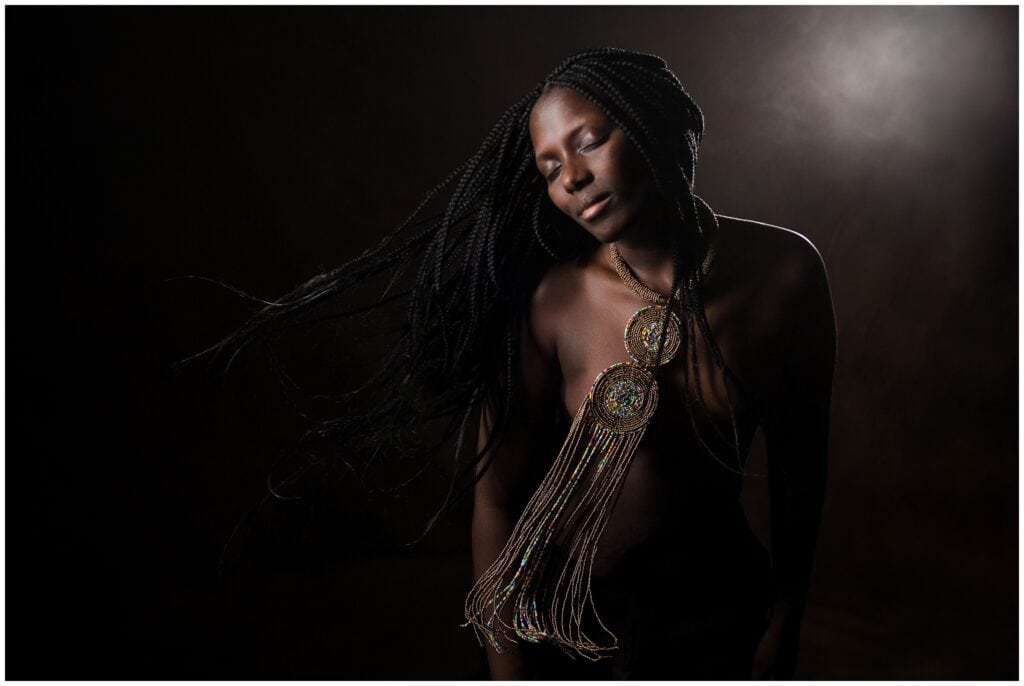 A fine art or concept shoot is a personal endeavor for me. It begins as an idea in my mind, a creative vision that I want to bring to life through photography. Recently, I had the opportunity to visit Kenya, where I had a remarkable experience. During my time there, I came across a group of talented women in one of the villages who crafted exquisite hand-made necklaces. These necklaces, adorned with delicate seed beads, were truly breathtaking. I couldn't resist acquiring a couple of them, specifically the one I have photographed here in gold with structured round discs. Now, these necklaces enhance the walls of my living room, transformed into captivating pieces of artwork.
The concept behind this shoot was to showcase the incredible beauty of the necklace from Africa and simultaneously celebrate the inherent beauty of the female form. Additionally, I wanted to include the large beaded necklace that covers the models chest which is not from Africa, but I felt would be a nice touch to the session. When I put out a call for a model, I requested an African American woman with dark skin who would feel comfortable posing nude. As soon as I saw Nabega's photographs, I knew she was the perfect fit. She's confident, has stunning skin, and gorgeous long braided hair. Nabega's talent and dedication truly shone through, and she absolutely nailed the essence of this photo shoot.
I had the best time bringing my concept shoot to life with the help of Nabega. The end result is a collection of photographs that encapsulate the essence of fine art photography, inspired by Africa, and brought to life through the creative collaboration between the craftsmanship of the necklaces and the artistry of Nabega as the model. Thank you Nabega for your amazing work!