I love creating images for competition and it is even better when it is something that could work with clients. This award-winning composite image took some work and I love the result.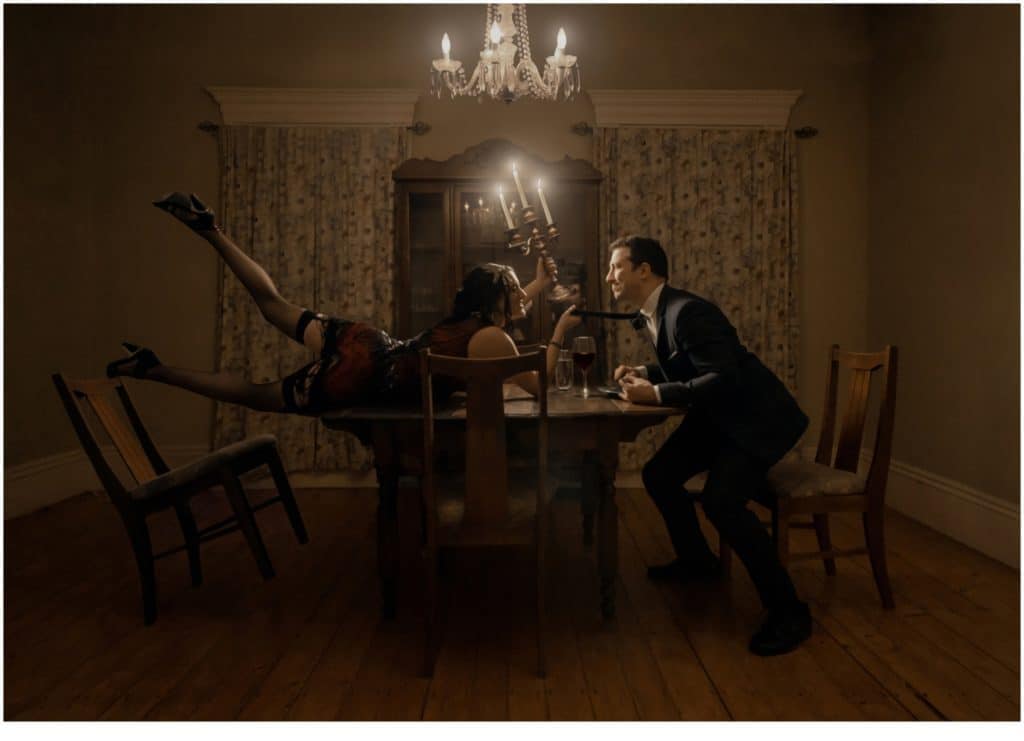 The concept for the final image you see above has been brewing in my mind for a little bit and I had to piece the thoughts together. Much like I did with all the different elements in the work. When looking at it you wouldn't know it was made up of multiple images. And that is the point.
Lighting is key to composites as it all needs to look natural. So I had to shoot each element a light it in a very specific way. Check out the other images below that were used to create the final look.
Starting with the gentleman I had him l lean over as if his tie was being pulled by the woman. Then, working with only the woman I had a couple of shots that I liked, one with the legs in the right position and the other one had her upper body locked in. The final piece was the tipped chair that would appear to be hovering.
After the full room was created I needed to get the other elements to fit. The candelabra she is holding and the chandelier. The lighting also need to fit. Lighting the candelabra needed to mimic the light that would have been coming from the chandelier hanging from the ceiling.
Putting all these together to create an award-winning composite image takes some skill in photoshop and an eye for tiny details to make sure everything lines up perfectly.
Imagine having an image like this hanging on your wall. Contact me and let's talk about what can create!