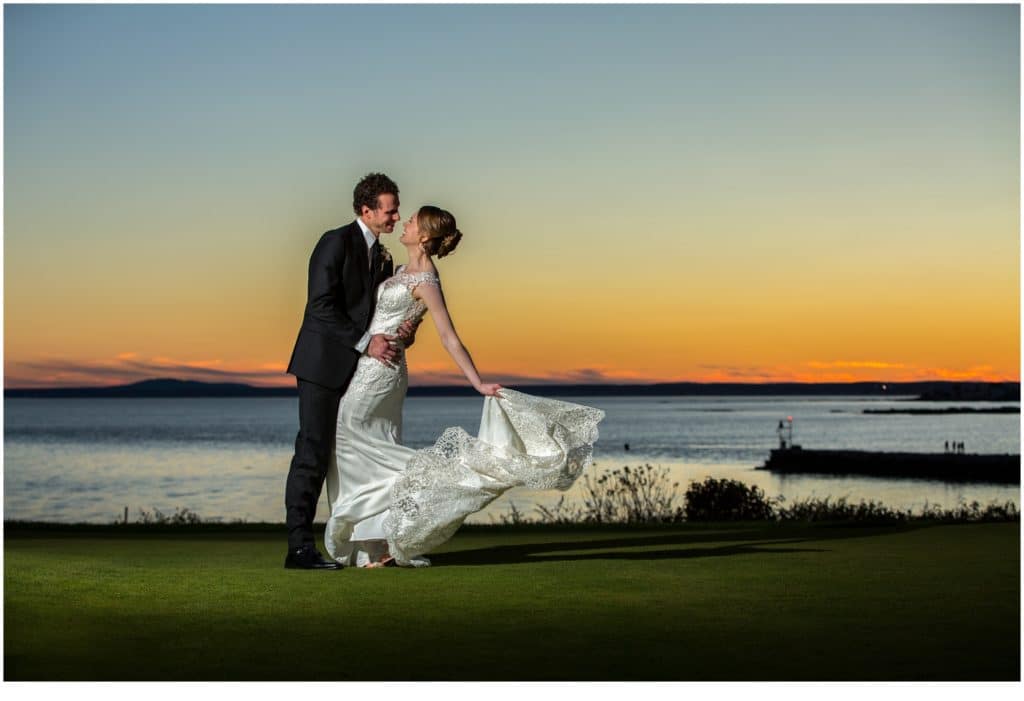 A classic love story from start to finish complete with a classic Colony Resort Wedding on the coast of Maine. As a wedding photographer, I love stories like this
LOCAL LOVE
Justin grew up in Massachusetts, and Emily grew up very local to me, in the Capitol area of Maine.  Justin moved to Maine and opened a seafood and produce market in Hallowell where Emily's family shopped from time to time.  He is known for having friends "everywhere", always being stopped for a conversation, no matter what state they are in, or town they are visiting.  He's just that much of a good guy. Emily says when she was younger she would go to his market and talk to "the seafood guy" when her parents would send her for groceries, and one day he chased her out of the market and said, "Hey, do you have a boyfriend?"  He pursued her relentlessly, their friends and family say.  And who wouldn't find such a down-to-earth and gorgeous woman worth pursuing!?
Eventually, Emily wound up having to live in Massachusetts while Justin was here in Maine running his business, but just a month or so before their wedding she was able to move back to Maine and I remember how excited she was as she talked to me about it.
THE COLONY WEDDING
Justin and Emily were married at The Colony Resort in Kennebunkport, Maine.  They loved the architecture and classic old-world style of the lobby and reception room. Their details were also timeless and classy, with simple elegant stationery, and delicate gold jewelry.
Justin chose a classic look, and Emily's dress was beautiful and form-fitting, covered in lace with buttons all the way up the back to her neckline. She chose a long veil as well, which I love because we can do so much with long veils in photographs!
Their wedding colors were perfect for autumn in Maine, with deep reds, oranges, and yellows, done in a way by Skillins Greenhouse that maintained a high-class look without the pumpkins-and-hay-bails kind of vibe, which may be perfect for a barn wedding, but certainly doesn't mix well with the elegance of this Colony Resort wedding.
CHURCH WEDDINGS
The tradition of a church wedding is fast disappearing, at least for weddings here in Maine, in my experience, but Justin and Emily wanted to honor their families and religion and decided to get married at The Meetinghouse in Wells, a church with a wonderful balcony where we took photographs immediately after the ceremony. Family portraits were taken after the ceremony on the steps of the church, where fall florals from Justin's market lined the walkway.
THE MOST FUN KIND OF RECEPTION
The Colony's grounds were a wonderful place for an outdoor cocktail hour area where their guests could take in the view of the ocean, within walking distance of the venue.
We took time to take some wedding party photos on the golf course with the resort in the background, and after dinner we took Justin and Emily outside for some sunset images as well.
The party inside was unstoppable, with Mixology, playing some amazing live music.  Live bands are making a huge comeback for weddings lately, and although most are probably more expensive than a DJ, I believe they are worth every penny and bring something to the party that is unique and interactive for guests.
When all is said and done, this was one heck of a day, celebrating two caring and giving people. I'm sure I'll bump into them around town, and I know I'll see Justin, who will greet me with a hug, every time I see him at the market.

Brides Dress: Andrea's Bridal
Bridesmaid Dresses: Nordstrom
Hair: Gina Mellone
Make-up: Veronica Nunes
Groom's/Groomsmen Tux: Generation Tux
Flowers: Skillins Greenhouse
Cake: Let Them Eat Cake
Band: Mixology
Ceremony Musicians: Brad Longfellow, Danny Rand
Officiant: Meirwyn Walters
Videographer: Weckle Films
Transportation: Maine Limousine Service
Venue: The Colony Hotel and Resort
Ceremony: The Meetinghouse