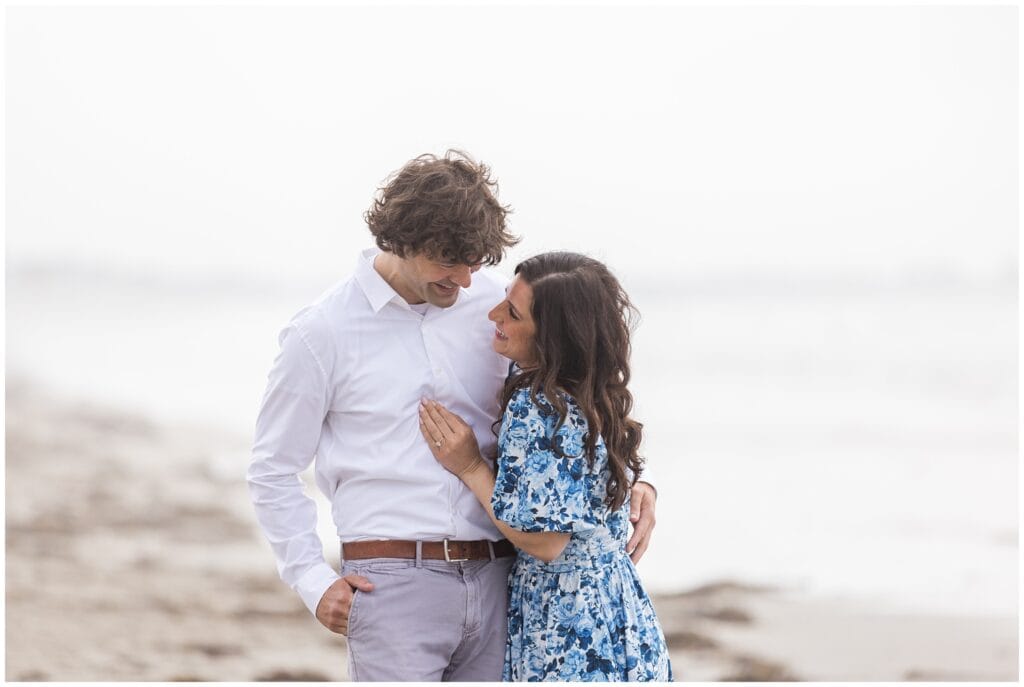 Saira and Devin's engagement session at the Footbridge Beach in Ogunquit, Maine was a unique and exciting experience, as they decided to have their photos taken just weeks before their wedding. They didn't need the photos for their save the date cards or to display at their wedding. Instead, they saw it as an opportunity for all of us to learn and grow together in preparation of me capturing their big day. Saira and Devin wanted to become familiar with my photography style and understand how I could capture their energy as a couple. Similarly, I aimed to discover the best ways to showcase their genuine smiles and personalities, explore poses and find what worked best for them. This way, I could ensure their wedding day photos truly reflected their unique connection.
The Notebook… Maine Edition
I have had the pleasure of photographing many adventurous couples, but Saira and Devin took it to a whole new level. Their willingness to get down and dirty amazed me! Despite knowing that rain was in the forecast, they showed up for their engagement session without umbrellas, fully ready to embrace whatever nature had in store for them. Saira, with her perfectly curled hair, fearlessly allowed it to get drenched in the rain. They even ventured to the beach, rolling around in the waves, creating their own enchanting "The Notebook" moment on the footbridge. It was an awe-inspiring sight, and I couldn't help but admire Saira's stunning blue and white dress with its poofy sleeves that made me swoon with delight.
A Timeless Love Affair
There was an undeniable romanticism in Saira and Devin's engagement session. Every minute spent capturing their love was an absolute joy for me. The rain added an extra layer of magic to the atmosphere, as if nature itself was celebrating their connection. The way they embraced each other, their laughter echoing through the raindrops, created an ambiance that was simply captivating.
Saira and Devin's engagement session in the rain at Footbridge Beach was a memorable experience to say the least! It was an absolute privilege to be part of their engagement journey and capture the beauty of their love amidst the raindrops. I can't wait for the wedding!