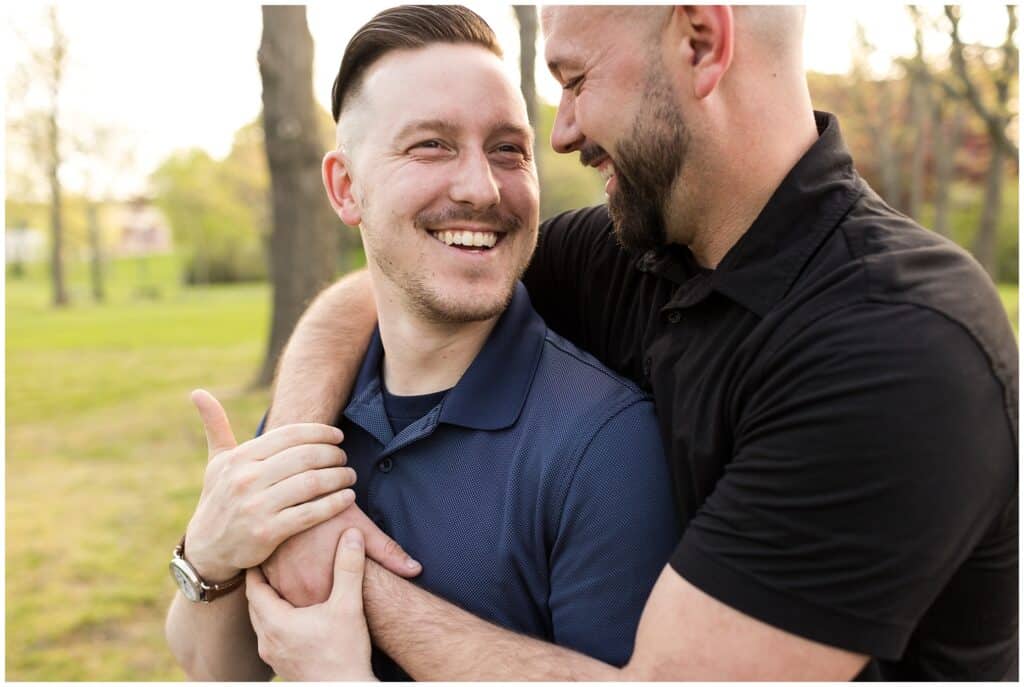 Who says you have to wait until you're engaged to celebrate your love? Couples sessions are a beautiful way to honor and capture the essence of a relationship, just like an engagement session does. They provide not only cherished memories but also stunning photos to adorn your home and share on social media, letting the world know that you've found that special someone. Joc and Matt's couples session exemplified this sentiment, radiating their deep connection and reminding us that love knows no timeline.
A Bond Forged in Cocktails & Laughter
Joc's presence in the wedding industry here in Maine is nothing short of impressive. As the owner of The Night Cap, a portable bar serving thoughtfully crafted signature cocktails, he brings a level of sophistication and flavor that is unmatched. If you've ever had the pleasure of dining at State Lunch in Augusta, Maine, chances are you may have encountered Joc, as he worked there for some time inventing and crafting the best cocktails in Maine, in my opinion. The idea to bring this level of class to weddings is brilliant. It was at State Lunch where Joc and Matt's friendship took root, eventually blossoming into an extraordinary relationship.
I adore Joc, as he and I have worked together before, most recently on the styled wedding shoot, Springtime Wedding Inspiration! I was thrilled to meet Matt during their couples session and instantly loved him! Matt's infectious smile and laughter resonated from the depths of his heart. The energy between the two of them was a delightful mix of playfulness, sweetness, sarcasm, and boundless enthusiasm, with glimpses of their passionate connection shining through the lens. Joc and Matt truly embody the real deal when it comes to love and companionship.
An Epic Love
Matt, in true creeper style (his words, not mine. LOL!), saw Joc online and was curious about him as Joc was successful and well-loved by his community. Summoning his courage, Matt got up the nerve to say hello online, and his heart skipped a little with nervousness, but Joc answered. Their initial online conversations led to a fateful meeting at State Lunch, where their connection flourished late into the night, surpassing the closing time. While both were not initially ready for a serious relationship, they decided to foster their bond as friends, supporting each other in their individual journeys of healing and personal growth. Throughout the seasons, their friendship deepened, as they shared walks with their beloved dogs and provided unwavering support for one another. It was only after a year of nurturing their connection that Matt realized his feelings for Joc had grown past just being friends. After another summer passed, Matt got up the courage to tell Joc how he felt, and he found out Joc felt the same way. Their love story is a testament to patience, friendship, and the transformative power of time.
"A Gay Disney Fairytale"
Matt fondly describes his relationship with Joc in the best possible way, "Joc became my best friend and I wasn't even sure he knew it. It's the love story you dream about". And then, of course, in true Matt style, he added in a little joke "if there was a gay Disney fairytale, it would be us. But it's more like David and Patrick, and I claim Patrick status". Hahahaaa!! How on earth can you NOT love these two?!?!
P.S. I'm envious of this type of love story. It really is what we all dream about, and I love to hear stories like theirs because it gives me hope that someday this kind of story will find me, too!
So much love for Joc and Matt. And thank you for letting me document your story, guys!