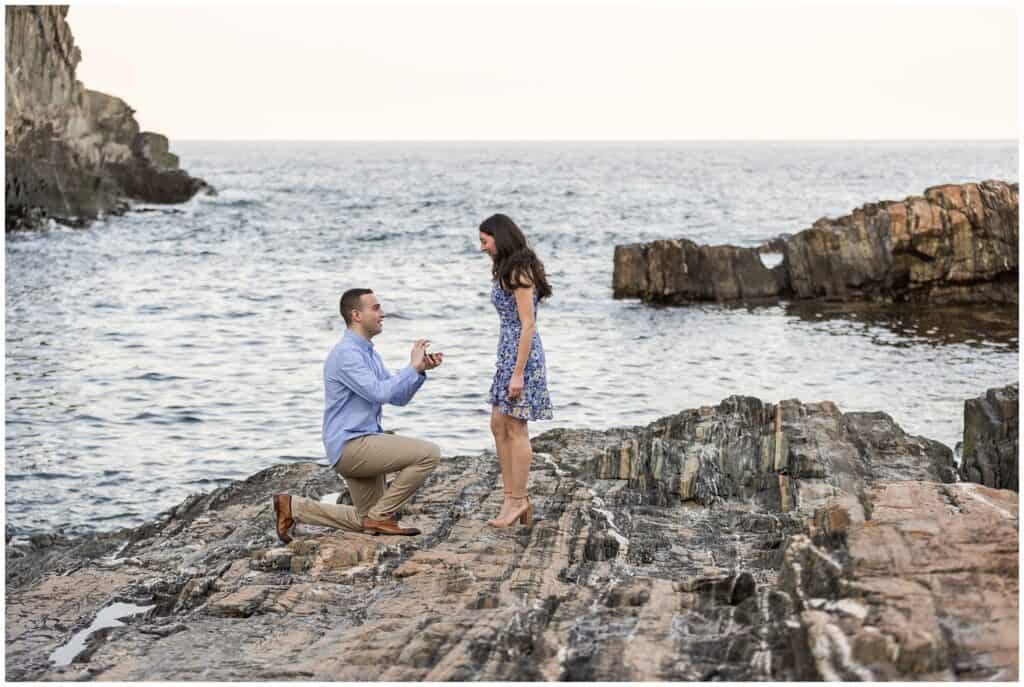 Josh and Gaby's surprise proposal was the definition of perfect! From the location, to the weather and of course the surprise itself! It all started when Josh stumbled upon my photography website while searching for a photographer to capture his proposal. Little did he know that this chance encounter would lead to a remarkable connection between us. As we chatted and planned for the proposal, we shared a heartwarming realization—Gaby's name was the same as one of the last couples I photographed at the breathtaking Cliff House in Cape Neddick, ME.
A Love Meant To Be
Throughout the session, I learned more about Josh and Gaby's incredible history together. It turned out that their love story extended far beyond their current chapter. Their parents had been close friends even before Josh and Gaby were born, and they had grown up playing together. Their childhood connection was captured in precious photographs, a delightful surprise revealed by their parents years later. Life took them on separate paths as they moved away, pursued their own dreams, and forged their individual journeys. However, destiny had other plans in store for them, and their paths converged once again. Josh was enamored with Gaby and asked her out, thus setting the stage for a love story that defied time and distance. Their reunion was nothing short of magical, igniting a love that was truly meant to be.
The Surprise
Josh and I brainstormed a plan to surprise Gaby with the proposal while still incorporating the photo session element seamlessly. Since this couple had experienced several photo sessions together before, we decided to pass it off as just another couples session. This way, Gaby wouldn't suspect a thing, and she could dress up for the occasion without any need for elaborate explanations… which even meant wearing heels on the cliffs! However, to ensure Josh knew the precise moment to get down on one knee and ask Gaby to be his forever, we devised a clever system of code words and signals. It was our secret language, allowing us to synchronize our movements and capture the genuine emotions that would unfold during this monumental moment.
The Perfect Proposal Location
I am proud to be on the preferred vendor list at the magnificent Cliff House. This amazing venue holds a special place in my heart and remains one of my all-time favorites. The rugged cliffs, crashing waves, and breathtaking views provide an awe-inspiring backdrop and captures Maine's beauty. I never tire of working in this picturesque location, embracing the opportunity to navigate the rocky terrain alongside countless couples and breathing in the salty Maine ocean smells.
Capturing Josh and Gaby's surprise proposal at Cliff House was a truly memorable experience. From our unexpected connection to their remarkable love story, every aspect was infused with a touch of fate. I wish the happy couple nothing but love as they look forward to their special day!