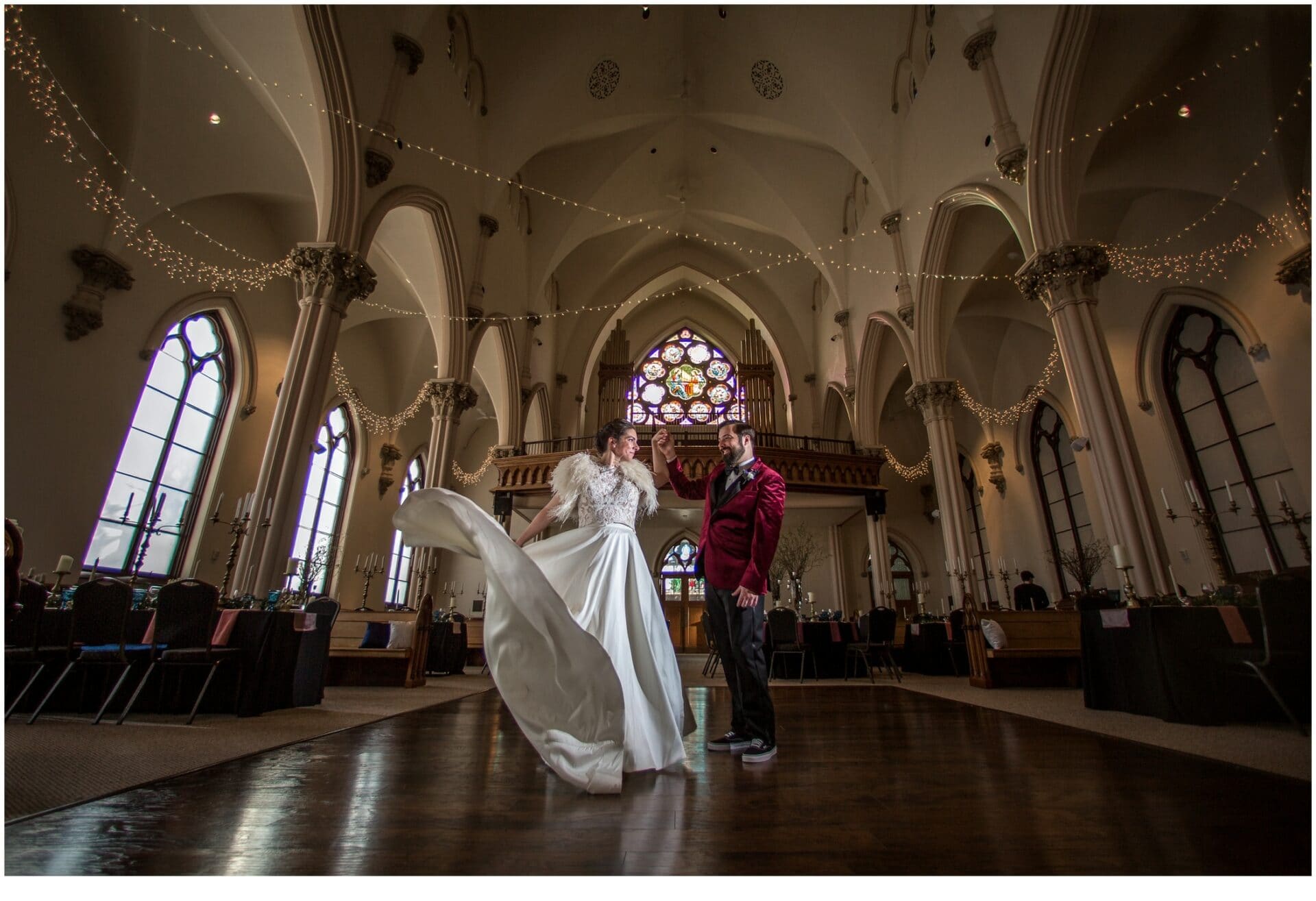 Meg and Bill wanted their wedding to be anything but cookie-cutter. Their reception colors were dark and mysterious with candlelit romance, and their attire was from a time all but forgotten mixed with modern pieces. I loved that they chose Agora Grand in Lewiston, Maine as the venue for their vintage-inspired winter wedding. Agora is a stunning venue that offers cathedral (literally) ceilings and a space large enough for I'd dare say 300 people, yet still feels comfortable with a guest list of under 100.
THE GUYS
Bill and his guys went for velvet suit jackets. What a unique and inspiring choice for a vintage-inspired winter wedding. While the groomsmen wore black, Bill chose a deep red jacket. They got ready in one of the rooms at the Inn next to Agora, which is part of Agora Grand's property, and the room fit the mood so perfectly with crystal decanters, a fireplace, and a chessboard (which we used later for what turned out to be an International Photographic Competition award-winning image of Meg and Bill at the chess table…. the second IPC award-winning image I've taken at this venue).
THE LADIES
Meg and her bridesmaids used the balcony section above the reception area for their preparations. Meg's flowing dress (with pockets!) was buttoned up the back and her mother helped her put on her feather shawl, which was such a one-of-a-kind piece for her attire! The stained glass windows in the room where she was dressed spread little blocks of color around the room as she slipped on her red velvet shoes.
FIRST LOOKS ARE NOT JUST FOR THE WEDDING COUPLE
More and more of the couples I photograph are opting to have not only the first look with each other, but also the first look with their parents or important figure in their life, prior to seeing each other for the first time. Often, the person walking a bride or groom down the aisle on the wedding day has just a few moments before the ceremony to line up, bustling activity all around, and take a breath before walking. But allowing a parent, step-parent, or sibling the opportunity to have a moment alone with you before the ceremony can be wonderfully fulfilling and allow those important people in your life to have their moment with you, and make it more meaningful.
Once first looks were finished, and the first look with her groom, photos of Meg and Bill were taken around the property, then we added the wedding party to the mix before preparing for the ceremony.
THE CEREMONY
The ceremony was like most others, but with a little surprise and a little laughter. Meg stepped on her veil a few times getting into place and decided to make a joke of it for the crowd halfway through the ceremony, just before a guest singer appeared. A guitarist/vocalist she hired just to sing a song for Bill.
A CANDLELIT RECEPTION
The reception area was, by design, moody and lit almost solely by candles. I LOVE this look, and I'm so glad Meg and Bill trusted me to photograph it properly, to maintain in their photographs the vision they prepared so carefully for their guests. Photographing a dark ceremony or reception that is lit only by candles is not something that most wedding photographers are comfortable doing while maintaining the "feeling" of the room. In fact, I'm often hired to photograph darker venues and venues with high ceilings because couples are referred to me by other photographers who know I can do the job, and that makes me feel incredible!
The end of the evening had Meg and Bill and I outside in the cold for a photo of the iconic Agora archway, and I made sure to do something creative for them, using a blue colored gel to light the scene and give it all some drama.
Meg and Bill are warm and generous people whose laid-back personalities never cease to amaze me. I loved photographing this vintage-inspired winter wedding!
Venue: Agora Grand Event Center
Caterer: Blue Elephant Catering
Planner – Coordinator: Kelly O'Hara, KOH Events
Floral: JNG Event Consulting
Hair & Makeup: Glam Kulture
Dessert: The Italian Bakery Products Co
Rentals: A+ Party Rentals