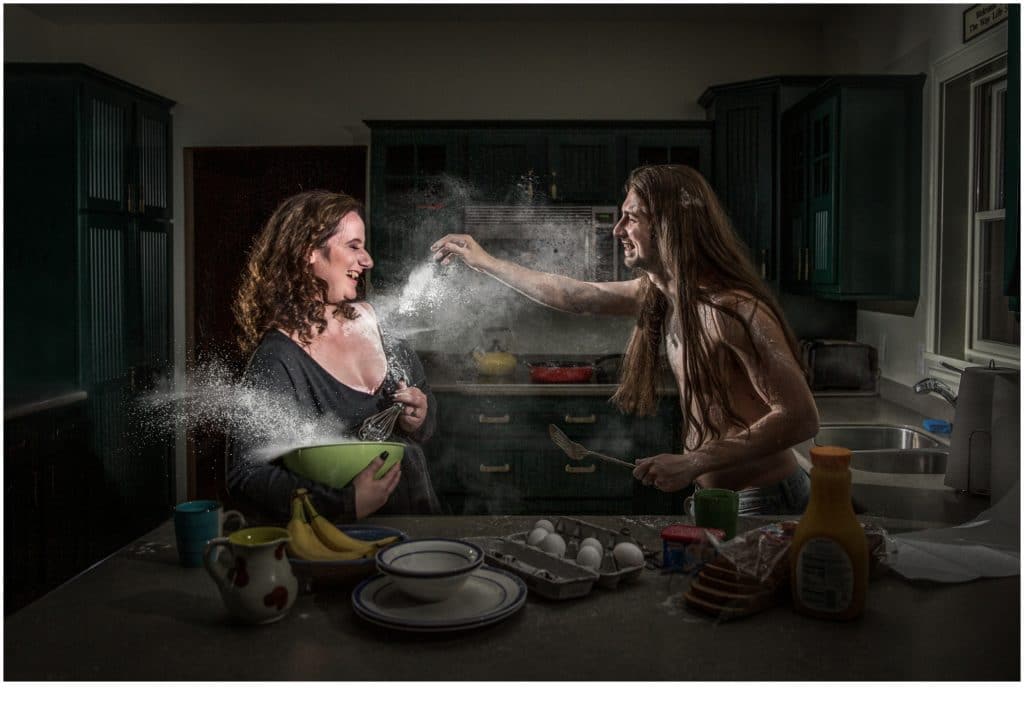 This couple made their vacation to Maine even more special with a couple's boudoir session to celebrate their relationship. I had a blast photographing these two.
Boudoir is an amazing, uplifting experience on your own but when you bring your partner into the mix it has even more meaning. These two wanted to make the most of their vacation and booked a session at their Airbnb. They had some requests for photos, as well as giving me the freedom to come up with my own creative ideas. They were happy to roll with it and the images turned out amazing!
With ample room in the kitchen, I had an idea to create a food fight scene. To me, romance is about playfulness, and I imagined a cute scene of a couple that decide to have some fun while making breakfast. They were all for it and really played it up.
Naturally, after a food fight, you have to clean up somehow. Using the shower's glass doors to shoot through, I added colored gels (their favorite colors) to give the images a little more pop. The reds and blues created a dazzling color wash and highlighted specific parts of the couple while others fell into shadow. I love how the colors blended and reflected off the water and shower door.
The Airbnb they rented also had a hot tub, and I'm glad they were willing to hop in for some creative photos that look like they're in some amazing spa, and not a hint of their real surroundings (a deck and patio furniture!).
These images will be a reminder of the fun time this couple had and really tell a story of their trip. Let's create a story for you and your partner with a couples boudoir session.
Hair and Makeup: Tiffany Stines with Retro Beauty by Bombshells