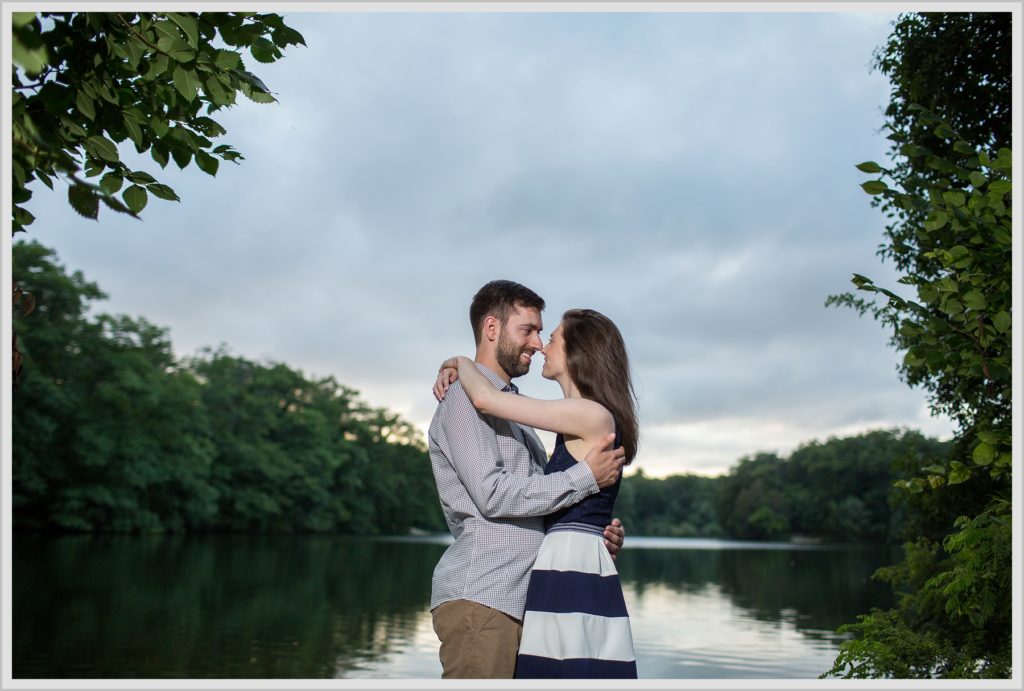 I love when a location is special to the people I am photographing. Keeping it close to home is important to Theresa and Corey.  The vibrant greenery along the trails around Horn Pond in Woburn, Massachusetts gave us plenty of places to use as a backdrop. I love the images of them in the trees sharing a moment with each other. I even threw in a light behind them to give the images a little different feel.
After a quick outfit change into something a little more casual, we continued on and had a little fun. Theresa jumped on Corey for a quick piggy-back ride and there was a lot of laughter. You can tell how much they love each other by how they look at each other. We ended the evening with the blue glow of dusk over the pond. A sweet way to end this Horn Pond Engagement.
During the session, Theresa commented that she recognized a high school classmate, Jay, from Cat and Jay's engagement session I did. Small world! I love being a photographer in New England, working with couples in and outside of Maine. Venturing to new locations and venues is so exciting. Their wedding is at The Barn at Bradstreet Farm in Rowley, MA, today actually, a gorgeous venue not far from where they live. Congratulations to you both. I loved working with you on the big day!!