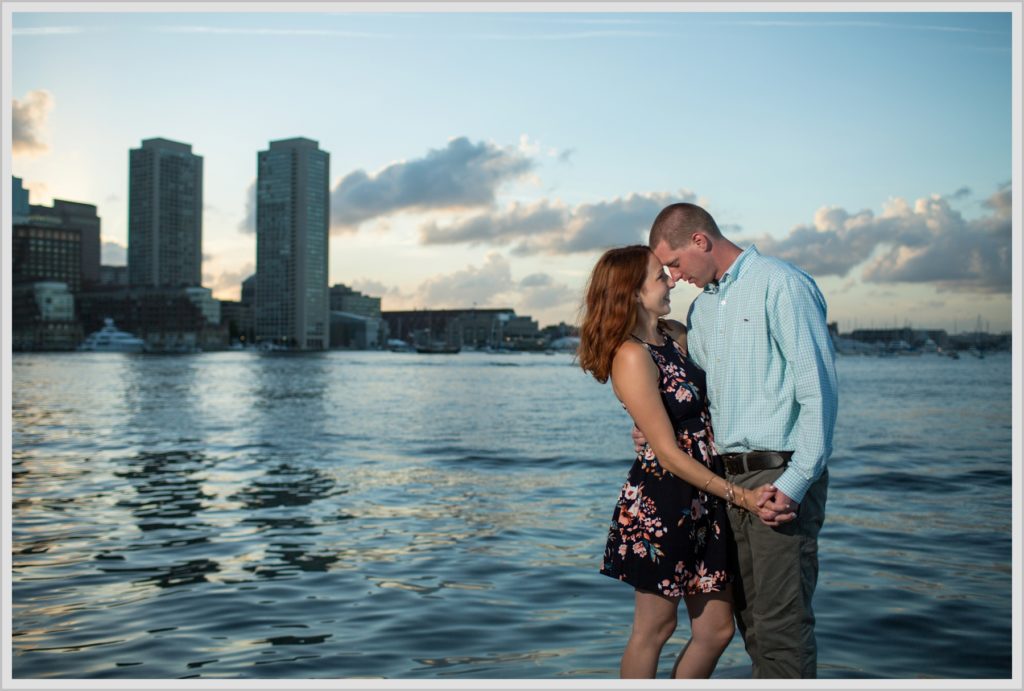 I first met Cat at her sister Amanda's wedding last year in New Hampshire. I had the honor of photographing Amanda's wedding (check out Dan and Amanda's Wedding here), and they were so impressed that Cat hired me for her wedding immediately!  The two sisters are incredibly close, but live very opposite lifestyles.  While Amanda and her husband love the mountains, hiking, and roughing it, Cat and Jay adore city life!
Cat and Jay live in Boston with their adorable kitty cat, and they asked me to photograph their wedding next June.  The wedding will be held in Boston, just minutes from their home, and they wouldn't have it any other way.  They adore the city, the lights, the activities, and all Boston has to offer…. so when it came to choosing a location for their engagement photos, they didn't think twice about having me come to the Seaport area and wander around Back Bay with them, stopping in several places for photographs.
We used a fantastic dock that featured a wonderful sunset sky with the city in the background, and then walked around a few blocks to find this amazing little shopping square where there were strung lights, creating the perfect spot for a dance together! I LOVE Boston, and when I'm asked to photograph there it's always an adventure, using the skyline, the huge glass windows for reflections, and the night lights for a creative backdrop. A photographer's dream!!
I also love that these two bravely choose to take the risk every day of losing each other, as Jay is a police officer in the area.  He gives selflessly to protect us all, and the stress they must endure each and every time he takes a shift is something I can't even fathom.  Hats off to this couple for being not only two fun (and funny!) people, but also for serving and protecting the city.  If you see him around, thank him for all he does for us!