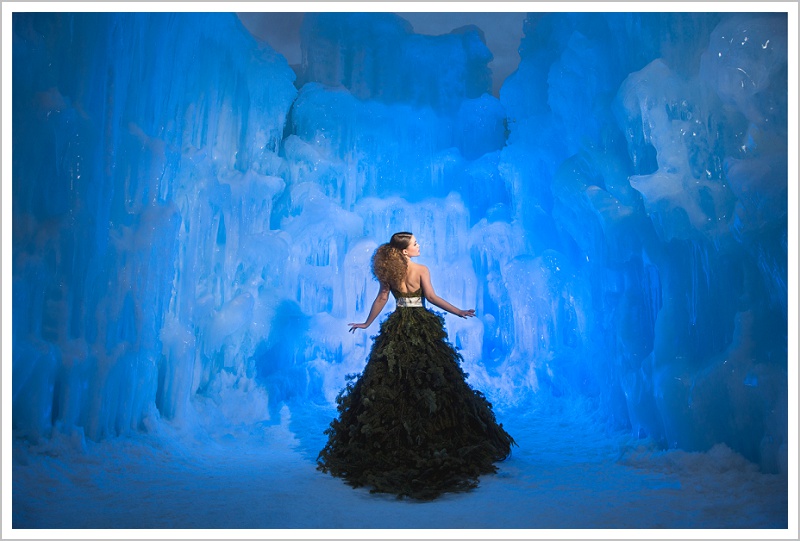 Seeing a crazy idea come together like this is an incredible feeling. A custom made dress, amazing models, and a beautiful location. What can I say I LOVE how these turned out!!!!
This idea was one that I came up with and wasn't sure how to go about designing and actually making the dress, as it required using real living pine trees! With the help of  Rick and Maila of Couture Styles in Oakland, Maine we was it to fruition! I can't thank them enough for their skills and willingness to be a part of this concept.
The colorfully striped dress was purchased specifically for this shoot and I love the contrast from the solid ice and the flowing fabric of the dress.
It certainly takes a team to make a shoot like this happen.  The amazing hair was done by Alisha Salisbury from New York.  Makeup was by Hanna Jalbert of Beauty Couture in Saco, Maine.  And let's not forget the brave models, Maiah and Morgan, who handled the incredibly cold temperatures like professionals!  You'd never know these young ladies were High School and college-aged women who I had photographed in the past.  Everyone who contributed made this concept come to life.
The location was simply stunning and was the perfect backdrop for this idea. If you haven't been to the Ice Castles in Lincoln, New Hampshire you have to check it out. The ice is illuminated in varying colors and glows like something out of a fairy tale. We had so much fun, drawing a huge crowd that watched us work and took photos with their cell phones, and stopping to allow little children to take photos with the "princesses" they were sure were related to Frozen's Elsa and Anna.  So sweet.