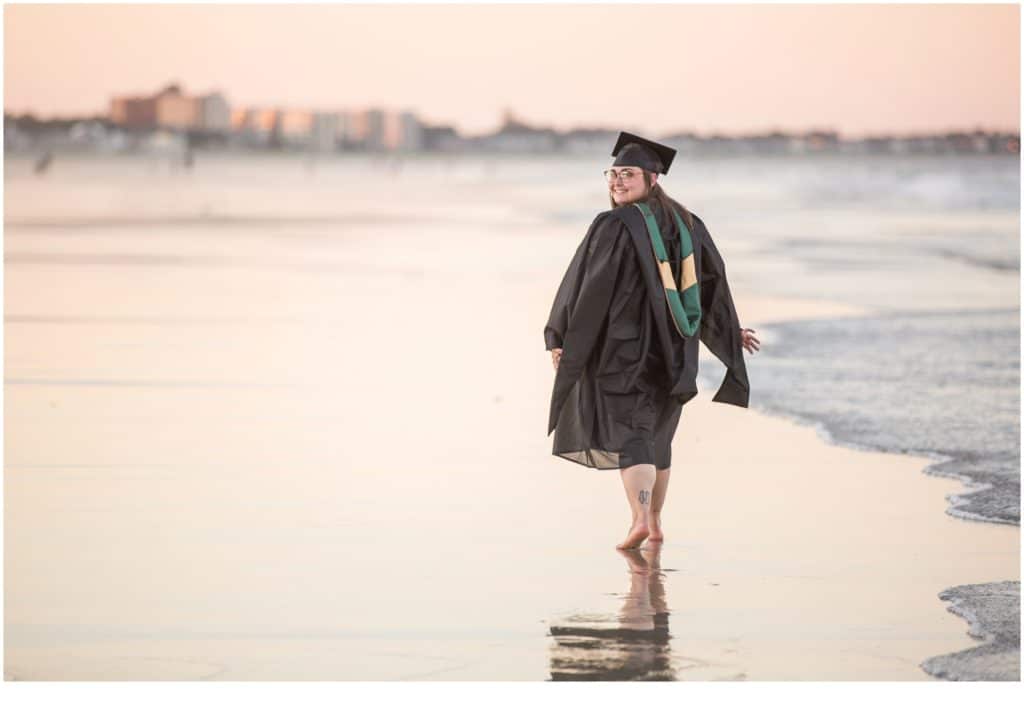 I love being a photographer and these graduation portraits were so much fun! You know what's just as fun? When I'm doing a session with someone and wind up getting hired for another job just because someone saw how I work and how much fun we have!
While photographing another session in Old Orchard Beach, I was being watched. Three generations of ladies were watching what was going on from the balcony of their hotel room and decided to come down from their room to get a business card.
Caitlyn's mother said they thought the girl I was photographing was looking like she was having so much fun that they hired me that night and I came back the next day to photograph Caitlyn in her cap and gown, as she had just earned her Masters Degree at Husson College and wasn't able to have a formal celebration of this accomplishment due to the pandemic.
I found out while we were all talking that they live in the same town where I grew up… a tiny place that almost nobody knows about! I love it when connections like that happen!
We walked the beach near the pier at sunset with Caitlyn all decked out in her cap and gown. Photos like these are so much more fun than the traditional graduation portraits usually taken at graduation time. Who says you can't run around on a beach in your cap and gown!? Ha!
Caitlyn also had her favorite mask with her and loves everything mushroom-y and wanted a couple of photos with her mushroom themed mask. We made sure to get a fun cap toss photo, too.
As the sun set, I pulled out my lighting equipment and Caitlyn had some fun splashing around in the waves with some dramatic lighting. What a way to celebrate such an amazing milestone! I wish Caitlyn all the best ash she embarks on her next journey!
Let's book your non-traditional graduation portraits, too. Contact us!