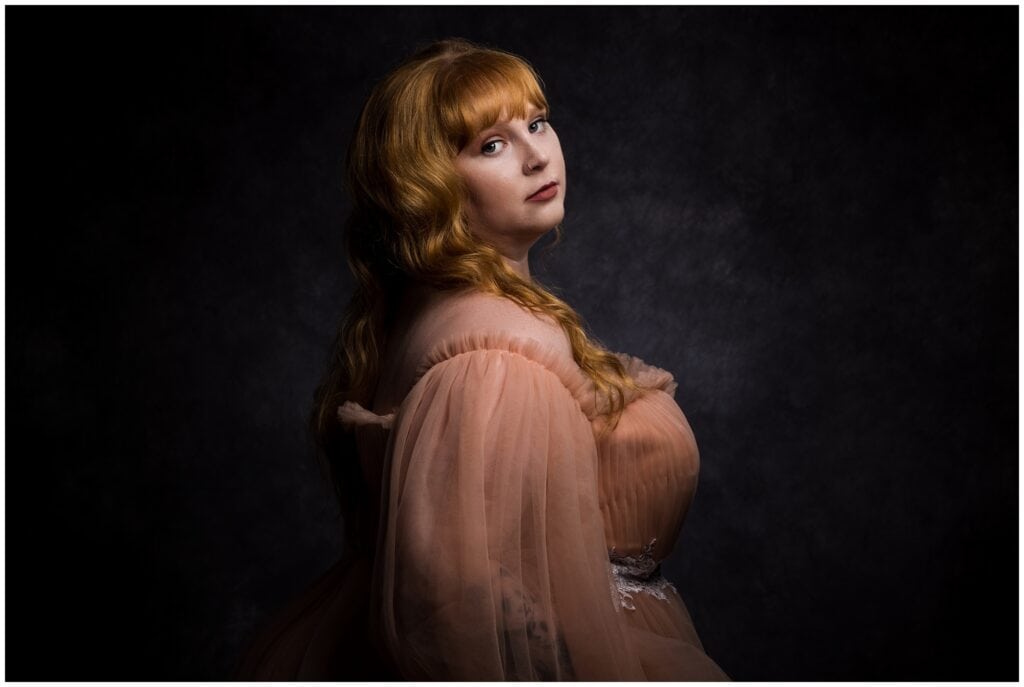 Jillian is a model who has always had a flair for dramatic and moody aesthetics. When she approached me for a photography session to add some captivating shots to her modeling portfolio, I knew we were about to create something truly special. Having seen my style of "classically beautiful portraiture," she felt confident that I could capture the essence she was looking for. We discussed various ideas and concepts, including different dress options that could bring her vision to life. After some deliberation and collaboration, Jillian found the perfect dress that would complement the mood she wanted to convey.
Embracing The Beauty Within
When it comes to being photographed, it's natural for everyone to have concerns about their perceived flaws. We all have those aspects of ourselves that we worry might stand out in the images. It could be the size of our hips, concerns about balding, discomfort with our bellies or arms, or even the fear of appearing to have a double chin in photos. As a photographer, it is my responsibility to make you look your best. To pose you and move you so that when you see your photos you have a brand new way of looking at yourself. I want you to see what I see, which is that you're perfect just the way you are, and I can show you that with a photograph.
Glowing with Confidence
Jillian is undeniably one of the most confident women I have ever had the pleasure of working with. However, even she had reservations about certain perceived "imperfections". It was my utmost joy to show her just how stunning she truly is. Through the lens of my camera, I captured her confidence and allure, while reassuring her that her so-called imperfections were what made her uniquely beautiful. Witnessing her excitement and satisfaction as she shared the photos repeatedly on social media was a true testament to how much she cherished the images we created together.
I would like to express my heartfelt gratitude to Flawless Pros, especially Stephanie, who collaborated with me on this session. Stephanie's professionalism and expertise in hair and makeup elevated Jillian's look to another level. Her artistic touch added an extra layer of beauty and enhanced the overall mood we aimed to capture. Working with Stephanie was an absolute delight, and I am grateful for her contributions to this extraordinary session.
Jillian's dramatic portfolio session was so much fun! We delved into the realm of moody aesthetics, capturing the essence of her unique beauty. Together, we transcended any insecurities she may have had and celebrated her individuality. It is moments like these that remind me of the power of photography to showcase the true beauty that resides within each and every one of us. If you're ever hesitant about a photo shoot due to concerns about your flaws, remember that my goal as a photographer is to make you feel comfortable, confident, and ultimately help you see yourself in a brand new light. Let me capture your beauty and show you just how extraordinary you truly are!