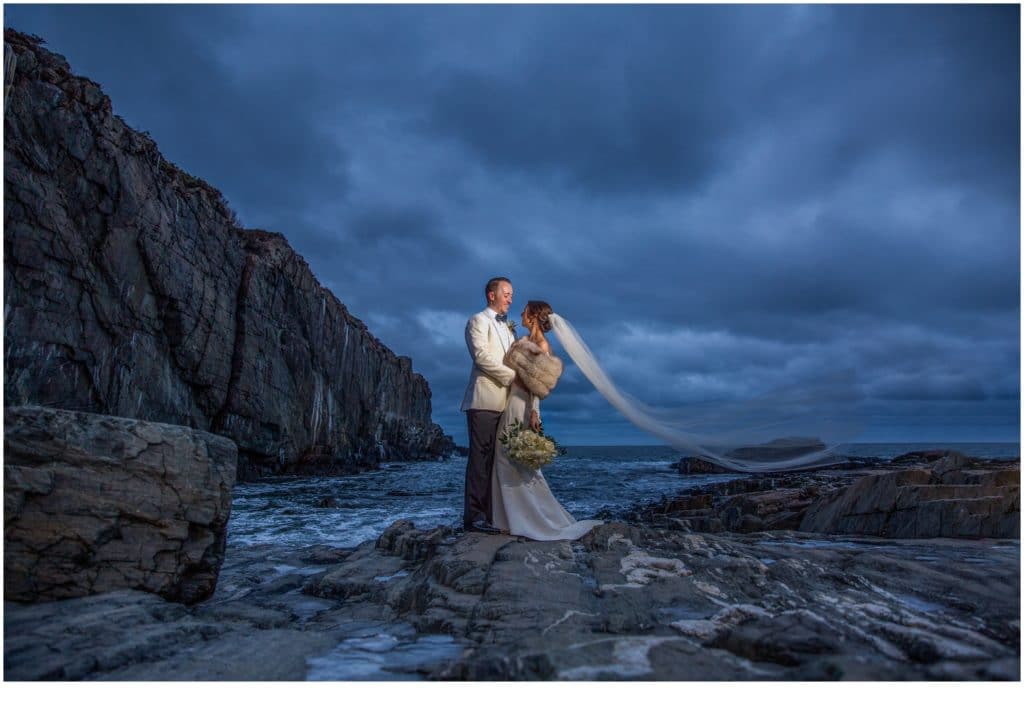 Cliff House is one of my favorite wedding venues. Sitting literally on the edge of a cliff in Cape Neddick, Maine, this stunning venue accommodates weddings year-round. Hannah and Kyle chose to have their wedding in January and use the winter vibe to bring out classic old-world elegance. I'm in love with their Cliff House Winter Wedding.
WINTER DETAILS WITH HOLLYWOOD GLAM
If you remember 1930s Hollywood, you will recognize the style and panache that went into this wedding. Gold glitter and sequins with a simple silk dress, a classic white tuxedo jacket for Kyle, and a fur wrap brought sophistication to this wedding celebration that was unmatched.
FIRST LOOKS
Kyle could hardly contain himself as he prepared to see his bride. As he waited for her to approach him for their first look, his eyes welled and he tried to hide how deeply honored he was to make Hannah his wife. And what a lucky man he was that day, as working with Hannah to plan her wedding day revealed what a glowing, happy, kind, and classy woman she is.
After their first look inside, we went to the cliffs overlooking the Atlantic Ocean, and although the day was bitter cold you'd never know it looking at them.  Snowflakes began to fall as they finished their photos and headed for the ceremony, which was heartfelt and sincere.
THE RECEPTION!
Stunning florals by York Flower Shop adorned the tables, and the cream and blush colors perfectly accented the rest of the decor.
The Connections, a band out of Boston, were energizing and kept the dancefloor packed. They even spent time among the guests, performing and entertaining on the dance floor. Their talent was incredible!
WINTER SNOW PHOTOS
When the photography part of the evening was coming to a close, a snowstorm had come into the area, and Hannah and Kyle were happy to join me outside for just a few moments for photographs in the snow… something they had been hoping for on their wedding day.  
What a stylish and refined couple and what a fun-filled day!!! I love their Cliff House Winter Wedding!
Would you like to see Hannah and Kyle's engagement session in Boston?
Having a Cliff House Wedding?  Contact me to book your day!
Venue: Cliff House, Cape Neddick, ME
Band: The Connections, Boston, MA
Flowers: York Flower Shop, York, ME
Cake: Beach Pea, Kittery, ME
Transportation: FranMan, ME & NH
Ceremony & Cocktail Musicians: Hodges Cello, NH, ME & MA
Bride's Dress: Flair, Boston, MA
Bridesmaid Dresses: Adrianna Papell
Groom's Jacket: J. Crew
Groomsmen tuxes: The Black Tux