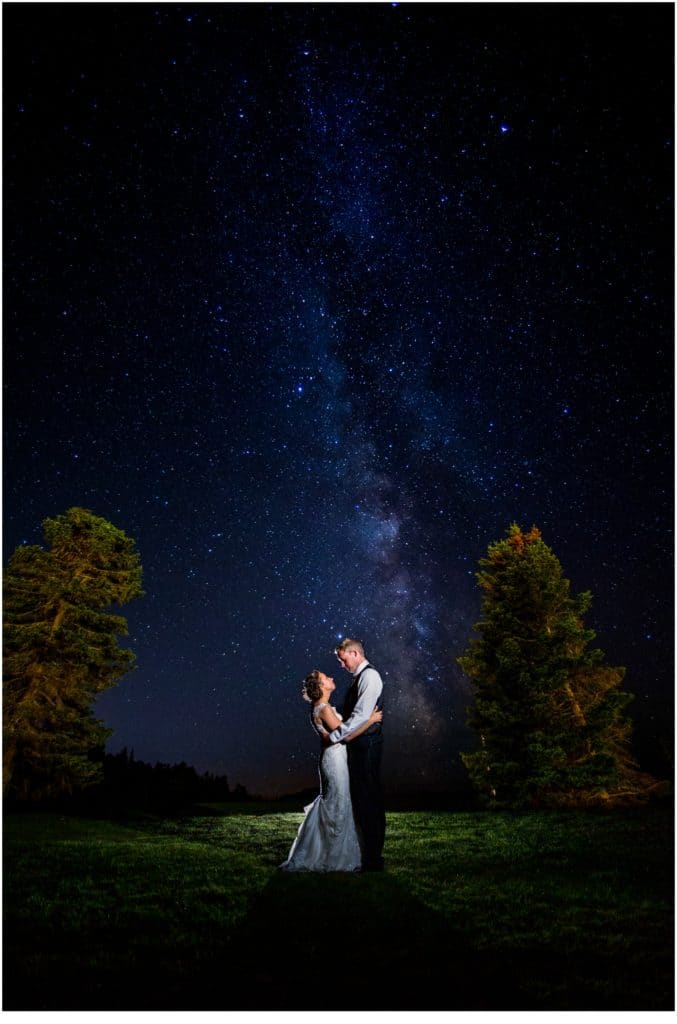 Sadie grew up in the mountains of Maine, in Jackman, on the Canadian border.  I love this area and am excited every time I get to photograph a lodge wedding up there.  This one was in Moose River at Sky Lodge.  
Jackman is a part of Maine where everyone knows everyone, and hunting and fishing is deeply ingrained as part of everyday life.  Cell phone service is sketchy, and if you don't own a truck and a snowmobile you may not make it through the winter.  I vacation at least once a year in this area, to unplug and unwind, white water raft, hike, and kayak.  There is something about this area that recharges your batteries and lets you breathe again.
Simplicity
I love the simplicity of cabins and barns and lodges for weddings.  The properties offer so many pretty spaces for photos (and how can you go wrong with the mountains of Maine in the background of your pictures!?) and the atmosphere is always a bit more relaxed and family-focused, which contributes to the best kind of vibe for a wedding day.
Sadie wore cowboy boots under her dress, and they even requested a few photos of them sitting on the tailgate of their truck.
The ceremony was beautiful, and Sadie entered to a country song that hit it's height as she rounded the corner into view of her groom, giving me goosebumps. They smiled and laughed their way through the vows, underneath a handmade arbor.
The reception dinner was held under a tent where one of the best speeches I've ever heard from a best man was given. It was tasteful yet hilarious, and the entire audience roared with laughter. I remember catching the eye of my second shooter as we listened and photographed it, and saying to her "this is the best toast I've ever heard", to which she nodded her head in agreement with a smile.
Small Town Courtesy
At sunset, we traveled up the road a few minutes to where Sadie grew up.  The house is now owned by another family, but in this area everyone is neighborly, and they allowed Chris and Sadie to use the waterfront property for a few photos, including a few with their doggie!
The Party!
Once we returned to the reception, the party moved inside where Chris and Sadie cut their cake and danced their first dance together as husband and wife, followed by dances with her father and his mother.  Then the party got underway with blow-up guitars and saxophones that even their grandmother got up and danced around with! 
After Dark
Once the party hit its height and it was almost time for me to leave for the evening, Sadie and Chris agreed to come outside for a couple of special photos after dark.  They had requested a photograph of them with their hunting rifles, so instead of doing something cliche and cheesy during the day, I set up special lighting and photographed something for them that was far more creative and worthy of hanging on their wall. 
And then, simply because you don't get to see the milky way quite so clearly further south because of the light pollution, I offered to stay a few minutes late if they would agree to let me photograph them under the starry sky. They happily agreed and the milky way photo you see easily became one of my favorites of the entire wedding season this year!
I love how laid back this scene was, and I can't wait to go back to Sky Lodge for another wedding!
Congratulations to Chris and Sadie!
Venue: Unity College: Sky Lodge
Rentals: A+ Party Rental
Dress: Andrea's Bridal
Suits: Men's Wearhouse
Flowers: DIY
Hair: Friends and Family
Makeup: DIY
Pastor: Rhonda McNally
Whoopie Pies: Wicked Whoopies
Cake: Maid of Honor