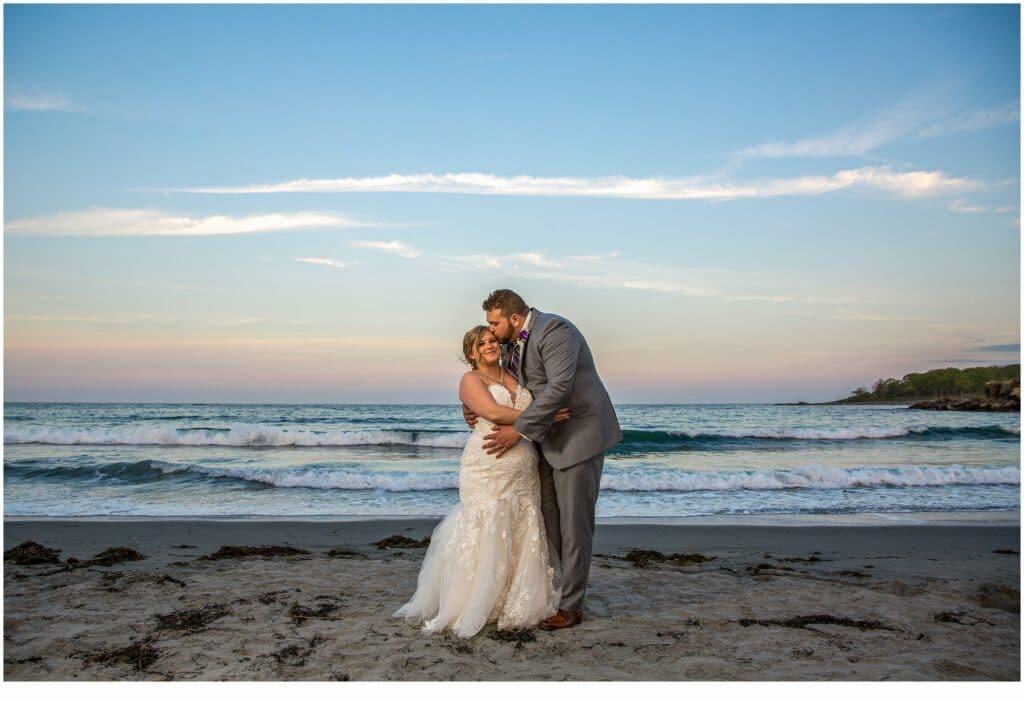 It was so fun spending time with Drew and Sarah at their York Harbor Wedding. Their fun and carefree personalities made for a laid-back vibe, and a super fun party! The only thing missing was their signature Hawaiian shirts. Take a look at their engagement photos to see what I mean.
York Harbor Inn Weddings
The York Harbor Inn in York, Maine is a cute little venue tucked away near York Beach and the Wiggly Bridge, both amazing spots for photography. Sarah and Drew took advantage of both during their wedding day!
After getting ready with their doggie Sylvie in the beautiful properties owned by (but down the street from) the Inn, they opted to do a first look at Wiggly Bridge, which is a really great place in York that features wooded paths, a breakwater, and yes, a bridge that actually wiggles when you walk across it.
Their wedding party joined them for photos in the park, the groom's brother proudly sporting a mullet for the occasion (something the groom made sure to mention as he read his vows in the park). This group was full of energy and laughter and it was fun to herd this group of cats. haha!
Sunset Photos on York Beach
One of my favorite things to do for any York Harbor Wedding is to slip out for a moment to York Beach, just a one or two minute drive away. The light at the end of the day is soft and pretty, and it's a great way to add another element to their wedding photo collection. I love that they both goofed off a bit for their individual bridal/groom portraits!
The wedding of miniature Sarah and six-foot-one Drew was a blast!
Vendors
Photography: LAD Photography
Venue: York Harbor Inn
Cake: Kates bakery and Cafe
Cake Flowers: November's Harvest
Wedding Ring: Alice Carroll Design Center
Dress, Veil, and Headpiece: Madeleines Daughter
Ceremony Music: York Village Bagpiper
Jewelry: The Little Bull
Hair and Makeup: Harbor Hair Company