These Scenic Maine Family Portraits do not disappoint. It helped to have an amazing location and an awesome family in front of my lens.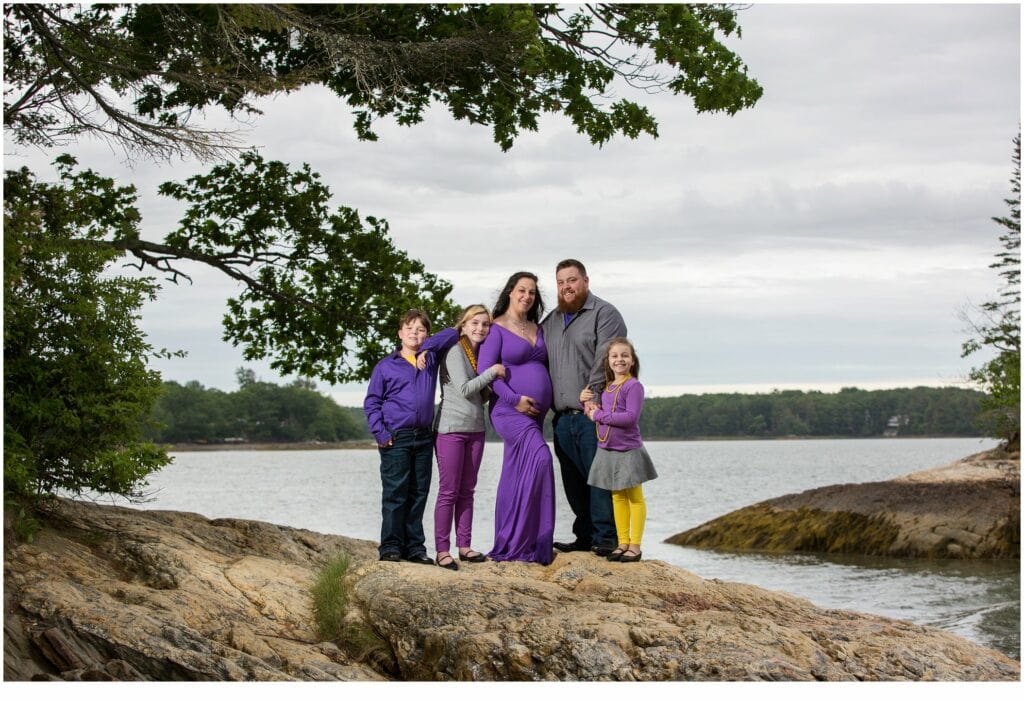 Elizabeth contacted me to photograph her growing family. She wanted to have photos taken in a scenic spot that featured Maine's famous rocky coast, and we chose Wolfe's Neck State Park as the perfect location. The weather was holding out that day, as rain was in the forecast, and we were able to take advantage of some beautiful lighting on the edge of the ocean. Her husband Nate, and three children were with her, and one new member of the family was kicking around in Elizabeth's belly. This session was such a great way to commemorate the start of a new era in their family history!
Elizabeth chose coordinating purple and yellow outfits for the family, purposely choosing something that would pop against the washed-out tones of the colors of the coastline. The kids all showed their personalities off in some photos alone, especially little Ellieanne, who pounced around the rocks posing like a rock star and making us all laugh a bit.
Family sessions are always something I feel can easily become stressful for the parents, so it's my job to make sure we give kids room to breathe and allow them to be fun and play between the more difficult and posed parts of the session, and we never stay in one place for too long in order to accommodate the attention spans of the littlest ones in the group.  I hope if you're thinking of having your family photos taken you trust me to come up with something beautiful and fun for you.