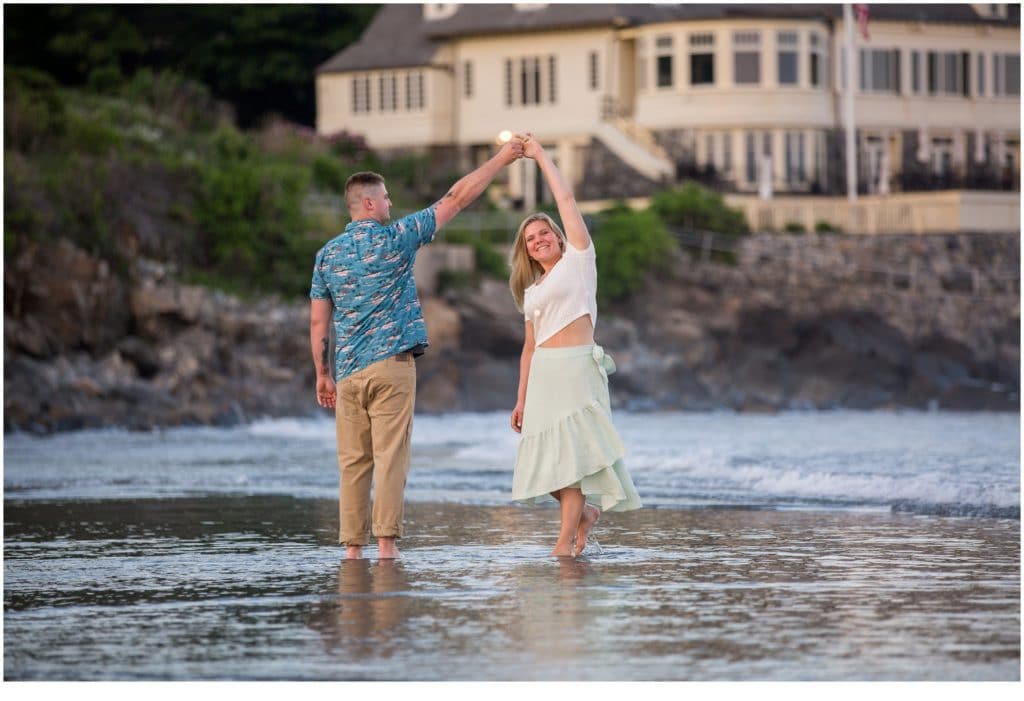 A York Beach Engagement for two amazing people who are full of energy. I loved photographing their excitement with only a short time before their wedding
Ruth contacted me to photograph her wedding with only months to spare. Unfortunately, I was already booked, but I was able to offer Ruth and Nick an associate package instead. Essentially, they would work with me through the entire planning process, I'd handle their engagement photos, all communication, creating their wedding timeline, and editing their wedding gallery for delivery. On the wedding day itself, I send an experienced photographer whose personality pairs up, and Ruthie and Nick get to work with them for the day.
With that said, Ruthie decided she didn't want to miss the opportunity to work with me directly for her engagement photos and was excited to meet me at York Beach, just a few minutes walk from her wedding venue, The York Harbor Inn. She and Nick coordinated outfits so perfectly, and his funky Hawaiian shirt had a shade of green in it that matched her skirt.
Bring the Energy!
Ruth and Nick are a super cool couple. Nick has a laid-back and smiley personality, and Ruthie is like a little ball of energy that you can't quite tame for more than a few moments at a time. When it comes to showing personality in photographs, Ruthie nails it every time. She makes the decision to not be nervous, play, laugh, jump around, flip her hair and dress, and snuggle with the man she loves… and she doesn't worry about what the images might look like. She trusted me fully to make sure I got the perfect moments during it all. I LOVE this about her!
Although I didn't get to photograph their wedding personally, I was so happy to make friends and happy clients of Ruth and Nick, and photograph their York Beach Engagement. I'm hopeful I get to be their photographer as their love story continues!