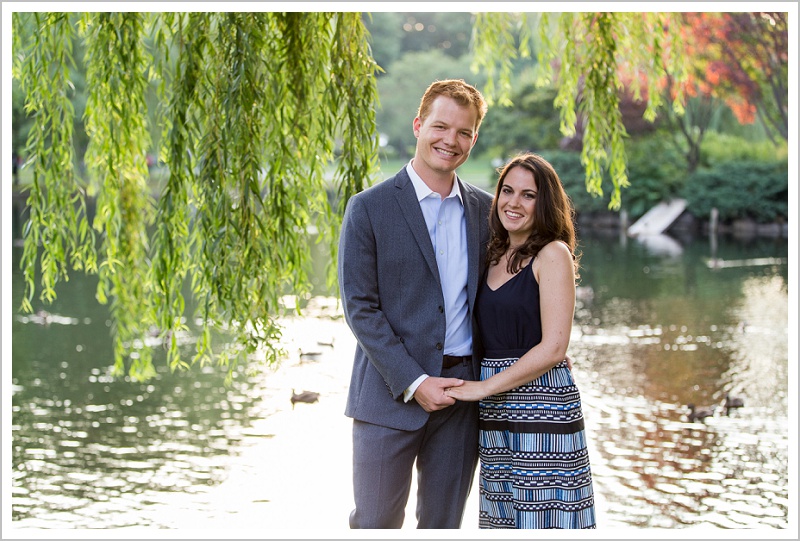 Darcy and Zack have a love of Boston and asked me to come down for their engagement photos. I'm so glad I braved the Sunday mass exodus from Maine and traffic all the way down to do this for them! From the commons to the harbor and city lights, we went all over.
We started in Boston Commons on a beautiful evening. We walked the park around the pond and through the gardens, and the light was just beautiful. I love the blue in their outfits and the backdrop of green from the trees. We found some great places where there wasn't a lot of people and it looks like they had the park to themselves.
As the sun was setting we had a little outfit change and ventured towards the harbor for some shots along the water with the city lights in the background. The sky glowed blue and we had to do a silhouette shot. So many great shots! Getting a personalized walking tour of the city was probably my favorite part. I absolutely loved it!!!!
Couldn't take a trip to Boston without a stroll through Quincy Market. The city streets are magical at night and we found some amazing light. The string lights and orb street lights at Quincy Market were a perfect background to try some fun camera work with flash. We couldn't pass the fountain without working it in somehow. I LOVE the fountain!! The glowing vine-tangled archways begged to have a madly in love couple kissing underneath them. So many locations. Just a perfect night!!!!
I thank them for choosing me to be your wedding photographer and being my tour guide as we strolled the city!! I can't wait for their wedding coming up next month!!!!!