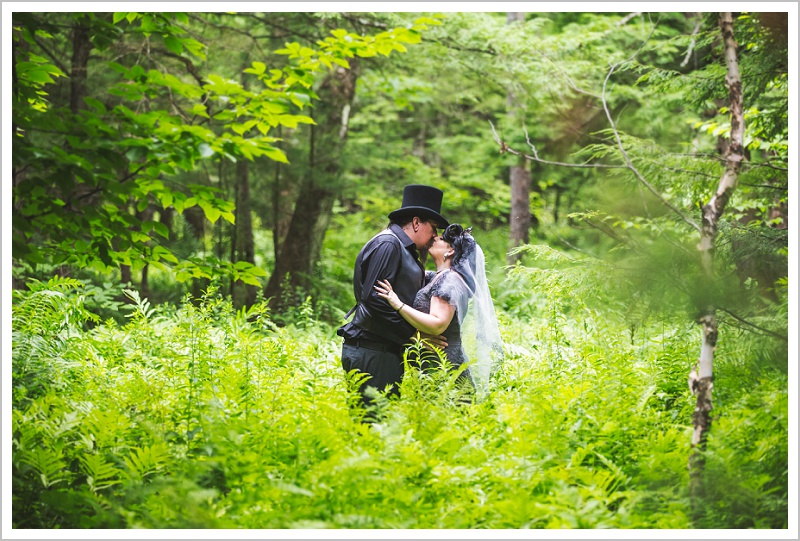 Black is not a color typically associated with weddings but then again these two aren't your typical couple. From Tattoos and top hats to greens and blacks. It was definitely a wedding to remember. I just love everything about it!
I met Tiffany a couple of years ago over a discussion about hair and makeup, photography studios, and a concept shoot I wanted her help with. We became friends and I adore her kinda retro, kinda gothic style. The wedding that she and Casey planned at the Maize Hole Mountain Farm in Limerick, Maine was nothing less than representative of who they are. Tiffany is a wonderful designer and creates her own line of retro clothing. We worked together on several conceptual photos that I have submitted to competition; including Lemon Tart. So I knew her style and creativity would be ever present.
I love the contrast of the dark lace dress hanging in the window and the beautiful vintage jewelry Tiffany wore, the crystal crown she made, and the black diamonds adorning the waist of her dress. Beautiful personal pieces she will have forever. I just love her style! The bridesmaids had retro styling for hair and makeup and wore a beautiful dark green which worked so well with the blacks and greenery of the ceremony site. Little pops of purple in the flowers and details poked through the green and blacks.
The day looked like your typical wedding with getting ready followed by the ceremony and reception, but it's the details that really make unique to every couple. From the location (a field of ferns in the woods) to Casey and Tiffany being barefoot. Along with special moments during the ceremony like tying of their hands and letting him drink from her chalice. Those moments really made it their own.
After the ceremony, we ventured further into the woods for some epic bridal party photos. Their entourage of sass and silliness made for some great images. Casey and Tiffany stayed for some bride and groom portraits that ended barefoot on a motorcycle. I love it!
Their reception was a backyard extravaganza with a whiskey bar and a food truck. Yes, a whiskey bar with a personalized wooden barrel and specialty drinks. A good time for everyone! There was dancing and smiles all around. Oh, and cake! Can't forget about their cake. A skeleton bride and groom cake topper that just screams a retro gothic style! So perfect.
The merriment continued as the sun set and the lanterns and string lights illuminated the tent and bar. Beards and tattoos were all around with attire turning a little more casual. Many guests camped out on the grounds so they party could continue as late as they wanted.
I just love everything about this wedding and wish Casey and Tiffany all the best together!