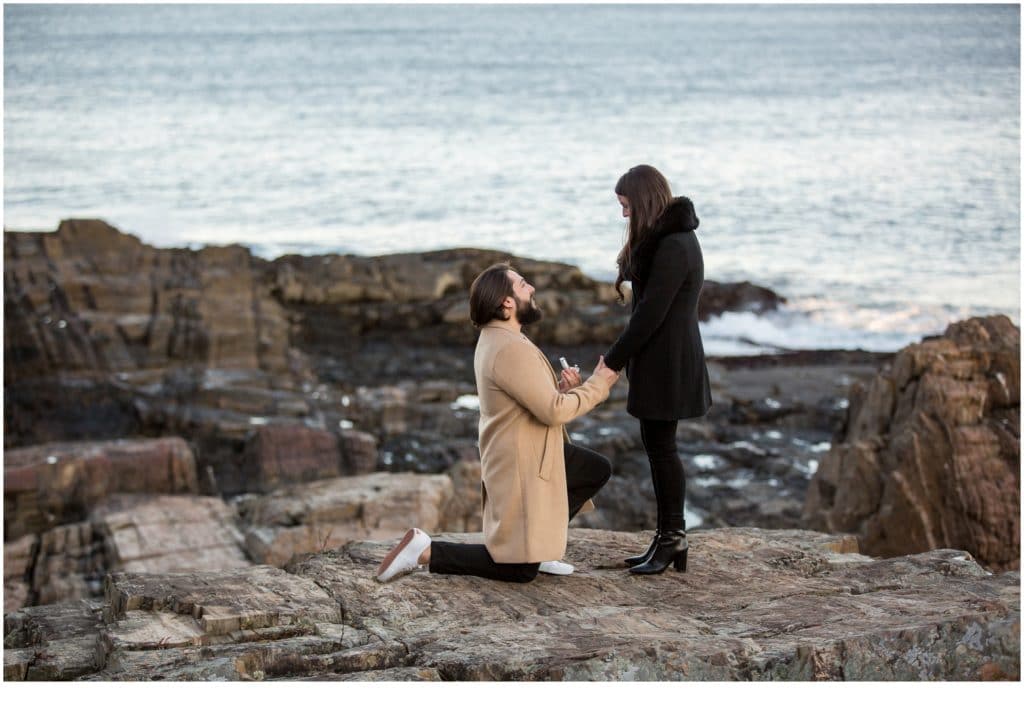 Santino and Rozi are engaged!!!  And I was the lucky photographer to capture this winter proposal on the rocks of Cliff House in Cape Neddick, Maine.
THE PERFECT RING FOR A PERFECT LADY
Rozi grew up in Maine. Don't let her amazing heels and fur-rimmed coat fool you. She still has the energy of a Maine girl, and Santino knew she wouldn't have a problem climbing around on the rocks in her high heeled boots.
As always, I make a plan with the person about to propose, so Santino (Tino, as Rozi calls him) and I had a plan for where he would bring her out on the rocks to watch the sunset before they would head into town for a nice dinner with friends.
Although he didn't wind up in the exact spot I had hoped for, according to the plan, I had already talked to him ahead of time about giving me a moment to adjust my position in the event this sort of thing happened.  And he did!  With just a hop up onto a rock, I was able to get back into the perfect place to capture him kneeling to ask Rozi to marry him.  And she said yes!
I don't know what was said, as I make sure to keep my distance, but I do remember the next several minutes of Rozi repeating over and over "it's just perfect! Holy, cow, Tino, this is amazing!" She couldn't take her eyes off that beautiful ring. I'm pretty sure Santino picked the right one. 😉
A CHAMPAGNE TOAST
One thing that Cliff House does, if asked, is bring two glasses of champagne down to the rocks at precisely the time you request.  Immediately after Rozi said yes, a member of the Cliff House waitstaff made their way down the stairs to the rocks and Rozi was thrilled to have this extra special moment with Tino.
SUNSET AT CLIFF HOUSE
I don't often have the opportunity to photograph couples at sunset at this beautiful venue, so I'm super excited that it worked out this day. We were able to capture the changing colors in the sky, get some dramatic images of this stylish couple together, and even wrap up the evening with a few photos requested by Rozi of her by herself having a bit of a jumping up and down moment about this whole thing. Haha! I love her attitude!
Although they expect a long engagement before making wedding plans, I do hope they think of me when the time comes! It was a pleasure photographing this winter proposal,