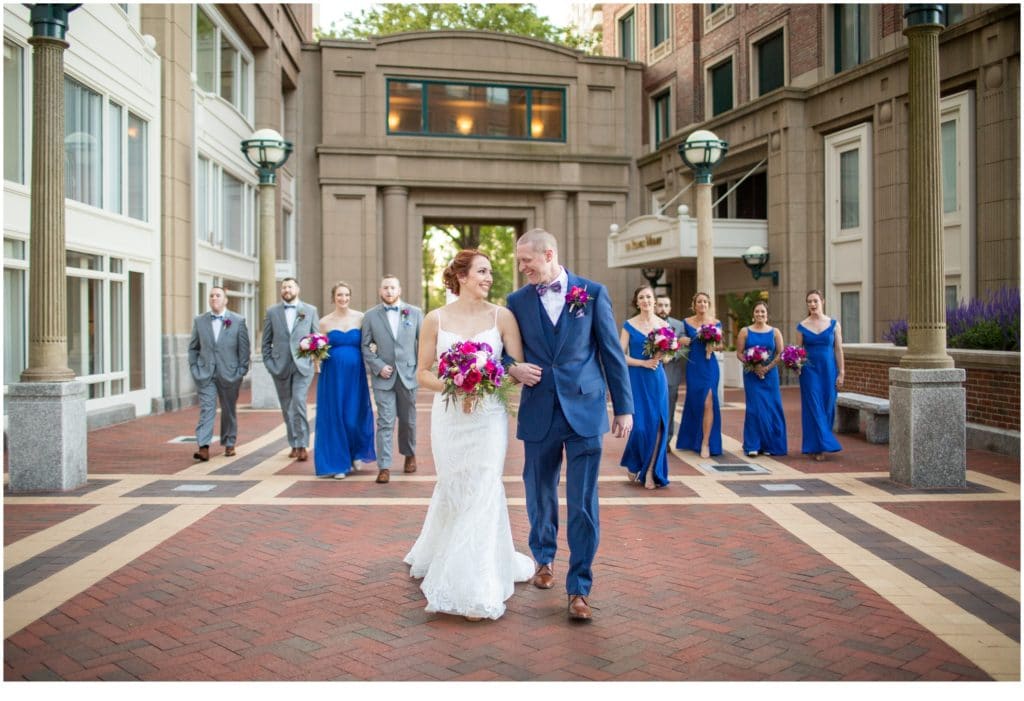 Boston Area's Finest
I adore the fact that Cat hired me to be her wedding photographer for her Boston State Room Wedding after falling in love with the photos I took for her sister's wedding almost 2 years ago.  And everyone knows I'm a huge fan of our men and women in blue, and thank them for their hard work and what they do for our communities, so I felt like I lucked out when I found out Jay is an officer!  What a perfect day spent with two high-energy, fun, silly, people who are quite perfect for each other in every way!
A Pop of Color
Cat and Jay are in love with Boston, where they live, and thought it would be perfect for them to hold their wedding only minutes away from their home. While Jay got ready for the day and celebrated a bit with his groomsmen just up the street from his apartment, Cat enjoyed some time with her bridesmaids at The Bostonian Hotel. I love his plaid bow tie and socks that feature the Boston skyline! Her accessories were simple and elegant, and complemented the dress she chose which had the most gorgeous beading all over it!
Cat's sister, Amanda, helped her into her dress. The bond between them that I see every time I take a photograph of them together is so amazing. I can see the love and support they give each other with nothing more than a couple glances and a smile.
Cat's bouquet was exquisite! Stapleton Floral did an amazing job with the colors, including purple orchids. The way the bright flowers popped against the blue of the bridesmaids' dresses was perfect!
A Traditional Catholic Ceremony
A bagpiper from the Boston Police Gaelic Column played outside the Gate of Heaven Church in South Boston as guests arrived. What a unique touch with so much meaning to Jay's heritage as well as his occupation.
Cat was glowing as she walked down the aisle with her father, who put his wild sense of humor aside for such a sentimental moment with his daughter. During the ceremony I even caught Cat shooting Jay a few glances, grinning from ear to ear, knowing the day they had waited for was finally here.
Faneuil Hall and The State Room
After the ceremony, we went with the wedding party to Faneuil Hall to take some photos under the archway, an iconic part of the bay that Cat was so excited to incorporate into her day.
Their reception venue, The State Room, couldn't have been more perfect for this couple. Their love of Boston, modern architecture, and the city lights after dark made The State Room an obvious choice. From the venue we had a bird's eye view of the city, with the clock tower so close you felt like you could touch it if you could just hold out your hand through the floor-to-ceiling windows. As the sun set the colors of the sky created a marvelous backdrop for their first dance, and then as the sky darkened and the city nightlife came alive, so did the dance floor!
I can't tell you how happy I was to see this family again, and to create unique wedding images for Cat and Jay. Congratulations to such an awesome couple!

Vendors
Photography: LAD Photography
Florist: Stapleton Floral, Boston Massachusetts 
Dress/Veil: Flair Boston, Boston Massachusetts
Hair and Make-up: I Do Bridal Hair and Make up by Sam and Jess, Norwell, Massachusetts
Alterations: All-Fit Tailoring, Boston, Massachusetts
DJ: A Good Time DJ's, Salem, New Hampshire
Photobooth: Wicked Fun Photo Booth, Salem, New Hampshire
Rings: Avitabile Fine Jewelers, Hanover, Massachusetts
Reception: The State Room, Boston, Massachusetts
Wedding favors: Totally wedding Koozies, Coldwater, Ohio
Transportation: Met Limo of Boston, Cambridge, Massachusetts