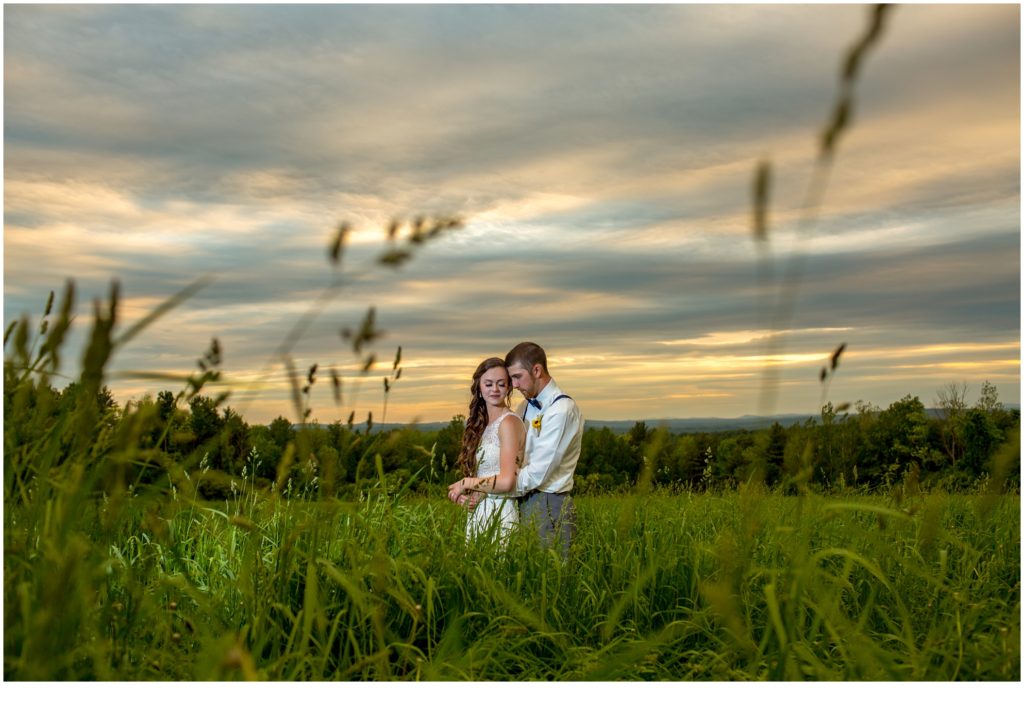 Meagan and Michael are one of the few couples who hire me to be their wedding photographer who are from Maine! And they definitely knew how to give their rustic wedding a bit of Maine attitude!
While many clients view Maine as a nautical experience, showing love for the rocky coast, boating, and island life, Mike and Meagan celebrated the part of Maine that many people lose sight of…. our gorgeous mountains!
The Maine Wedding Barn
With a fantastic view of the mountains of Maine, the Maine Wedding Barn is seemingly in the middle of nowhere, in Minot, Maine. There is a wall of windows that throws beautiful light into the venue, and a field out back that is perfect for ceremonies, and has some of the best light for photos!!!
Wedding Day Details
Meagan chose sunflowers as the foundation of the decor for their wedding. Burlap touches added a bit of rustic flare as well. Their rings were presented in a simple wooden box, and a little boot adorned her garter.
The cake was designed to replicate a birch tree with a carving in the bark of their initials in a heart, and they added a dessert table full of delicious donuts for their guests! The sunflower motif was present through and through!
Losing the Suit Coats for a Casual Look
The men decided to forego the formal look and skipped the suit coats, replacing them with suspenders and boutonnieres made of shotgun shells.
Meagan chose to wear cowgirl boots for the wedding, and why not?! This bride is a classically trained dancer! I'm sure she didn't want her footwear stopping her moves on the dance floor!
At sunset, we were able to take a quick walk out back of the venue for a few evening photos, where there seems to always be a stunning sunset, and we had them back onto the dance floor before anyone knew they had stepped away.
What a down to earth couple, with a laid back wedding. How can you go wrong with this kind of combination?!
Venue: Maine Wedding Barn & Event Center   
Music: Paul LeClair of Dionne Entertainment
Florist: Flower Girl Wedding Designs LC
Additional Florist: Broadway Gardens
Makeup: Audrey Blackwood at Haven Salon
Catering: Hurricane's Deli
Cake & Donuts: Heather's Bakery
Rings
Meagan's: Day's Jewelers
Mike's: Barrel Band
Dress: Blush Bridal & Formal
Bridesmaids Dresses: Azazie