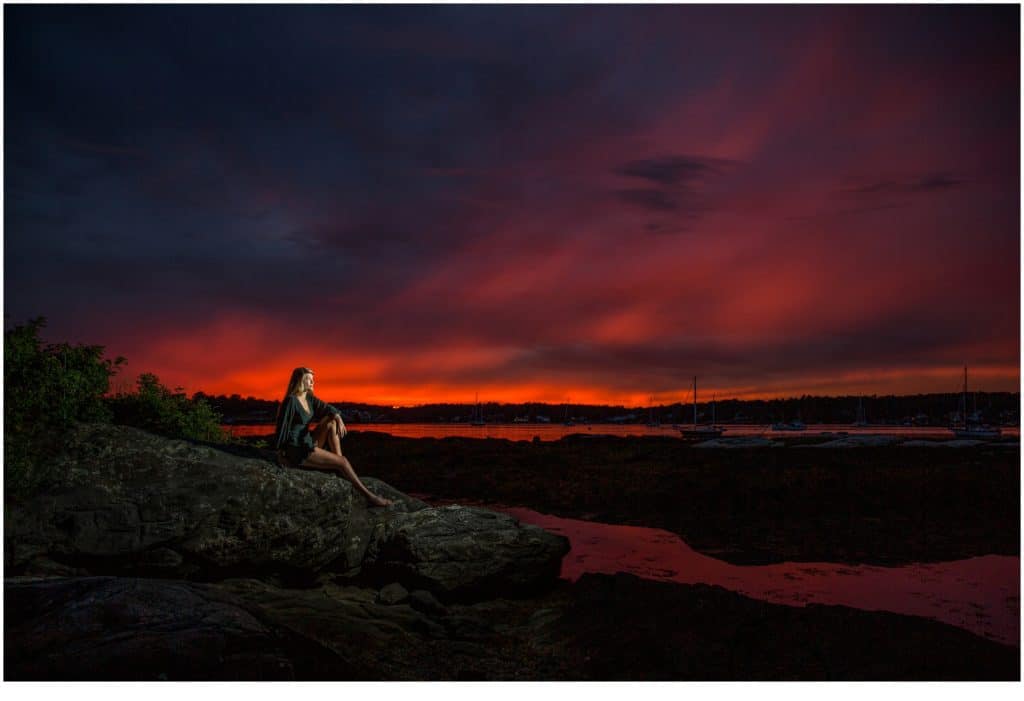 Lila had, hands down, the most amazing sunset I think I've ever photographed for a high school senior session. Keep reading to see what happened and how we rushed to capture it!
OUTFIT CHOICES
Lila's senior photos were taken at her grandparents' home in Maine, as her family splits their time between Maine and Florida. Lila has attended Pomfret School, which is a college prep boarding school in Pomfret, CT, since ninth grade, and loves the friends she's made there, as well as the teachers that challenge her to push herself while being supportive. Her favorite subject is English. She says they're like one big family there, and she will miss her friends and the school traditions after graduation in the Spring. She plans to attend college, and is looking into colleges in the southern United States.
Lila chose to have her photos done during a family visit to see her grandparents. And I can't blame her! The property is right on the water!
Choosing what outfits to wear for your senior portraits is no easy task. When I arrived Lila showed me a bed covered in clothing options, but seemed a little undecided on what to wear. And this is super normal, by the way! I'm always happy to help, and most of the senior girls that I photograph show up with several clothing options, and bags full of accessories! Being unsure what will photograph well and leaving some decision making up to me can actually help relieve you of some of the stress of decision-making, and also ensure your locations and outfits mesh well together.
We chose a few outfits for Lila, including a silky pink top with black jeans, a soft pink sweater, and a fun green romper. These outfits looked great at this location, and still showed Lila's personality and fashion sense, with hobbies that include music and a newfound love of yoga. She's excited to have recently mastered the sirsasana (headstand) pose!
FAMILY IS IMPORTANT
Most of the seniors I photograph bring along a parent or sibling, or even a best friend, to share in the experience. For this session, Lila had her mother and sister looking on from the patio as she and I wandered around the property. We used the wonderful colors of the garden, the manicured lawn and perfect low-branched tree in the back yard, as well as the dock where Lila's grandfather houses all of his boats. One, in particular, is near and dear to her grandfather's heart, but we couldn't remove it from the boat house for photos, so I decided to use special lighting to create some drama inside the boat house. The photo featuring her grandfather's boat I'm sure was something that was special for him to see.
SENIOR PHOTOS AS AN ART PIECE
Traditionally, senior photos are supposed to have your yearbook in mind. And of course I take plenty of photos that can be used in a yearbook! But I also like to create something different. Something made less for a yearbook and more for a wall feature in someone's livingroom. Our children only see this point of their lives once, and it's a very special one. It marks the end of a long journey as well as the start of a new beginning for not just the seniors, but their parents, too. To create something that makes each senior look like they're in a movie scene, is important to me. For this, I tend to take a few "small person big picture" photographs, that can easily be turned into large wall hangings without making the senior feel as though there is a ten foot close-up photo of their face on their parents' mantle. Ha!
WHY BOOK YOUR SESSION FOR SUNSET… AND BE WILLING TO STAY A FEW EXRA MINUTES
As we ran out of light at Lila's senior session, the hope of a great sunset faded as well, since the sky had been quite lackluster the entire shoot, and a bit of a haze hung in the sky. As I shot a few frames to finish up the session and began to pack my things, I asked if they'd be willing to stay with me on the lawn because the sunset somehow was getting brighter (not darker!) as the minutes passed. They agreed, and within five minutes the sky had turned a crazy orange-red color, and was getting brighter by the minute. I quickly put together a light and asked Lila to come with me toward the water. Who knew how long that sunset would last, so we rushed to the rocks where I had her sit, set up my light, and worked as quickly as I could to take a few test shots. The sky was changing very quickly, and I could tell the color wouldn't stay much longer, but Lila was amazing and we were able to get a few jaw-dropping photos before the sky went dark.
I'm so grateful for clients (and their families) that trust my intuition and are willing to stay a few minutes later than planned in order to capture once-in-a-lifetime photographs! I love these sunset senior images
IN LILA'S WORDS
There are a couple things I like to ask the young men and women I photograph. One of those questions is if you could travel anywhere in the world, where would it be. Lila's answer is perfectly adventurous and strengthens the sense I got that this family is close and so very dear to each other. Lila said "If I could travel anywhere in the world once COVID is over, I would go to Skopelos, an island in Greece, where the movie, "Mama Mia" was filmed. My sister, Mom, and I love that movie!"
When I asked her how she felt about her senior session and working with me, and whether she would do anything differently, she said "I really enjoyed having you take my senior photos. I wasn't sure what to expect from the experience, but I was really happy you helped with picking out my clothes and I felt very comfortable with you. I love my photos!"
Lila is a spectacularly warm and smart young woman, and I know she will achieve anything she puts her mind to! Congratulations on your Senior Year, Lila!!!