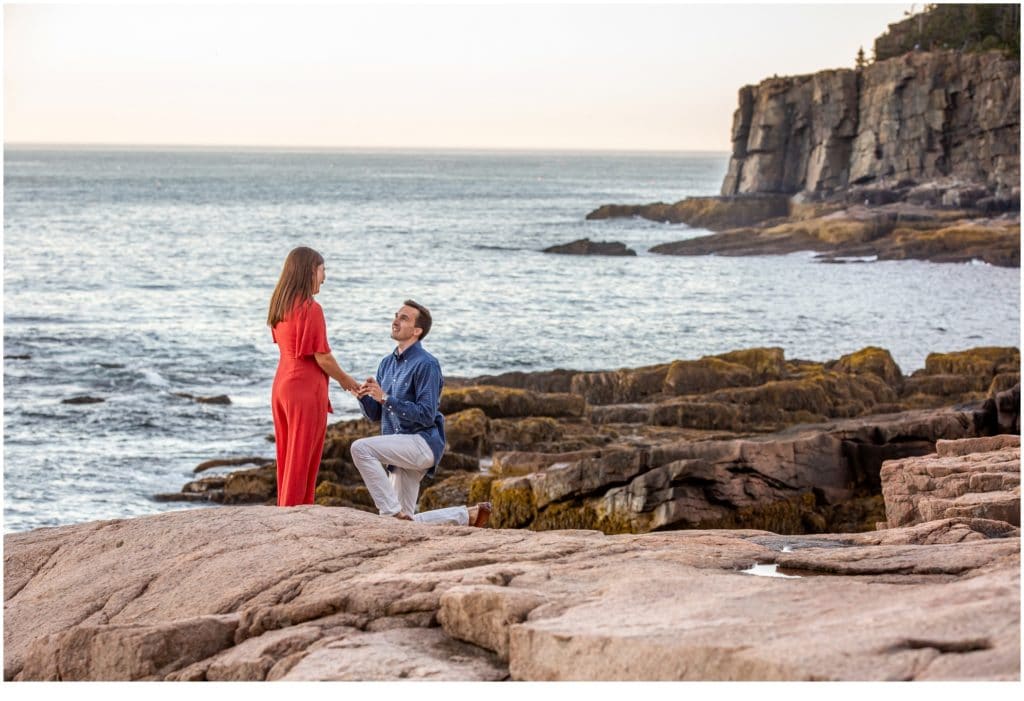 Stunning scenery, amazing weather, and a carefully planned trip lead to a beautiful surprise sunset proposal in Acadia National Park.
Matt and Lisa were taking a trip to Maine this summer, and visiting Acadia National Park. He contacted me in the hopes I would be able to photograph his proposal to his girlfriend, Lisa. We planned it carefully, and chose a location where not many people go, with Otter Cliff in the background. She had no idea what was about to happen, and when Matt knelt and asked her to marry him, although their angle was slightly with her back to me, I could tell she had a big grin on her face, and a look of complete shock.
What's fun, too, is that after the shock wore off Matt introduced me and I explained to her that he had arranged for me to stay for another 45 minutes or so to capture some photos of them together. These photos don't necessarily become their official engagement photos, as many who are planning to propose might think. Instead, it captures the moment, the joy of that particular day, and the amazing location where Matt proposed. If Lisa chooses later to have engagement photos planned at a different time of year with a planned wardrobe, she is always welcome to do that as well. One session does not detract from the other, and that's why I love proposals so much!
SUNSET IN ACADIA
We got a little creative with the sunset at one point, utilizing some of my gels for my flashes, and creating in-camera (not in photoshop later) a crazy pink sky. I stayed with Matt and Lisa right through sunset, and I always bring a macro lens with me so that I can get a close up of the stunning rings that are placed on someone's finger. Taking a good photo of a ring with a cell phone is not always possible, so having a gorgeous close up of the ring to show friends and family when they announce the engagement is a nice touch, I think.
It was a pleasure capturing their sunset proposal in Acadia. I'm so happy for them both!