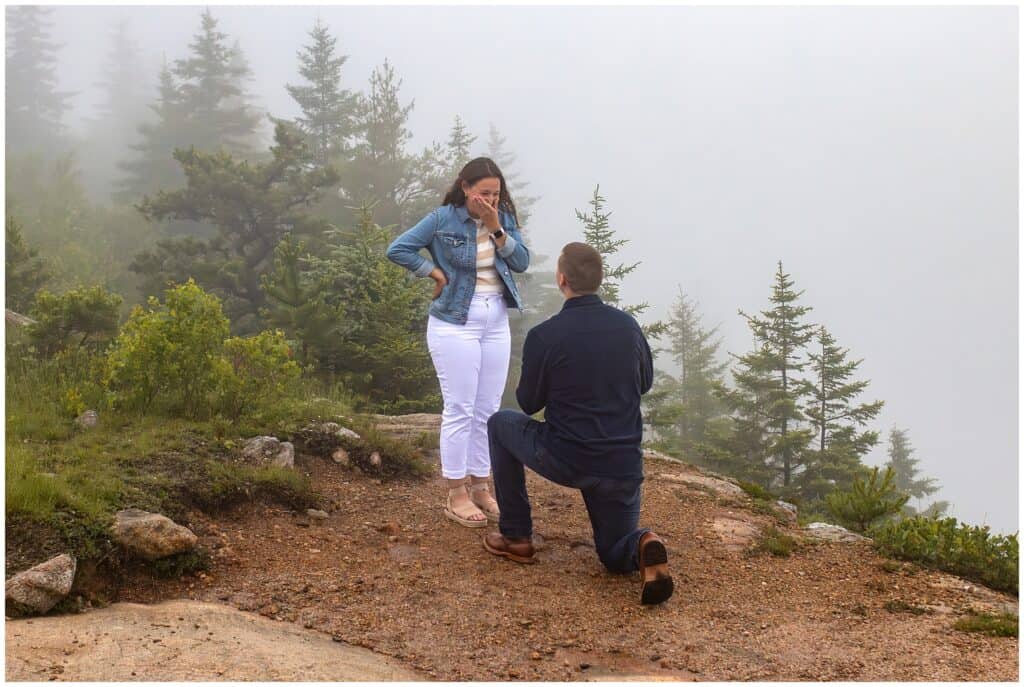 Choosing the perfect spot for a proposal is never an easy task, but Thomas knew exactly where he wanted to ask Kirstin to spend the rest of their lives together. The breathtaking summit of South Bubble in Acadia National Park, Maine, held a special place in their hearts. They had initially planned their trip to this picturesque location in 2020, eagerly anticipating the adventure. However, like many, their plans were canceled by the sudden onset of the COVID-19 pandemic. But instead of letting disappointment linger, Thomas and Kirstin patiently waited for their opportunity to return to Acadia, and when the moment finally came, Thomas seized it to create a memory they would cherish forever.
A Foggy Engagement
On the day of the proposal, Acadia National Park welcomed Thomas and Kirstin with misty conditions and a thick blanket of fog that rolled in from the Atlantic. While the view of Jordan Pond, where Thomas had originally hoped to propose, was obscured, the weather couldn't dampen their spirits. It might not have been the clear, sunny day they had imagined, but it didn't rain, and that was a silver lining. I saw the fog as an opportunity to capture some truly unique and atmospheric shots. Using off-camera flash, we created dramatic and enchanting photos that highlighted the couple's love amidst the mystical surroundings. As the day turned into evening, we descended the mountain, and the fun continued on the edge of a nearby golf course, where we captured some playful and candid moments, bringing a perfect end to a foggy yet unforgettable day.
I always love shooting in Acadia and I am happy Thomas and Kirstin were finally able to visit this amazing place (even with the weather not cooperating). I wish Thomas and Kirstin nothing but love as they start this new chapter together!