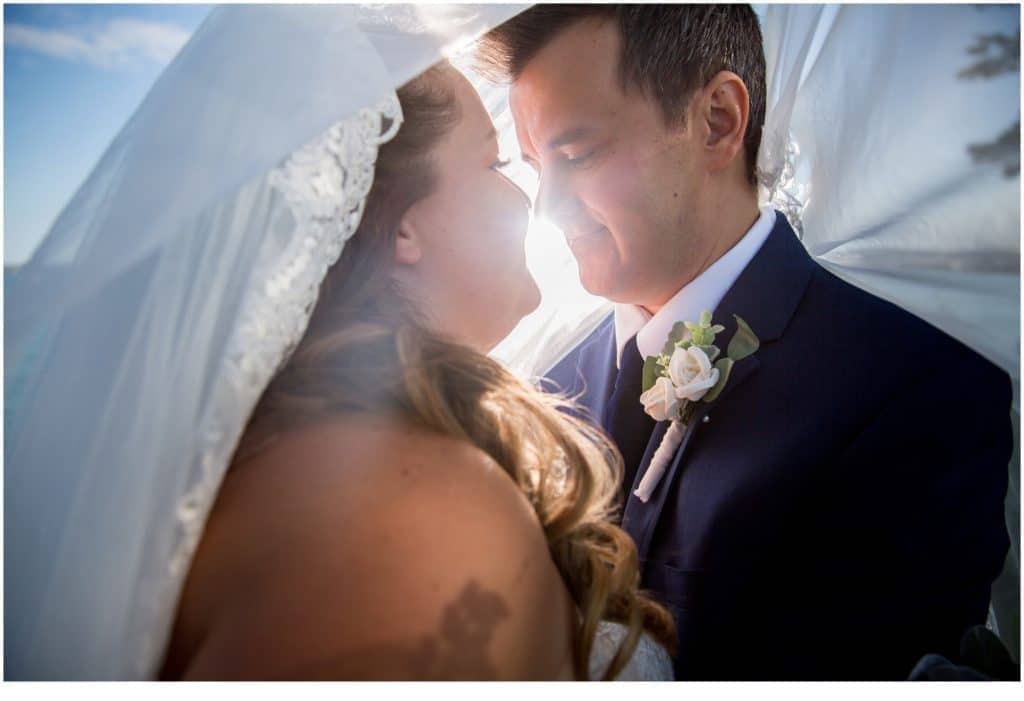 Jeff and Jessica's original wedding plans were on a much larger scale, including many guests and a full day of photographic coverage.  Instead of choosing to delay their wedding and put their plans of buying a house and starting a family on hold, they forged ahead, making their guest list smaller, and creating special plans to keep everyone safe distanced throughout their socially distanced wedding day.
FIRST LOOKS AND AN EXCHANGE OF PROMISES
Jessica and Jeff opted to have their photography begin after each of them was dressed and ready for the ceremony.  Their little dog, Tucker, even wore a suit and boutonniere, and never left their side.
After having a moment with her father, Jessica met Jeff on the lawn of their family home for a fist look, and then they shared personal promises with each other in front of a set of doors that Jessica's father built just for this special day. As opposed to sharing these promises in front of their guests as vows, they wanted to do it privately, and it was a wonderful moment for them to share, with Tucker cuddled up under Jessica's dress, listening intently.
THE CEREMONY AND COCKTAILS
Chairs at this guest list of 25 were separated so that immediate families could be close, but so that no one outside of a particular household was within the 6-foot limitation of state restrictions during the pandemic.  Those who wanted extra comfort chose to wear cloth masks as well.
For the cocktail hour, we were careful to photograph the family in such a way that allowed for safe distancing, but still accomplished Jessica's goal of having everyone together in photos. Essentially, I was able to photograph each part of the family separately, and then photoshop them together in the editing process to make it appear as though they were all standing side by side for the family portraits!
Each table during the cocktail hour had a family name on it. Each family had their own high-top table of hors-d'oeuvres and bottles of wine, as well as bottles of sanitizer. 
A LOW-KEY RECEPTION
All the details were thought of for their socially distanced wedding. Under a beautiful sail tent, perfectly set tables, designed by Jessica, were adorned with greenery and pastel flowers.  There were two people per 6-foot table, and single guests were given their own table at which to dine.  Individual mini cakes were made so that one cake didn't have to be shared, as an extra added precaution.
As the sunset, Jeff and Jessica had their first dance together as husband and wife, and dinner was served while a playlist of songs compiled by their guests was played in the background.  Jessica had asked each guest to share their favorite love songs before the wedding day, and she made a beautiful playlist from it.
As the evening descended, there was laughter coming from the glow of that sail tent on the lawn, and although the day wasn't what was originally planned, it was beautiful, personal, and romantic.
I wish Jessica and Jeff the happiest lifetime together, and I was so very honored to be there and trusted with such a special day.
Vendors
Photographer: LAD Photography 
Caterer: Katherine White
Rentals/Tent: One Stop Event Rentals
Flowers: DIY
Dress: Blush Bridal and Formal
Suits: Men's Warehouse
Tucker's Tux – Etsy
Jessica's Ring: Maine Gold and Silver
Jeff's Ring: Attos Estate Jewelry