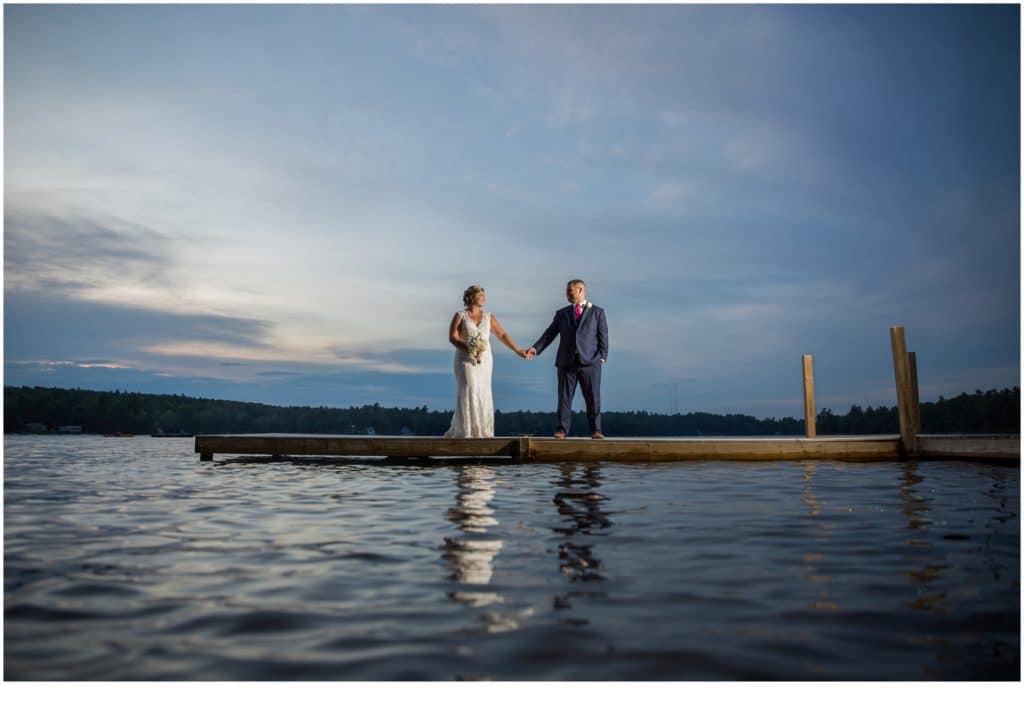 Kim and Nat had to make the hard decision of whether to postpone their wedding or downsize their plans because of Covid-19.  They opted to move their lakeside wedding to their family camp in Cumberland, Maine and shorten their guest list.  And I am grateful that they kept me on board for a full day of photography to capture it all. 
The family and friends of Kim and Nat have been so good to me over the years. I've photographed more weddings in this group of amazing people than I care to count, and I always love seeing them again and seeing their families grow!
Take a look at Kim and Nat's engagement session at Wolfe's Neck Park!
FINDING A PLAN THAT FITS YOUR PRIORITIES
One thing I always ask couples is where their priorities lie. I never assume that photos of the guests dancing are more or less important to them than photos of the little details, like their rings together, or the lace wrapped around the bouquet stems.
Kim and Nat chose to skip the preparation photographs and start their day with a first look on the beach, followed by family photos and wedding party photos, all pre-ceremony. I don't often recommend family photos before the ceremony since there are far too many people involved, but it worked for this small group, and the backdrop was perfect for it.
CEREMONY and RECEPTION
The ceremony took place on the dock at their family campground, with family and friends scattered on the hillside overlooking the lake. What a creative "aisle" for them to walk down, which provided a unique view of a traditional wedding ceremony. The sunlight was so beautiful in Kim's hair, but her face was glowing even brighter as she spoke her vows.
Their reception was a family affair, with food provided by family members who painstakingly prepared a few different meal options for the guests. The cake and flowers were also a gift from family members. Kim even wore her grandmother's earrings for her special day.
SPARKLER EXIT!
I love the challenge of photographing a sparkler exit!  Working with the remainder of the guests, who have absolutely had some drinks by the time the evening is over, to coordinate the lighting of sparklers for a proper exit can be difficult for some photographers.  Thankfully I have plenty of experience in this sort of thing and am able to help with setting this up, and making sure that everyone stays safe, that all sparklers are lit at the same time, and that the couple gets some fun photos of the last moments of their lakeside wedding day.  I loved the photo I got of Kim and Nat walking away through the sparkly tunnel.  Sometimes a shot like this is just as fun (and more unique!) than the classic photo of the couple coming toward the camera, and really gives a "bon voyage" feeling to end the evening.
I'm so glad I was able to be part of their lakeside wedding, and even happier to see that they will soon be welcoming a baby into their lives!  Watching Kim's "bump" grow through her social media photos is so much fun!
Vendors
Photographer: LAD Photography
Dress: Blush Bridal
Kim's Ring: Jared
Nate's: Manly Bands
Hair: Roots Hair Studio and Salon 
Make-up: Studio 88 Salon 
Venue: Family Camp
Food: Family
Flowers: Family
Cake: Family