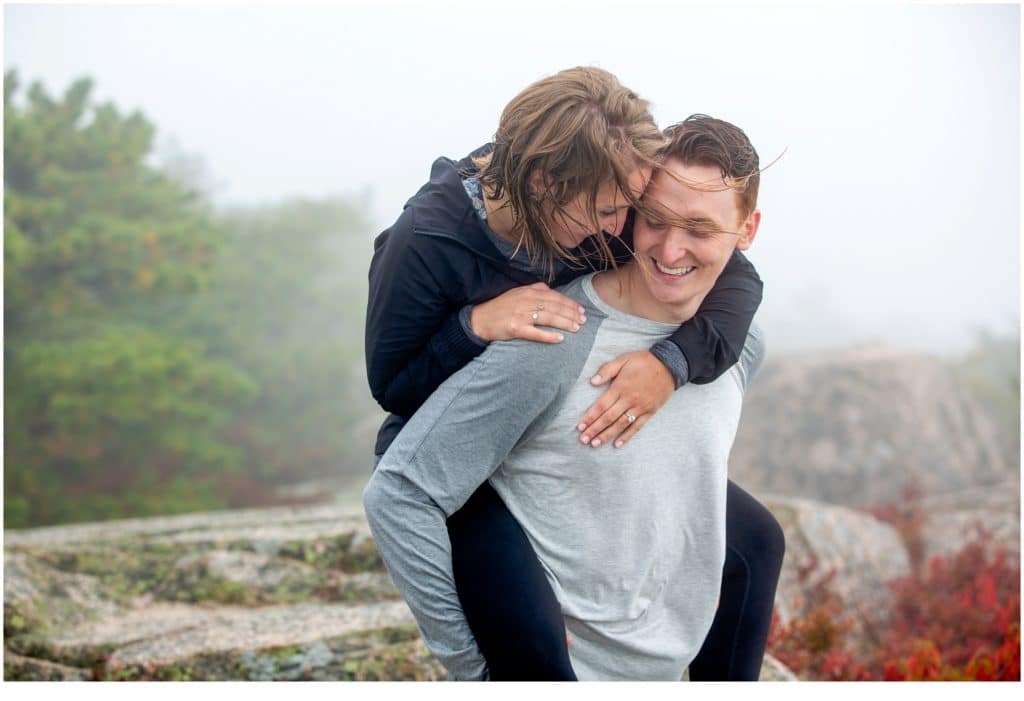 John contacted me to photograph the biggest moment in his life. He was coming to Maine to propose to his girlfriend, Katey, on Champlain Mountain!
He was a nervous wreck and wanted everything to be absolutely perfect.
THE PERFECT LOCATION: CHAMPLAIN MOUNTAIN
John and Katey love the outdoors, and hiking was something they had planned to do just about every day they were in Acadia National Park in Maine. He very much wanted to create a moment for her that would be incredibly memorable and romantic. After studying the area online, and determining which summits would be best for a view of the sunrise, yet private from the crowds of Cadillac Mountain, he settled on Champlain Mountain. In my experience, Champlain has one of the best views from the summit.
THE BEST LAID PLANS
John asked me to hike the mountain before dawn, about 20-30 minutes before they would reach the summit, and when the sun rose he would propose with an incredible view. A day or so before, it became apparent that heavy fog was expected that morning, with some drizzling rain and a chill in the air. He and I discussed other location options, but he took his chances that the summit might be above the fog, and we decided to go for it.
The hike up in the dark and rain was quite an adventure, but fun nonetheless, and not a big deal with a headlamp and a friend with me to carry some of the weight of my gear.
When we reached the top I set up and tested lighting and waited for them to arrive. I used a compass to determine which direction the sun would rise, since there was no hint of it yet, and found a ledge that seemed unobstructed by trees.
Texts were coming in from John as he began to realize the sunrise simply wouldn't happen. He didn't have a backup plan. But I wanted to see this work for him, so I texted I could stay a while longer to see if the weather cleared a bit, and he'd just have to wander the area with her until the moment was right. Thankful for that, he and Katey left my view without speaking a word to me. She was none the wiser.
In 30 minutes or so, they returned. The rain had stopped, mostly, and they were as drenched as I was. The sun was up, although nobody could see it through the fog, and they wandered over to where I sat eating a snack and acting like a tourist who was a bit sad about missing a good sunrise. LOL
THE BIG MOMENT, REINVENTED
Since John and I had come up beforehand with a way to communicate without actually speaking to each other (including avoiding a lot of texts), he knew where to stand. I'm not sure what he said to Katey as he knelt to ask her to marry him, but the look on her fact said it all. She was absolutely elated. As she said yes, the sun peaked out for just a moment, warming their faces, as if to congratulate them. John's smile was beaming, and Katey jumped on him for a kiss and they took a moment of celebration before John let her know that I wasn't some innocent bystander.
USING THE FOG TO OUR ADVANTAGE
Foggy days aren't usually what people imagine for their photography, but if you're taking your chances with Autumn in Maine, especially in the Mount Desert and other coastal areas of Maine, you can almost expect it. Instead of being disappointed by the lack of a sunrise with a view, John and Katey were beaming brighter than the sun ever could have that morning, and we used the fog to our advantage. I pulled out some lighting equipment to create a moody scene in the trees, and we focused on the bushes and shrubs that grew on the mountain as a backdrop instead of the sky and mountains. Everything was covered in raindrops, which helped everything sparkle just a bit when my lighting hit it, and Katey even helped create a beautiful photo of her ring with me, by holding a flash and spraying some watery mist into the air.
When the final images were delivered, John emailed me right away. "AMAZING!!!!!!!! Absolutely incredible. Thank you, thank you, thank you again, and again, and again!!! Katey got your message this morning and we have been swooning all over again the entire day." They were waterlogged and never did get that sunrise, but the story they have to tell, and the images that made them look their best even when the best idea didn't work according to plan, made it all worth it for them.
I truly hope that I get to see them down the road as they begin their search for a wedding photographer!