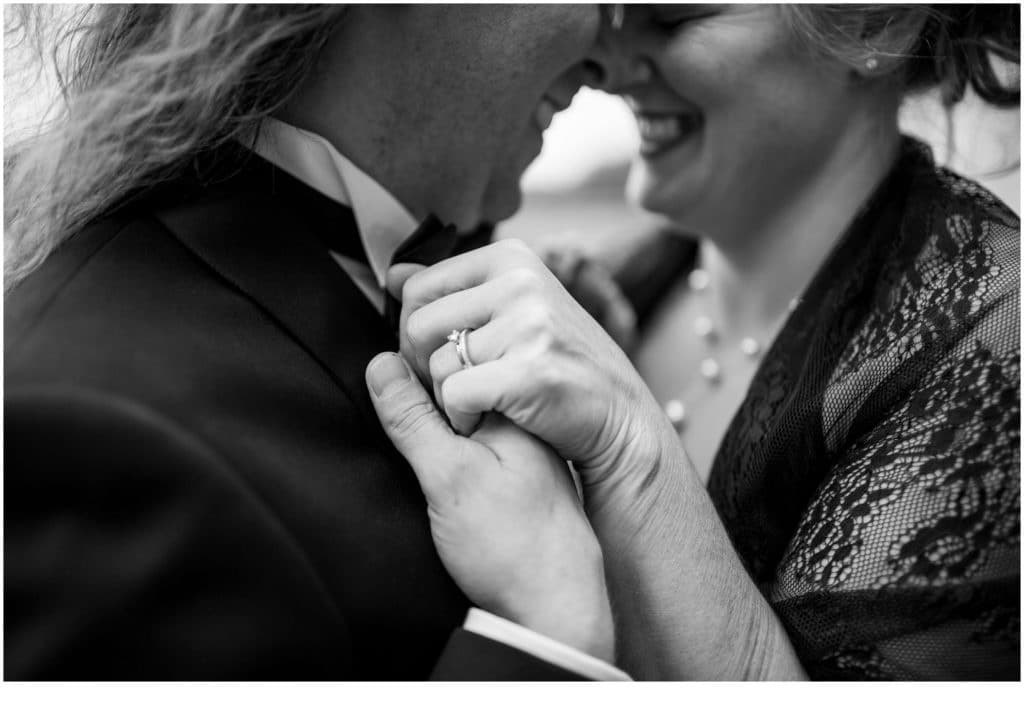 WHEN YOUR WEDDING DAY GIVES YOU LEMONS

Now and then I am asked to photograph a wedding that is not traditional by any means. Jade and Josh's Rock n' Roll wedding was one of these. They love James Bond, and they love Rock. They love to sing and dance together, and Josh is part of a local band. Being able to be their wedding photographer was so fun, even though not every aspect of the day turned out as planned. These two are so laid back that they took their day in stride, went with the flow, and entertained their guests every step of the way!
Their wedding was set to be held in October at Thomas Point Beach in Brunswick, Maine. Usually October weddings are warm and free of interesting weather, an ideal time to be married outdoors in Maine. This October wedding was cold and filled with rain for the beginning of the day. The rain cleared just in time for the ceremony, but the low temperatures kept guests bundled in their coats. Did this stop even one guest from having the time of their lives? NOPE!
GETTING READY FOR THE RAIN

We photographed Josh first, and because of his love of James Bond, he chose a traditional tuxedo and bowtie. Jackson, their dog, even got to get ready in the room with Josh, and wore his own little white bowtie! Once Josh was ready to go, we moved down the hall to Jade's room. She had a small entourage of friends and family with her, and was getting her hair done. Her dress had touches of black sewn onto it, and she opted to wear her knee-high Doc Martins over heels, and added a black pin to her hair and a black lace shawl to her attire. Even the corset lace up the back of her dress was black. What a way to stay true to herself!!
Once Jade was dressed and ready to go, we grabbed some umbrellas and sent her off to her wedding ceremony! A first look on the beach was planned, but due to the rain she opted to stay in the antique car she rode in, and the arbor was set up inside the tent on the dance floor. As guests arrived and took their seats, the rain cleared, and the last-minute decision was made to move the ceremony to the beach as they had originally planned. Perfect timing!

A WING-IT CEREMONY

Josh and Jade are so laid back that they decided to just go with the flow when it came to their ceremony.  Their guests were moved outside to the beach, and stood because the rain had left everything so wet.  There was no aisle, and Jade was brought from behind the tent straight through the crowd, which, although unconventional, was actually a really cool thing.  Somehow, it felt like the entire guest list was walking her down the aisle and I loved it! 
Their good friend officiated the ceremony for them, and when it was done they did some family photos.  They opted not to have a wedding party, so they were able to save some time in that regard and spend more of their cocktail hour getting some incredible photos with the autumn foliage in the background.  Being a former florist, Jade put together her own bridal bouquet, and I loved that she incorporated some colorful leaves into it to match the beautiful reds and oranges of October.

THE BAND ROCKED, AND THE DANCE FLOOR ROLLED

Once the reception was underway, the energy level went through the roof. Guests were enjoying the amazing culinary genius of Laura Cabot Catering, and a band called the Consummators, close friends of Josh, belted out a playlist that was unique and fit the bride and groom's personalities perfectly! At one point, Jade and Josh even jumped in with the band and sang their choice of a song, Love Shack by the B-52s, to their guests at the top of their lungs. This was a party to remember!

Vendors