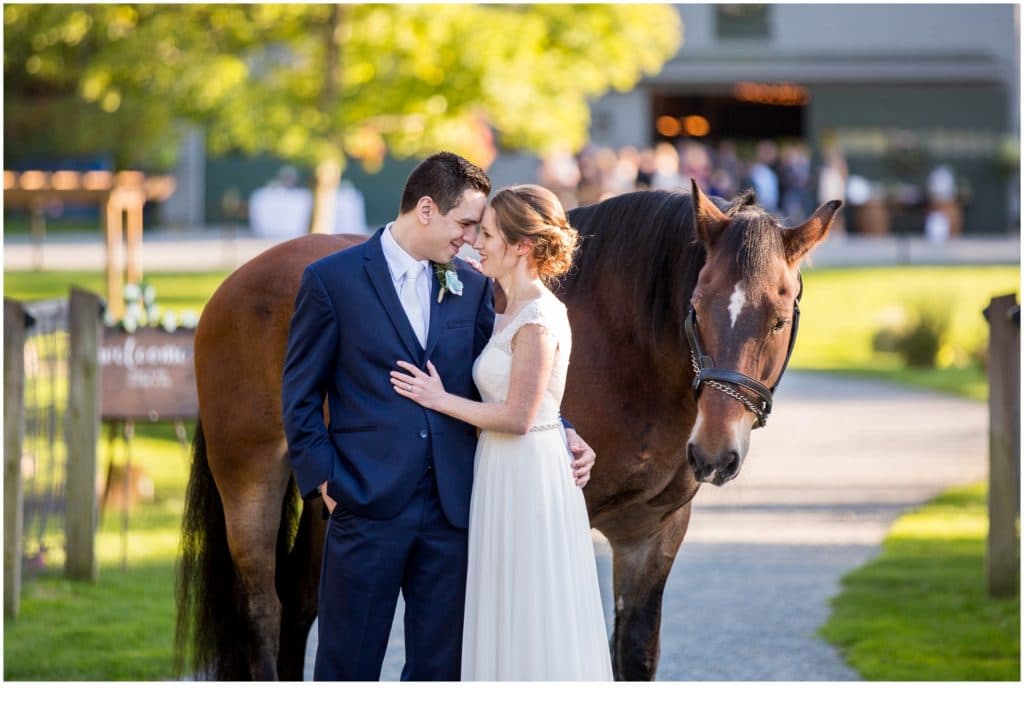 WHEN YOU WANT HORSES AT YOUR WEDDING…
Sometimes I get to leave Maine and do some weddings in other beautiful areas of New England!  This wedding at Terrydiddle Farm in Rehoboth, MA was one of those weddings that sings true to New England style, the celebration of family, and a sense of adventure.  FUN and RELAXED weddings are so great, and I'm so happy I was chosen as their wedding photographer! 
PHOTOGRAPHY FOR A PHOTOGRAPHER
Jeff and Anne know me from the photographic community in Maine. Jeff is also an award-winning photographer! His landscape photography takes my breath away. So it was an incredible honor when he contacted me and said that my photography is something he's always admired, and asked me to photograph their engagement session quite a while ago.
After the engagement session, Jeff and Anne told me that they seldom feel comfortable having their photos taken, and don't usually like the way they look in photographs, but I had taken away their nerves about the session and allowed them to be themselves. They felt comfortable with me and better yet, liked how they looked in their engagement photos! They hired me for their wedding right away.
SMART AND BEAUTIFUL BRIDAL CHOICES
Anne and her bridesmaids got ready at the farm, and Anne opted for a dress that had elegance, yet wasn't too restricting or heavy. She also chose not to have a bustle on her dress, knowing that she would rather run and play and dance all night than worry about the bustle falling or having to carry her train around in her hands. Anne was much more focused on having FUN! Her jewelry was thoughtful and meaningful, with dates and initials carved in to them that represent special days and people in her life. She also wore a necklace shaped like the state of Maine, since this is where Jeff and Anne live.
Jeff had his own special touches as well! He even matched the color of the laces in his shoes to his blue suit, and he wore a paper flower, made by his soon-to-be-wife.
As they prepared to see each other for a first look before the ceremony, they each read a letter they had written to each other. It's the perfect way to bring the excitement of seeing each other for the first time to a wonderfully emotional level.
THE FIRST LOOK
A first look is a personal choice, but one that I have never had a bride and groom regret. Jeff and Anne opted for a first look, and it was such a fun moment for them. I could see the anticipation on Jeff's face as he knew she was approaching, and when he turned and looked at her, he smiled so big, and then had to take a step back to look at how beautiful she was, head to toe. She kissed him and wrapped her arms around him, smudging lipstick on his collar, and we all had a laugh as I pulled out a stain remover and fixed the blemish before we continued around the farm for more photos.
The wedding party joined us for photographs shortly after, and I got to photograph each of the special bouquets Anne had made for her bridesmaids.
When it comes to DIY weddings, this one takes the cake. The amount of time and energy Anne put into creating beautiful centerpieces, bouquets, and signage, was amazing. Each boutonniere and bouquet was made by Anne. She was so thoughtful in making these that she used pages from books that had meaning to each of the people she created them for.
A SPECIAL CEREMONY
Jeff and Anne asked the maid of honor, one of Anne's closest friends, to officiate the wedding ceremony. This was a brilliant choice. Not only was she well-spoken, and could share stories during the ceremony that were personal to the couple, but she was a bright and fun person whose laugh made the entire guest list smile along with her.
Jeff and Anne wrote their own vows, exchanged rings, and kept the ceremony short so that guests could begin the party while I took Jeff and Anne to the horses for a couple special photos with them. The handler was amazing and helped us get one of the horses in perfect position for some beautiful photos!
SURPRISE CAKE!
Anne wasn't into the idea of a traditional cake cutting during the reception, so they opted for some delicious apple crisp instead! Jeff, who couldn't stop talking about the apple crisp in the weeks before the wedding, was still somewhat disappointed they wouldn't be able to have the traditional cake cutting. So Anne and I conspired. She got him a special little cake that was hidden away in the barn, away from guests, and had a table set with everything they needed to cut the cake and share a piece the way Jeff would have wanted. I came up with the plan on how to get Jeff up there without being suspicious, and by the look on his face when he saw it, I'm pretty sure he was clueless about the whole thing. Ha! They cut a slice, took a bite, and then smooshed it all over each other. Jeff was so excited to have been able to do this that he walked back down to the reception with his face still full of cake, just to show it off!
AFTER DARK PHOTOS
There are several reasons why couples hire me for their wedding photography. One of those reasons is because once the sun sets I know how to use light (and the darkness) to create some truly unique photos. I'm glad Jeff and Anne were willing to step away for a few minutes to walk to the pond for a reflection photo, and then to line themselves up on the wooden fence for a back lit image on the lawn. These kind of images are sometimes my favorite of the day!
I know I'll see Jeff and Anne around again, and I'm crossing my fingers I get to remain part of their lives as not only their photographer, but also a friend!