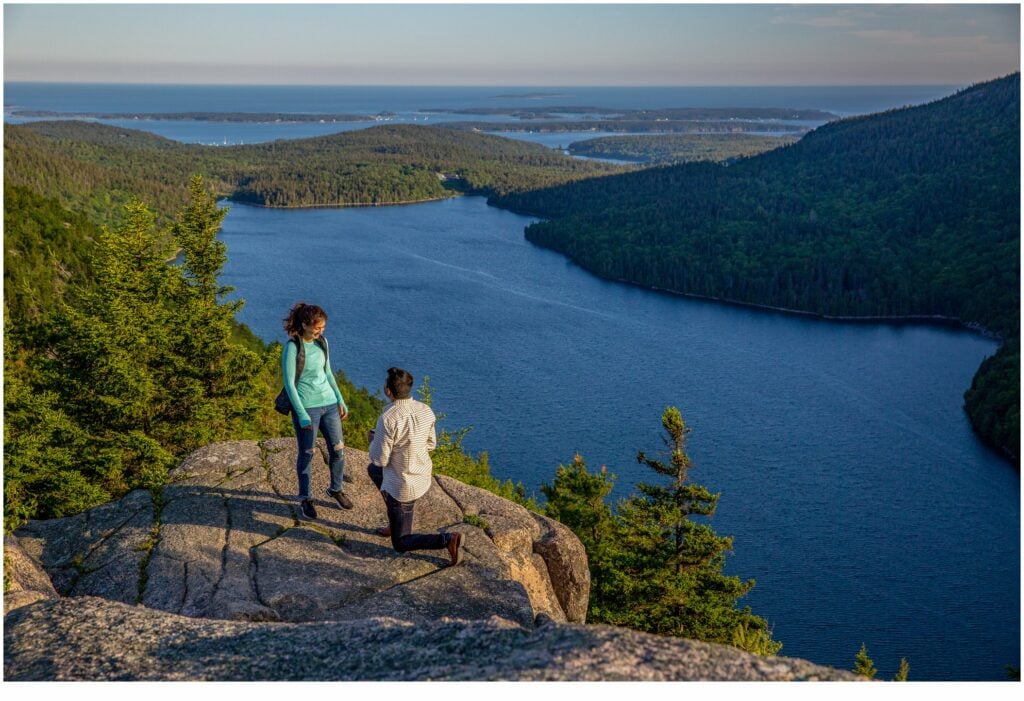 Proposals in a beautiful location is one of my favorite things to be witness to and to photograph. I loved watching Vishal proposing on the bubbles with the epic view behind.
Vishal contacted me about proposing to his girlfriend Shani while they visited Maine on vacation.  Like most of the guys that contact me, Vishal asked for some guidance in understanding Acadia National Park a little better, and which hikes would be manageable to a couple who aren't avid hikers, yet still provide great views for the moment he popped the question.
We landed on North Bubble as our final decision, and had a plan for the end of the day, but Vishal was so eager to not be late that they wound up being more than 30 minutes early to the summit!
Luckily, I'm always there a bit early, and was in my spot when they arrived. Vishal sat with Shani for a while, enjoying the view.  The other tourists had gone when he decided to bring Shani down to the rock that has become the most familiar visual of North Bubble. When he was ready, he asked Shani to marry him, and of course, she said yes!
We spent the rest of the hour in the small space that is the summit of North Bubble, but even in a small area, I was able to come up with several ways to make the summit look different and beautiful.  I always bring my lighting with me because it comes in handy, especially in these situations where the sun is on the harsh side and a little higher in the sky than is considered ideal for photos.  Going the extra mile to bring these items up the mountain with me is something almost no other proposal photographer does, but it matters to me to get it right and create beautiful photos.
We hiked down the mountain together, stopping on the path for a few more photos, and when we parted ways we all got hugs and of course I asked for my usual selfie to add to my fun collection of selfies of all the people I photograph!
I wish Vishal and Shani so much love and happiness as they plan their future together!