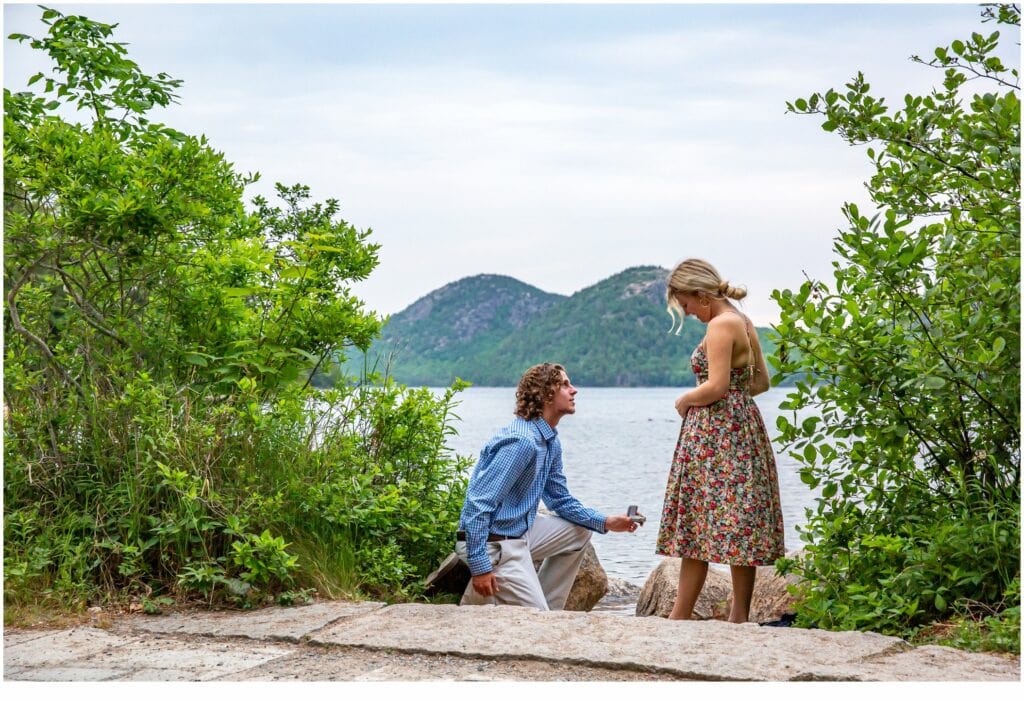 Joshua contacted me about his plans to propose to Mary.  Joshua isn't a planner, but he knew this would be an important moment for Mary, and wanted to be as organized as possible.  He decided to hire me to help him create a plan for his Jordan Pond proposal. That's something I do for all the people who hire me for proposal photography!
He knew Mary was the type to want to be dressed nicely for this moment, so Joshua and I came up with a plan on how to get them both dressed up and on location.  The weather looked ominous, but we planned for some sprinkles and he said she would be the type to go with it even if they needed an umbrella.  
Fortunately, no umbrella was needed, and although they didn't get the sunset they were hoping for because of all the rain clouds, not a drop of rain fell until about ten minutes after the session ended!  
What to Wear When You Propose
This is an important decision that is best made by the person proposing.  The unsuspecting "proposee" is always a certain kind of person.  Their partner knows without a doubt whether they would like to be dressed up nicely for this moment, or whether a pair of jeans or hiking gear is more their style.  Helping my clients determine this, and choose coordinating outfits, is just one of the things I go over with the clients who hire me for this kind of photography.  
In this case, Joshua is not usually the type to dress up, but he and I devised a plan that would give him an excuse to do so without raising Mary's suspicions. It worked!  Although they arrived late due to a delay, and we lost light quickly due to the weather, we were able to get quite a few special images for them to cherish from the day he proposed.  
What a cute couple!  I wish them all the best as they start planning their wedding!!!