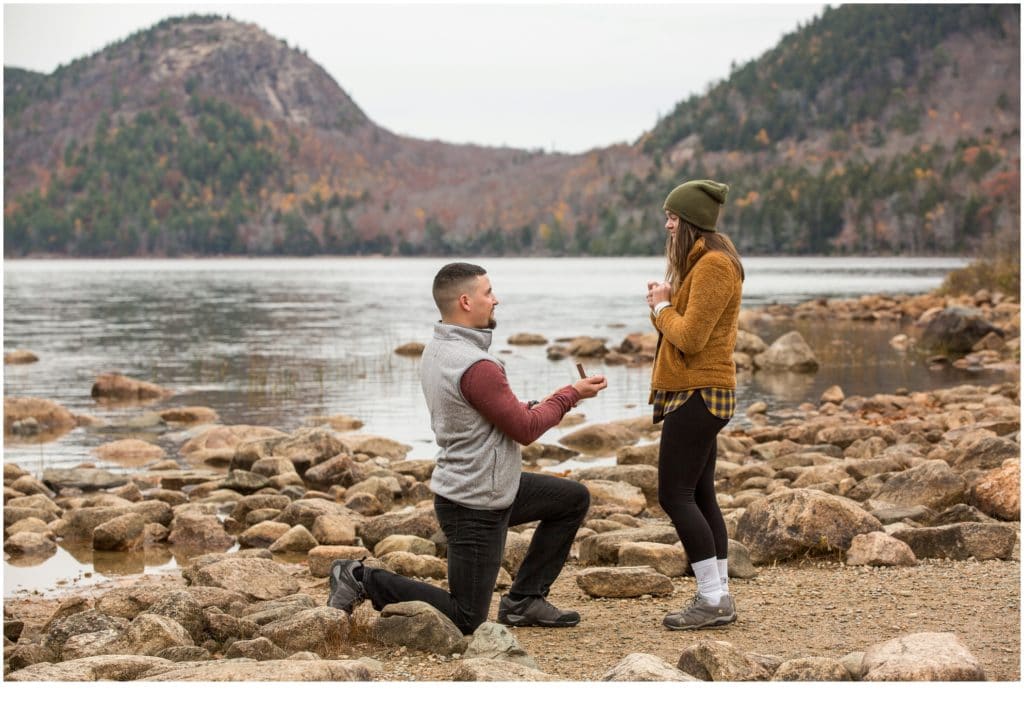 The right location was selected for these avid outdoor enthusiasts and hikers for Proposing at Jordan Pond, Acadia National Park.
MAKING SURE IT ALL GOES SMOOTHLY
I've photographed countless proposals in Acadia National Park, and usually the person who contacts me knows the day they want to pop the question, and that they want it to be inside the park, but online resources make it very difficult to know the layout of the park and which spots are best for sunrise and sunset, and which spots are more crowded than others.  This is where I come in!
There are an endless number of summits and picturesque places to ask for someone's hand in marriage in Acadia, and I legitimately care about this moment being perfect for the anxiety-ridden soul that is about to propose, as well as for the person who will undoubtedly say "yes!". I don't just ask when and where and show up with the hopes I get some good photos. Instead, I have many phone calls, texts, and emails back and forth to help find out what kind of couple they are, what their passions are, and the best options for that ever-important spot for taking a knee.
Ryan contacted me months in advance. Far more in advance than is typical for this sort of thing, and we talked about so many options. He and Emily love to hike, so a summit would be a possibility. We talked about when they'd get to town and what their plans were for each day, and how we could fit this in without raising suspicions. I gave Ryan several places to research that could be great options, and gave him links to other proposals I had done. When we talked about Jordan Pond, I told him that it's just a walk from the parking lot, that it's an iconic view within Acadia, and that there would be no issues with climbing a summit and hoping things didn't run behind, ultimately shortening the time we had before sunset.
JORDAN POND
Jordan Pond is usually one of the locations that people dismiss early on as an option for where to propose.  And I'm unsure why.  I think many aim for that rocky coast with the ocean crashing on the rocks kind of vibe, which is also lovely but often doesn't offer the diversity that a location like Jordan Pond can offer.  Several little alcoves around the walking paths that encompass the pond are perfect for photos with the mountains in the background, and if the wind is calm, the water on the pond is like glass…. a perfect mirror.  For these two hikers, it also offers a view of North and South Bubbles, which they hiked earlier in the day, and which now hold so much more meaning for them.
I was absolutely thrilled when Ryan took my recommendation to propose at Jordan Pond.  We researched the best time of day to be there, and a couple of weeks before their trip to Maine I was in Acadia photographing another proposal and decided to take a drive to Jordan Pond and photographed the spot for the best proposal photos.  I put an "X" on the photo where he should ideally bring her to pop the question, and I sent it to him with instructions on how to get her there without suspicions, how to ensure his outfit didn't clash with hers, and how to reduce distractions in the photos, like cell phones and wallets in pockets.  
SHE SAID YES!
Of course she did!!!  I mean, who wouldn't say yes to a man who planned this moment for months, and seemed polite, professional, and so crazy madly deeply in love.  When they passed by me and he brought her to the spot, I had a hard time not smiling a cheesy grin that could have given it all away.  He brought her to the exact location we had planned, pulled a note from his pocket and read it to her, and then knelt.  I never really get to hear what is said in those moments, since I keep a good distance, but Emily's eyes filled with tears and she seemed like she couldn't wait for him to finish putting the ring on her finger so she could get him to stand up and give her a hug and a big kiss! 
Ryan introduced me after a few moments, and I congratulated them, giving Ryan a hug that was long overdue, and hugging Emily as well, who was shaking and laughing while wiping away tears.
The session, which was bumped up by a few hours at the last minute due to a threat of rain, was full of laughter and energy, and I swear these people are my people.  I'm crossing my fingers that I am asked to be their wedding photographer, whenever and wherever that winds up being.  I adore this couple!