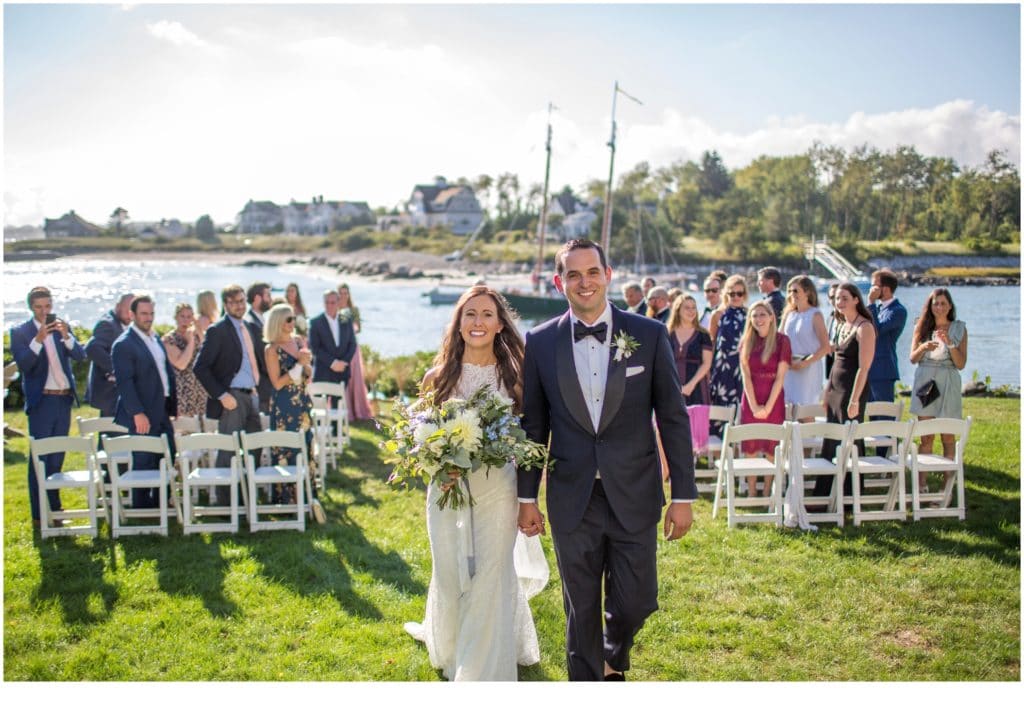 Erin and Andy are such a cute couple, and I'm excited they chose me to photograph both their rehearsal dinner at the Spirit of Massachusetts, a floating restaurant in Kennbunkport, Maine, as well their wedding the following day at The Breakwater Inn, also in Kennebunkport! Both of these venues were new to me, and I loved them so much, I can't wait to return!
THE SPIRIT OF MASSACHUSETTS
This floating restaurant was the perfect location for a small gathering in downtown Kennebunkport, with Erin and Andy's closest friends and immediate family. Their rehearsal dinner was relaxed, with passed hors d'oeuvres, including lobster rolls. What a beautiful backdrop for photos as well, with a setting sun on the harbor.
A POKER FACE AND PEARLY WHITES
As one of Erin's bridesmaids explained, she was a bit skeptical when Erin said she was excited about a guy she met. Erin, who had made her childhood dream of being a dentist become a reality, was seeing a professional poker player. The irony of watching Andy, a warm and friendly, but somewhat reserved "poker face" of a guy, next to Erin, who has a constant ear-to-ear grin with the pearliest white teeth you've ever seen, makes me giggle a little. And yet, she looks at him with such tenderness and kindness, and seeing her smile breaks him down every time, and you can see every emotion he feels about her painted right across his face. A perfect couple.
FUN DETAILS
Andy wore a traditional and formal tux, with his initials embroidered on the sleeve of his shirt, and custom made cufflinks in the shape of little poker chips. Similarly, he had given each of his groomsmen cufflinks that reflected their careers and/or passions and hobbies, including a squid, a speedometer, and the "scales of justice" (for the attorney, of course).
Erin chose classic pearl earrings and a simple gold wedding band. Her dress was form-fitting with an incredibly unique back that dipped low on the sides and created a bit of a racerback of lace in the center. And of course, she asked that a special photo of her be taken as she brushed her teeth (makes sense, right!?) before she put that gorgeous dress on!
THE BREAKWATER INN, KENNEBUNKPORT
The Breakwater Inn is a small venue, perfect for this kind of intimate wedding, with a manicured lawn area for a ceremony, access to a pebbled beach for photos, and a bright and breezy sun porch for a reception that can be fully opened to the fresh air of a Maine summer.
The food was to die for and included local Maine ingredients such as oysters and lobster.
Summer in Maine also provides an amazing opportunity to have outdoor dance floors, under the stars, or overlooking amazing sunsets on the water.
A SPECIAL SURPRISE
Maine is a larger New England state with relatively few residents. I had never met Erin or Andy in person when they decided to hire me for their wedding. But….. what a wonderful surprise when I took my son to the dentist this past summer and was met by a fully masked (thanks, Covid) and incredibly friendly staff who took such good care of him, and halfway through the appointment, his dentist pulled me aside and said "Oh my goodness I think you're photographing my wedding this summer!" It was Erin, and even with a mask on I could tell she was grinning ear to ear. It's always so wonderful to meet my clients for the first time, but it's somehow even more wonderful to meet them for the first time outside of the wedding world, and know they are happy and caring people, who apparently my son also adores, as well.
I wish Erin and Andy all the best, and I'm pretty sure I'll be seeing them again soon (well, at least Erin, every six months, with my son. Ha!!!)
Vendors
Photographer: LAD Photography
Planner: Landfall Designs
Rehearsal Dinner: Spirit of Massachusetts
Wedding Venue: Breakwater Inn
Dress and Veil: Blush Bridal Lounge
Bride's Wedding bands: Elite Fine Jewelers
Wedding Band and Engagement Ring: Blue Nile
Tux: Suit Supply
Hair and Makeup: Lauren Kinton
Florist: Farmhouse Floral by Estabrooks
Rentals: Onestop Rental
Musicians: Duane Edwards
DJ: Jeff Erwin