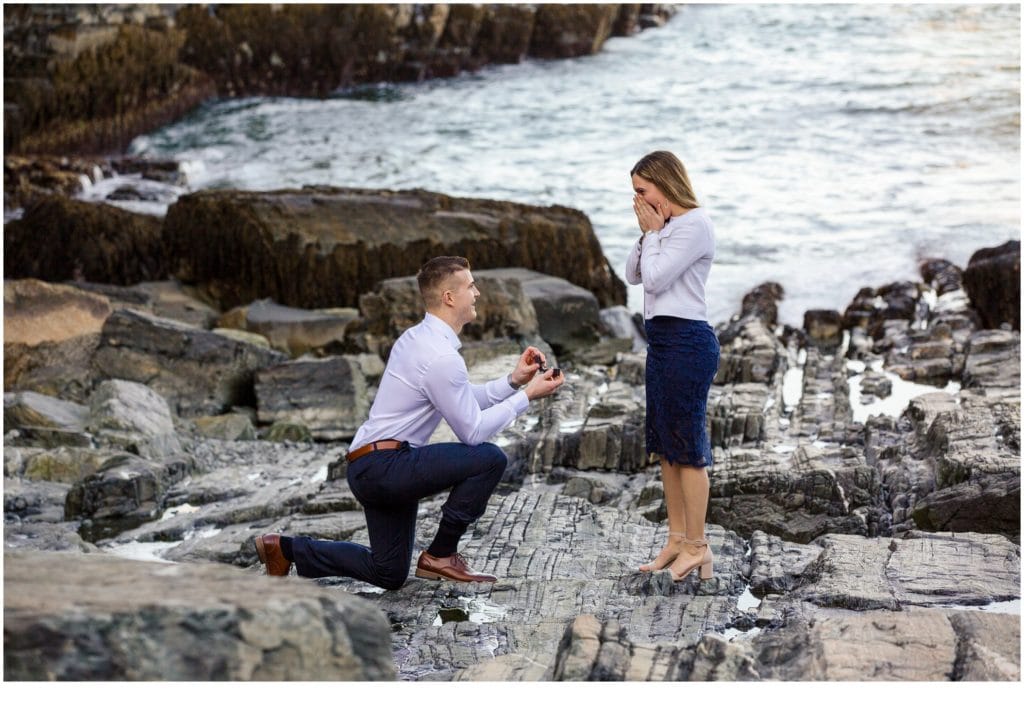 THE COUPLE
Alex and Kelly are so freaking cute together!  Alex contacted me about proposing at Cliff House to his girlfriend Kelly during their stay in Maine. Cliff House weddings are some of my favorites to photograph, too.  This venue is absolutely stunning, with endless photographic possibilities!

For proposals, however, most people prefer to pop the questions by the ocean, on the famous cliffs, with the waves crashing in the background.

Alex used Kelly's birthday, which was right around the time of the proposal, as a way to bring her on the trip without arousing any suspicions.  What a perfect cover!  As an added bonus, he also invited a bunch of their friends to Cliff House to help them celebrate after the ring was on Kelly's finger.

THE PLAN
Most people who contact me for proposal photography have no specific plan.  They have a location, and they have a ring, and they are really nervous as to how to pull it off without their partner figuring out what is happening.  That's where I come in!

I think I photograph more proposals than any other Maine photographer at this point, so trust me when I say I've seen quite a few of these and want to take the time to help set up a plan that is truly special for each couple.

Not only do we talk about how to coordinate outfits or what kind of ring box stays concealed best, but we also talk about how to communicate without speaking, once we are all in the right area, so that the person proposing knows exactly where to stand and which way to face for the best possible photographs.

In Alex and Kelly's case, we even talked about how to get her down the ledges to the ocean in heels and a dress without her having a clue what was going on.  Helping make this moment perfect and stress-free for everyone is part of what I do!  I'm not the type to show up and wing it, leaving you anxious about whether the photos will look ok or whether you knelt in the right place.  I'm here to help.  Consider me like a photographer AND a proposal planner!

WHEN PROPOSALS TURN INTO WEDDINGS!
I'm so happy to say that Alex and Kelly were so happy with how the proposal and engagement photos came out that they've hired me to photograph their wedding in June of next year!  I can't wait to see them again and photograph the next stage of their love story!!