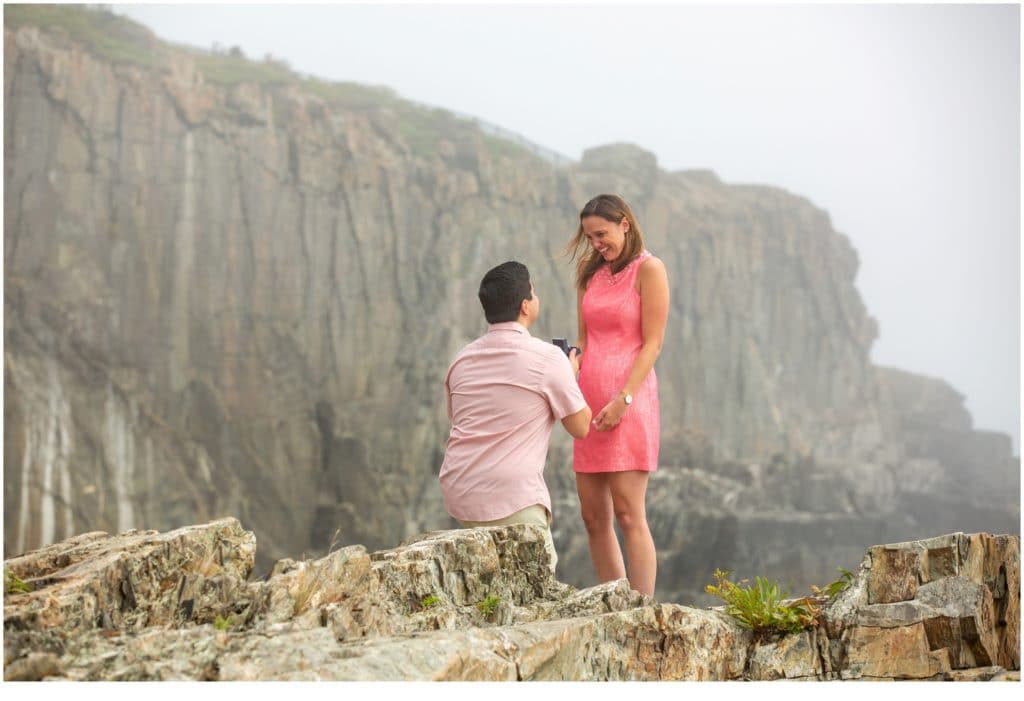 She cried. He is super sweet. What's not to love about a surprise proposal at Cliff House with two amazing people. I was thrilled to be their photographer.
A foggy day on the Maine coast brightened up to blue skies and celebration as Jorge popped the question on the rocks at The Cliff House. His scheme worked and Becca was completely taken by surprise. She, of course, said yes!!
Jorge thought of it all for this surprise. A weekend getaway and an excuse to get dressed up for a fancy birthday brunch. It was his birthday week, so he convinced her to have a mini-vacation in Cape Neddick to celebrate. Little did she know the trip was not for his birthday as much as it was for a proposal! I hung around on the rocks and waited until he dropped to one knee and then I moved in. Her expression says it all!! So happy for them.
Their glasses of bubbly complimented their coordinating shades of coral and pink. I love how they pop off the rocks with those colors and brightened up the foggy scene. Becca said, as they drank champagne, "if I had said no, were you planning to push me off the cliff?" and she laughed. I love her sense of humor! Such a great way to celebrate on the Maine coast.
These two were so fun to work with and I love the images from Jorge's surprise proposal at Cliff House.