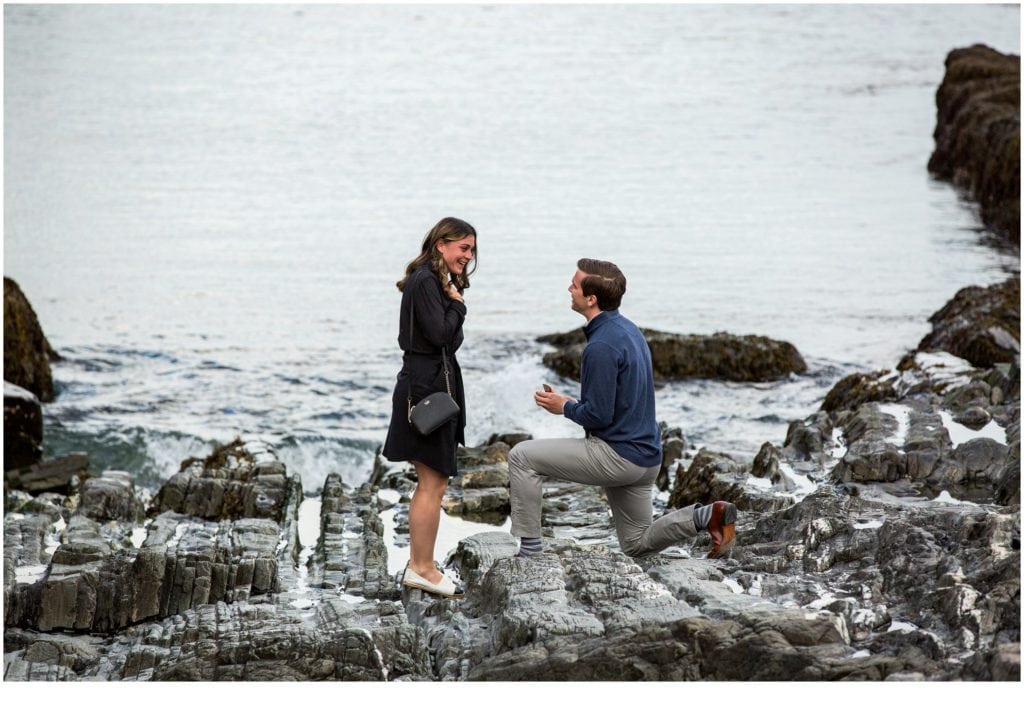 Griffin contacted me about his perfect proposal at Cliff House to his girlfriend Gabi, and right away I could tell how special she was to him.  He wanted every detail to be perfect, from the clothing choices to the right ring box, and EXACTLY where to stand when I photographed his proposal.  
I've photographed several proposals at Cliff House in Cape Neddick, Maine, but Griffin wanted this one to be different. Where most guys make the simple route onto the easiest path on the cliffs, Griffin knew that Gabi wears flats most of the time and is an adventurous soul. He knew that she would be willing to explore the cliffs a little more and that he could get her closer to the water for that special moment.
The Perfect Proposal
Griffin and I had emails, a Zoom meeting, and a few texts… all leading up to the moment he would ask Gabi to marry him. We planned how he would coordinate with her outfit, and how to hide the ring box. We planned what side of the cliffs he would go to, and how far to the left or right he would stand to ensure the perfect photograph. And he followed the plans to the letter.
When he and Gabi came down the stairs to the cliffs, I had my camera hidden from view. To them, I looked like just another guest at the resort who was taking pictures and videos with her cell phone as I watched the waves crash against the rocks. As soon as they passed me and wandered closer to the water, I picked up my camera and got ready.
The surprise on Gabi's face was unparalleled. I don't think I've ever seen such shock and happiness and excitement all mixed into one expression. Her jaw dropped, she smiled ear to ear, and she said yes!!!
Introducing Me
I always give couples a moment to take it all in. The excitement of the moment shouldn't be ruined by me walking over. When the "proposer" is ready, I'm introduced, and then I wave and make my way over to give big congratulatory hugs. When Griffin pointed at me, Gabi looked shocked and laughed from her belly and I knew immediately why he loves her. What a genuine and fantastic soul she is!
I congratulated them both and gave them each a hug, and instantly I felt like I had known them for years, and that they would be not just clients, but friends.
We spent time creating images on the shore after proposing at Cliff House that no other couple has, and shortly after that day Gabi and Griffin reached out to me to photograph their wedding. I couldn't be more excited about it!
Here's to their future, and to new friendships!