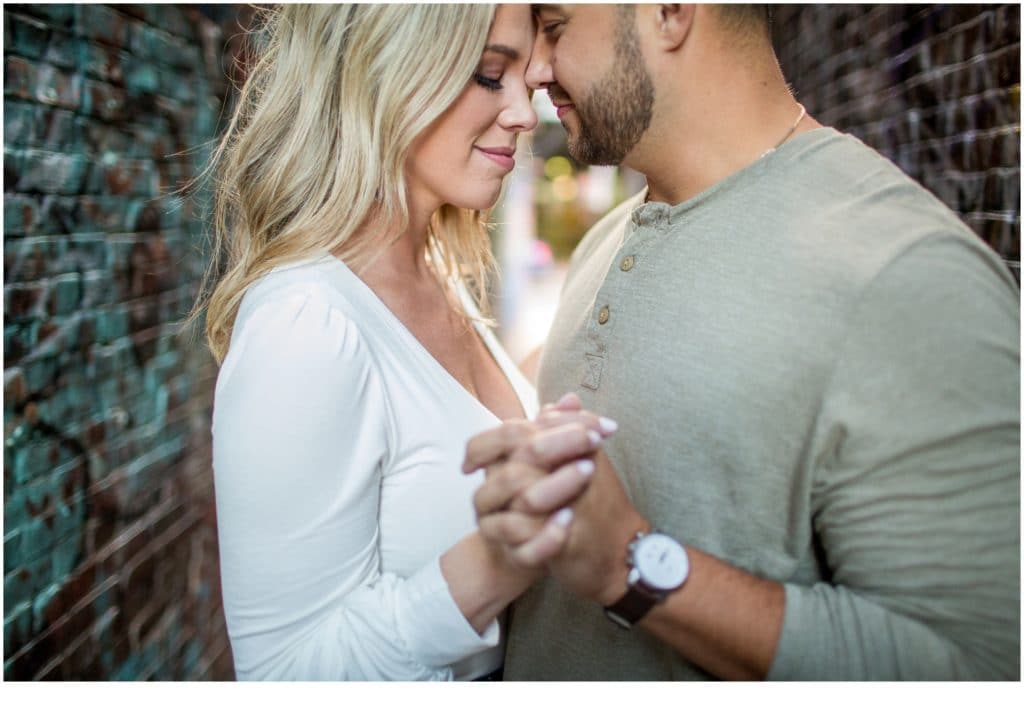 Tony and Kate found me through their friends Cat and Jay, whose wedding I photographed the year before. Kate loved their photos so much and heard such great things from Cat that she asked to meet with me about her own wedding plans. We hit it off right away, and she and Tony quickly became two of my new favorite people.
DON'T BE AFRAID TO LAUGH FROM YOUR BELLY!
They decided to split their engagement session between a cityscape and the beach. They took my advice on a couple of locations for their session and loved the idea of the cobblestone streets of Portland, Maine, and the quiet beach at Kettle Cove at sunset, and drove up from Boston to make it happen.
One thing I adore about this couple is their willingness, right from the start, to show their fun side. They love to laugh and are a bit goofy at times, and this came out from the first frame I shot that day. They feed off one another, giggling and poking fun and cracking jokes, which just makes them laugh even harder. There is NOTHING I love more than a crinkle-nosed, open mouth, from-the-belly laugh captured on camera.
BRING THE PERSONALITY!
We stopped at a little side alley where I asked them to hold hands against the brick wall behind them and look at the camera. They couldn't keep it together as they stood there, and Kate started doing "the wave" with one arm, then the other, and Tony didn't even skip a beat and finished the wave with her. I'm not even sure they realized I captured that on camera, but it's one of my favorite images from the day. As one of their friends called it: "Personality Pic!"
ROMANCE ON THE BEACH
A quick change of clothing at Kettle Cove put Tony in a fitted blue shirt and Kate in a summer dress that caught the gusts of terribly cold wind that evening and showed off her legs. As the sunset, I used my lighting equipment to highlight them on the beach, and against the darkening sky. Placing the flashes behind them, and facing them toward the camera, allowed for some really dramatic lighting that almost emulates the glow of a setting sun.
I love these images because it shows them falling into a different dynamic with each other. Deep love and affection (and perhaps some deep breaths to withstand the bitter cold?) were caught on camera before we lost the last bit of light.
I am beyond excited to be their photographer and can't wait to laugh with them throughout their wedding day!!!