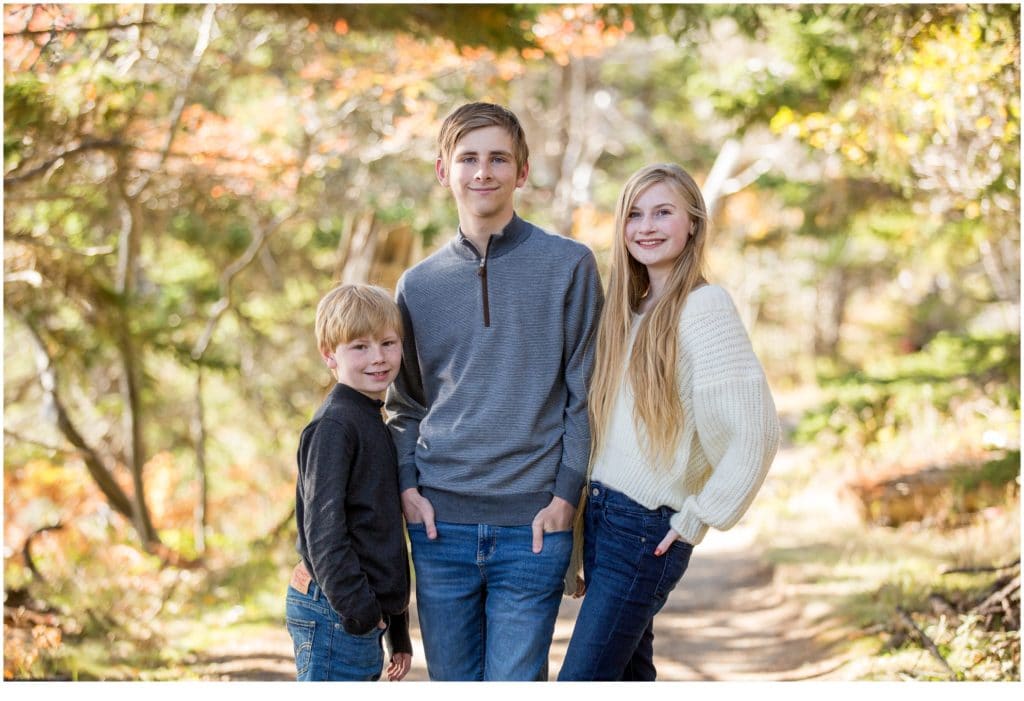 From June to November I get to visit Acadia National Park at least a couple of times a month to photograph families, marriage proposals, engagement sessions, and high school seniors.  Being familiar with the park and the best places for photos at certain times of the day is key!  I'm always happy to offer suggestions that fit my clients' needs. 
The Cleveland family comes to Acadia from Texas for vacation nearly every year, but they've never had family photos taken on their trip.  This year, they decided to start documenting their memories with family photography in Acadia National Park. They asked me to come to Acadia to photograph their children: Claire, Christopher, and Cody.  
OTTER CLIFF
Otter Cliff is a popular location for Acadia visitors, but I know a way to get away from the crowds and still get spectacular views of Otter Cliff as well.  The day was quite chilly and very windy.  For these Texans, it felt downright freezing!  But the kids were pros, and you'd never know all they wanted was to jump back into the car to warm up.  Ha!
Claire is a high school senior, so we took the opportunity to get a few photos she might be able to use for her yearbook. Chris and Cody had their photos taken as well. The faces of our children as they grow are so important to capture, and each child has their own personality that comes out in photos alone.
COME BACK AGAIN!
The Clevelands are planning more visits to Maine, and I hope I get to see them again and continue with more family photography in Acadia…. maybe next time I get the camera-shy parents to join in the fun.  😉