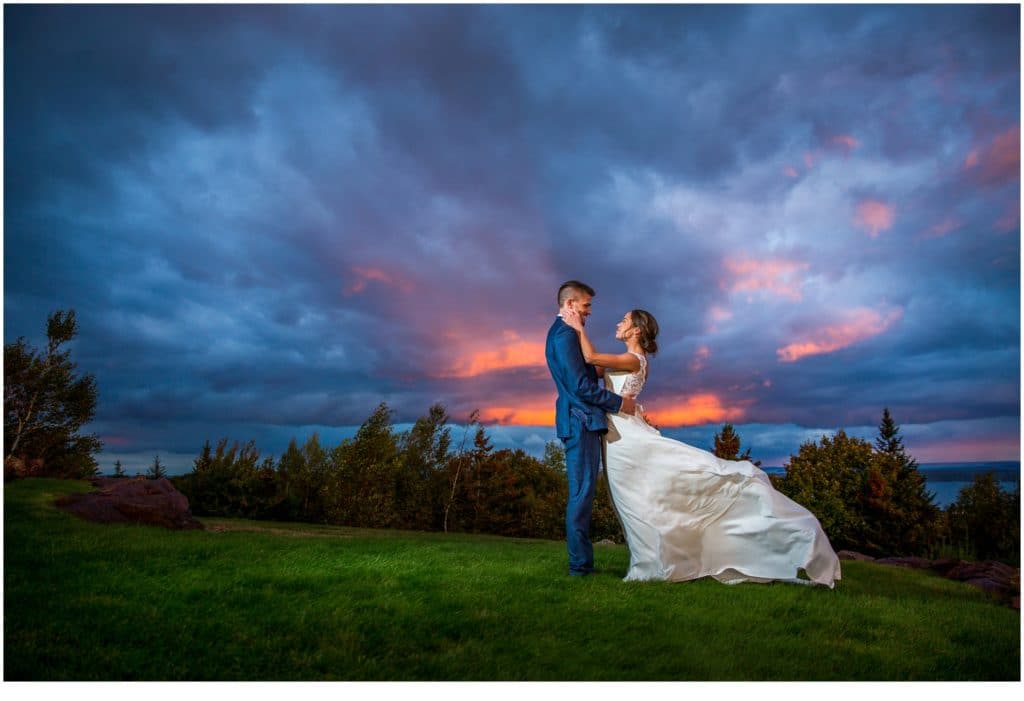 Maine has spectacular scenery so there is always ample opportunity for beautiful backdrops as a wedding a photographer. This mountaintop wedding didn't disappoint.
Kristen and Brandon's wedding was one of the last ones to take place at Point Lookout, a gorgeous mountaintop venue in Northport, Maine. Sadly, the venue closed at the end of 2019 and became a private residence, but this only makes Kristen and Brandon's wedding that much more memorable.
The decor had a little bit of a pinecone theme, and the floral arrangements were ivory and lavender colors, which complimented the wedding party's attire.
A Toast!
One thing I love to photograph is a toast between the groom and his groomsmen, and the bride and her bridesmaids. It's a perfect way to kick off the day and take a moment together before the ceremony or first look. Brandon chose Maker's Mark for a toast with his guys.
Another Reason A First Look Together is so Important
Kristen and Brandon wanted to do a first look at the barn and photos on the ocean at the base of Point Lookout. What perfect timing, as the threat of rain had lowered and the sun came out just in time for their stroll to the water together!
Afterward, they rejoined the wedding party on the mountaintop, planned enough time to get the wedding party photos finished, including some goofy ones, and then, because Brandon and Kristen are huge football fans, the entire wedding party joined in an impromptu game of football! Kristen played the perfect quarterback, and they all laughed and forgot for a few moments just how windy and cold the day was.
For couples who want to inject some fun like this into their wedding day, a first look is the perfect way to set aside time for it!
Ceremony
The ceremony was so special and incredibly personal. Kristen and Brandon wrote their entire ceremony, start to finish, together, and their family and friends looked on, wiping tears from their eyes, as they passed the rings around from one guest to the next in a ceremonial ring warming.
Braving the Weather for Amazing Photos
The weather isn't always going to be ideal on your wedding day, and sometimes braving the elements can make for some amazing photographs. The wind was bending treetops, and although Kristen could barely feel her fingers, she agreed to come outside for five minutes at sunset to take advantage of one of the most incredible sunsets I had seen all year. The wind carried her silky dress, and Brandon held her to keep her warm as I snapped away using special lighting to bring out the color in the clouds. I am so thankful for couples like Kristen and Brandon, and their willingness to just go along with my ideas when I say "can I steal you for five minutes in the cold!?" I think we all agree it was worth it!
An Unplugged First Dance
For the first time in my career, I was witness to an unplugged first dance. Most people know by now about unplugged ceremonies, where guests are asked to shut off and put down their phones and cameras in order to be fully present and in the moment during the vows. Kristen and Brandon had the amazing idea of also doing an unplugged first dance together at the reception. The DJ asked that all guests gather around the dance floor and leave their phones and cameras at their tables. What resulted were photos of the first dance where the guests were smiling, hugging each other, clapping, and fully present, instead of concentrating on getting "the shot" or taking a video of the dance as they struggled to watch and record at the same time. It was brilliant!
Can I have S'more?
What a fun twist on a dessert bar for this mountaintop celebration! Kristen and Brandon not only cut a cake, but they also provided their guests with all the fixins to make s'mores, too! Before the night ended, they were sure to grab me for a few photos of them making s'mores and sharing a bite. I love this unique dessert idea!
Kristen and Brandon are such an incredible couple, and I feel so connected to them. We were able to bond over some personal struggles that we shared with each other when we first met, and also later discovered that Kristen and I share a really interesting and silly sleep habit. The laughs that came from discovering that tidbit of information bonded us even more. I can't tell you how happy I am that they chose me to celebrate their wedding day with them, and I know we will stay in touch as they reach new milestones in their lives together.
XOXO
Mountaintop Venue: Point Lookout
Rings: Barrington Jewels
Suits: Macy's
Music: Performance Entertainment
Officiant: John Wentworth
Cake: Sweet Sensations/3 Dogs Café
Video: Life in Focus
Bridal and Bridesmaids Bouquets: Seasons Downeast
Other Florals: DIY/Bride's Mother