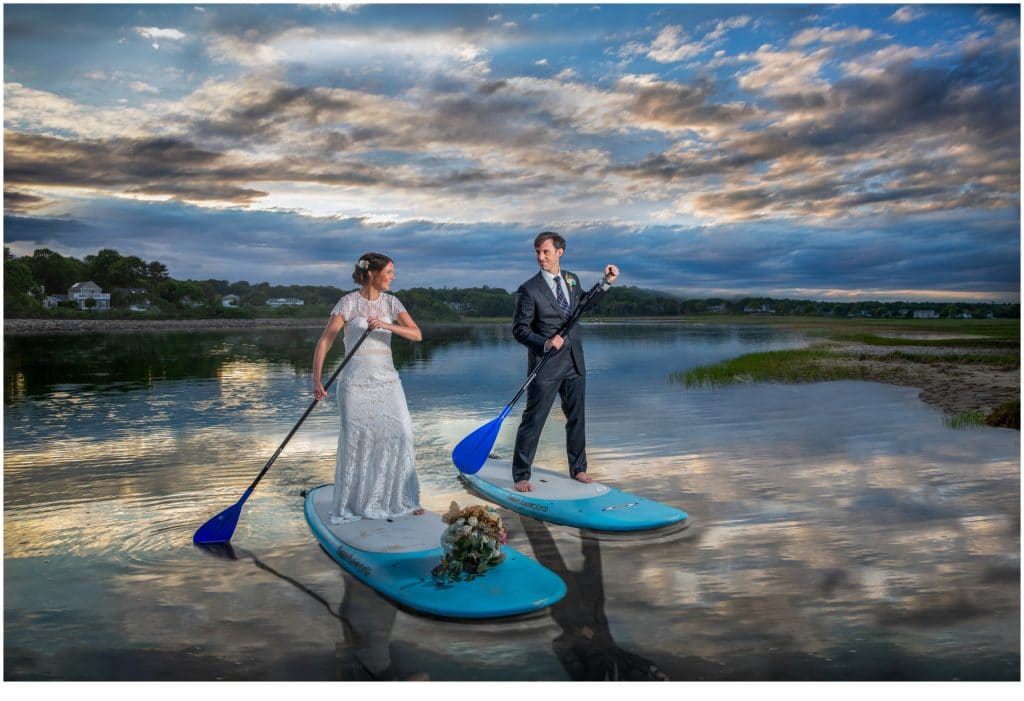 When a pandemic throws a curveball into your wedding planning you make due. I am so happy these two were able to have a special day. It was such a pleasure photographing their Kennebunkport Beach Micro-Wedding and reception at the York Harbor Inn.
A SPLIT WEDDING AND RECEPTION, COURTESY OF COVID-19
Jess and Mike have the ultimate "go with the flow" mentality. Their wedding was set to take place at York Harbor Inn in April 2020, and after the virus forced their hand, they rescheduled to June of 2020, in the hopes that Covid-19 would be behind us by then. When May rolled around and the sad truth that June was also not going to allow a wedding to take place with all of their friends and family, Jess and Mike resorted to Plan C.
They gathered in June with about 20 of their closest friends and relatives on a beach in Kennebunkport and exchanged vows as the waves crashed behind them. I am ever grateful that they asked me to not only photograph their beach micro-wedding ceremony but also asked me to stay on board for their reception that was to take place later in the year, when some restrictions might be loosened.
THE BENEFITS OF A MICRO-WEDDING
One thing that I can say without a doubt is the best part, photographically speaking, about having a micro-wedding, is that less time needs to be spent with family photos, and often there is no wedding party present either, which allows couples to use their time to focus on more creative images in more stunning settings!
Jess and Mike hired me for only 2 hours of coverage on their wedding day, but in that time we were able to capture their beach ceremony, as well as photos of them alone on the beach, with a surfboard (a favorite pastime of Mike), and paddleboarding. While these images take a little more time to create on a wedding day, having a full hour to wander as opposed to the standard 20-30 minutes I'm given on a traditional wedding day, means that we can capture some truly personalized and unique wedding photos that nobody has seen before! We even had enough time to drive to the summit of Mount Agamenticus and photograph Jess and Mike during the stunning, colorful sunset that day.
I am absolutely in love with how their photos came out from their beach micro-wedding.
RECEPTION TO FOLLOW….. IN 3 MONTHS
As September came near, Mike and Jess realized that travel from California would be difficult for most of their guest list, and their 50 person party (within guidelines) turned into an intimate 20-person gathering at York Harbor Inn. The coordinators at the Inn were excited to try something new and set their garden and gazebo for an intimate outdoor garden party, as opposed to their normal indoor reception. The hydrangeas and roses were in bloom, and the setting was absolutely perfect. Jess and Mike even brought her Sola Flower arrangements from her wedding day, which her mother hand-made, and put them on the tables for centerpieces.
One of the main things that drew Jess and Mike to the York Harbor Inn was the pub, with dark wood and the feel of a ship's living quarters. They had imagined their afterparty being held there, and while they weren't able to see that happen now, we were allowed to use the pub for a quick photograph of the couple sharing a pour of beer.
A BOND FOR LIFE
When a wedding couple shares with you the emotions of several plan changes, the loss of their dream wedding, and the re-creation of a new dream, you form a bond. When you share with a couple the fears of the loss of an entire year of wedding work and the reality of financial struggles with you as you navigate an unprecedented year, and receive undying support from them, you form a bond. Through this crazy year, Jess and Mike have shown a kind of caring, selflessness, and unending positive attitude that is very hard to find in the world we live in. The words "we trust you" were spoken many times, and will never be forgotten. When their final images were delivered, Jess said they were quite possibly moving to Maine soon, and that they have found their "photographer for life". The happiness I feel when given this kind of trust is why I do this job, and I can't be more thrilled to watch as their life moves forward together and photograph it all!
Congratulations and so much love to Jess and Mike!