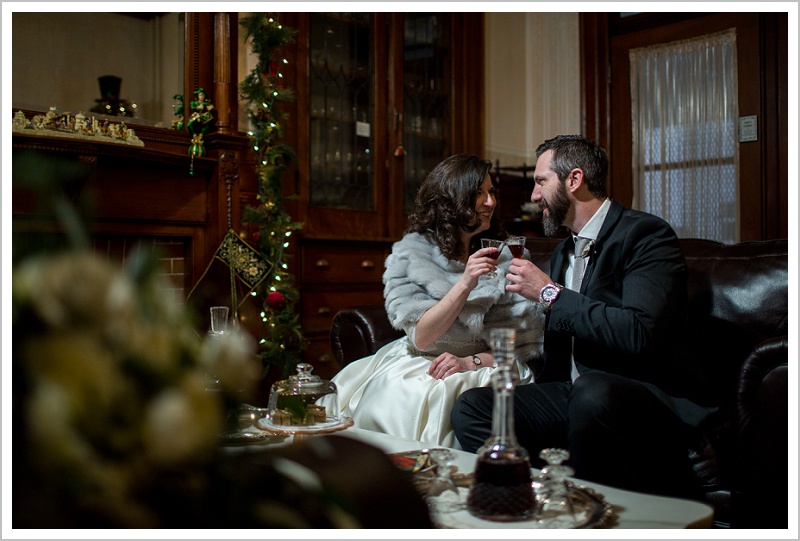 This wedding is a testament to how beautiful winter weddings can be!
Just as Mainers sat in consistently sub-zero temperatures and wished only for summer to come as quickly as possible, Jamie and Laura traveled to Maine just to be married in the snow and cold…. and they got both! The temperature on their wedding day dipped to about seven degrees, and the lightest prettiest snow covered the ground all day.
They wanted a more intimate guest list for their winter wedding and chose to make the details very personal as well. They were married at The Agora Grand in Lewiston and chose to create an atmosphere much like a classic novel. With grays and whites complimenting the winter weather outside. With Christmas lights and decorations throughout the venue adding even more to the storybook feel.
The little details make all the difference. From Jamie's custom cufflinks to the paper flowers and ribbons. Even Jamie's socks gave a smart nod to Harry Potter.
Laura's dress was vintage and special ordered. I just love intricate lace details. A fur wrap added the most amazing touch for their snowy first look outside the wedding venue where they shared a kiss in the lightly falling snow. Not to mention her fur boots!! 
After their first look, we took the traditional bridal party photos outside and then made some epic black and white images that look like they are out of a mystery novel. So much fun!!!
Their love of literature is ever present. They created special booklets in which to write their vows to each other, the boutonnieres and some flowers in Laura's bouquet were made from pages of books, their guest book was created from library cards, and floral cones made from pages of Harry Potter books adorned the ceremony aisle.
Being musicians, it was such a wonderful personal touch to hear Jamie and his groomsman, Wyatt, play at the reception. Jamie wrote a song just for his new bride, and they continued to play until dinner service began. When they stopped a resounding "don't stop!" was heard from their guests. A perfect little touch that only this couple can share, making their wedding even more special.
Even though they chose to have a smaller wedding they sure knew how to have a good time. Dancing the night away and enjoying each other's company. At the end of the night, Jamie and Laura agreed to come outside with me and brave the cold for about 2 minutes in order to get an amazing photo of them in the blowing snow, and I'm so happy they did!
I wish them so much love and luck in the future, and I cross my fingers that our paths cross again someday!