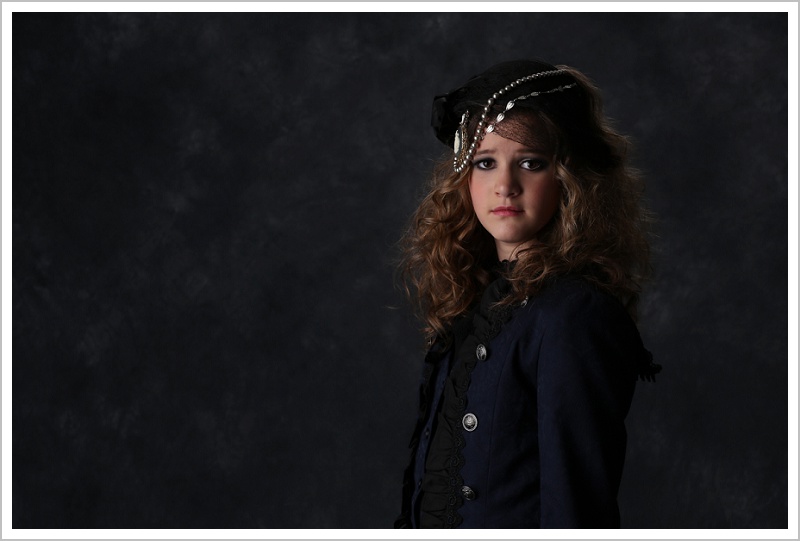 I love creating conceptual shoots!!! This one, titled "Keeper" was no exception, highlighting the special bond between the girl and her dog. It came together so beautifully!
I love how the details of the coat and the headpiece catch the eye and draw your attention to Ava's face.  My intention was to leave the rest of the image quite dark and muted, so you can focus on her expression. I wanted the feeling of the image to remind me a little of the story of the orphan "Oliver", and for there to be some thought about the title of the final image of the shoot, of her and her dog, almost the same size.  Is the dog her keeper, or is she the dog's?  The sweetness in thought that they might be each other's protectors was in my mind as I shot this concept.
I was inspired by the Victorian era and wanted to create something with a child with a Great Dane. Ava was my wonderful model, and I love her look for this shoot, and Kilo was the super adorable Dane that came to the studio to join us that day. The amazing costuming was created by Rebecka Campbell, hair by Alisha Salisbury, and makeup by Hanna Jalbert of Beauty Couture. Everyone did an insanely great job, as usual!! Thank you so much!
The last image you see below was entered in the 2017 Maine Photography Show in Boothbay Harbor and was awarded second place for color images, and also awarded a blue ribbon in the Maine Professional Photographers Association's 2017 Image Competition.