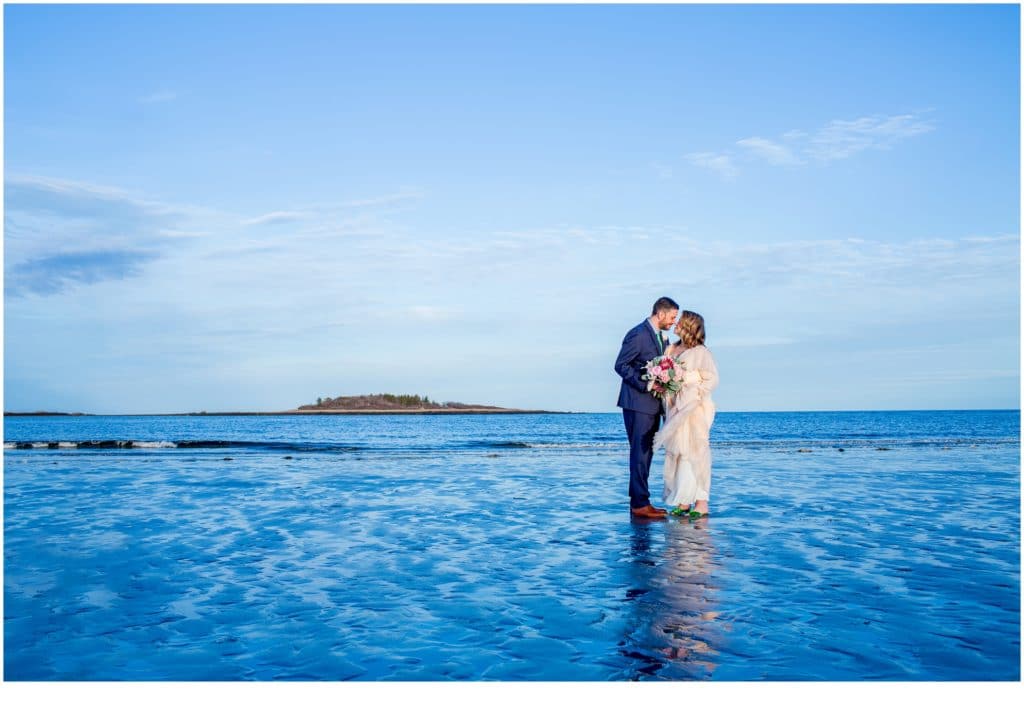 A POP OF GREEN
As a wedding photographer, I get to hear so many unique, funny, heartfelt, and emotional ceremonies. Jill and Kevin's Intimate Wedding at Hidden Pond, Kennebunkport may have been one of my all-time favorites. Michelle of Swoon Union Ceremonies was asked to officiate their wedding. Not only does Michelle officiate, but she also writes vows for couples all over the globe. She makes it personal, getting to know each couple, and creates some of the most heartfelt vows I've heard to date. Jill and Kevin's ceremony opened with these words:
"It's fitting that Jill and Kevin ended up marrying in Spring, this season of renewal and new growth. The fresh green that surrounds us is symbolic in many ways as Kevin and Jill find themselves unconsciously gravitating towards green — when choosing items for their home and even in Jill's stunning engagement ring, which they lovingly designed together. They live in Greenpoint. And, importantly, green is the color of the Heart Chakra, the wellspring of unconditional love, compassion and joy. It's associated with balance, serenity and calmness; qualities that are abundant in Kevin and Jill's partnership."
You'll notice the green in Kevin's socks, his tie, and even the dress of "Best Pam", as they called her, who chose her dress for the wedding not having any idea that green was part of the color scheme. You'll also notice Jill's ring, and her green shoes! How perfect that their union begins with a note of the symbolism of this color and the part it plays in their lives.
A WEDDING WITH A SENSE OF HUMOR
Not only are Jill and Kevin wonderfully warm and caring individuals, but they have a sense of humor that is bar none. My time began with Kevin, as he put on the final touches to his suit, and received a gift of cufflinks from Jill. Not knowing that not all dress shirts have holes for cufflinks, he and his best ladies hunted down a knife sharp enough to punch holes in his shirt to accommodate the cufflinks, laughing the entire time. Kevin's sister then attempted to pin his boutonniere on his jacket, accidentally pricking him in the chest with the pin, causing him to yelp out in pain, followed by a roar of laughter as they joked that his shirt might now have a red spot on it. His sister then presented him with a small framed photograph of their parents, who had passed some time ago, to keep in his jacket pocket, only to discover the pocket was sewn closed, and the kitchen knife was employed yet again, as they realized the day was off to a hilarious start.
Jill's cabin was bustling with excitement as her family helped her dress. She chose a loose fitting and flowing dress. The underneath was an off-white slip dress, and there was a pale pink wrap that went over it that floated in the breeze like nothing I've ever seen. It was a perfect and unique look for this spring wedding.
A PERSONALIZED CEREMONY
Their ceremony was personal and brought tears to the eyes of both Kevin and Jill, as well as many of the guests, who each got to hold and bless the rings before they went on their fingers.
As Swoon Union Ceremonies expressed during the ceremony,

"When I asked Jill what she adores about Kevin, she said 'I adore the person he is, everything about him. I am forever his #1 fan.'"
"When I asked Kevin how Jill has enriched his life he said, 'Jill has made my life better in every possible way. She has made me and makes me want to be a better person. I'm at my happiest when I'm with her.'"

You can FEEL this between them, and it gives me the warm fuzzies in my heart.
GOOSE ROCKS BEACH, KENNEBUNKPORT
After the ceremony we took a short drive to the beach, only a few minutes away, and were able to capture some of my favorite images of the day. I love the time each couple has alone, and this one was special. There wasn't another person in sight. The beach belonged to them that night.
A SMALL RECEPTION WITH BIG PERSONALITY
When they returned from the beach, the reception began, tables adorned by Minka Fine Flowers, one florist I highly recommend. Jill danced with her father, and Kevin with his sister, before they danced their first dance together as husband and wife. Toasts that brought more laughter to the room, and references to Jill's sense of humor and some of the jokes she wrote when employed by a late night talk show kept dinner lively, and cutting of the stunning cake by Bear Brook Bakery followed.
I couldn't agree more with Swoon Union when she said: "May your sense of humor and playful spirit continue to enliven your relationship." This is one heck of a family, one heck of a couple, and they have one heck of a future ahead of them. I hope to see them again soon.
VENDORS
Venue: Hidden Pond Kennebunkport, ME
Officiant: Michelle of Swoon Union Ceremonies, Portland, ME
Florist: Minka Fine Flowers, Kennebunkport, ME
DJ: DJ Jon at Event Mix DJ, Portland, ME
Cake: Bear Brook Bakery, New Gloucester, ME
Rentals: One Stop Event Rentals, South Portland, ME
Rentals: Details Event Staging, Kennebunkport, ME
Dress: Diana Deane Bridal, Brooklyn, NY
Hair: Colleen at Aphrodite Salon, Portland, ME
Makeup: Brenda at Adore Rouge, Portland, ME
Suit: The Black Tux
Cufflinks: Donald J. Fuss Fine Woodworking
Engagement Ring: Jack Weir & Sons
Wedding Bands: Bellagio Diamonds