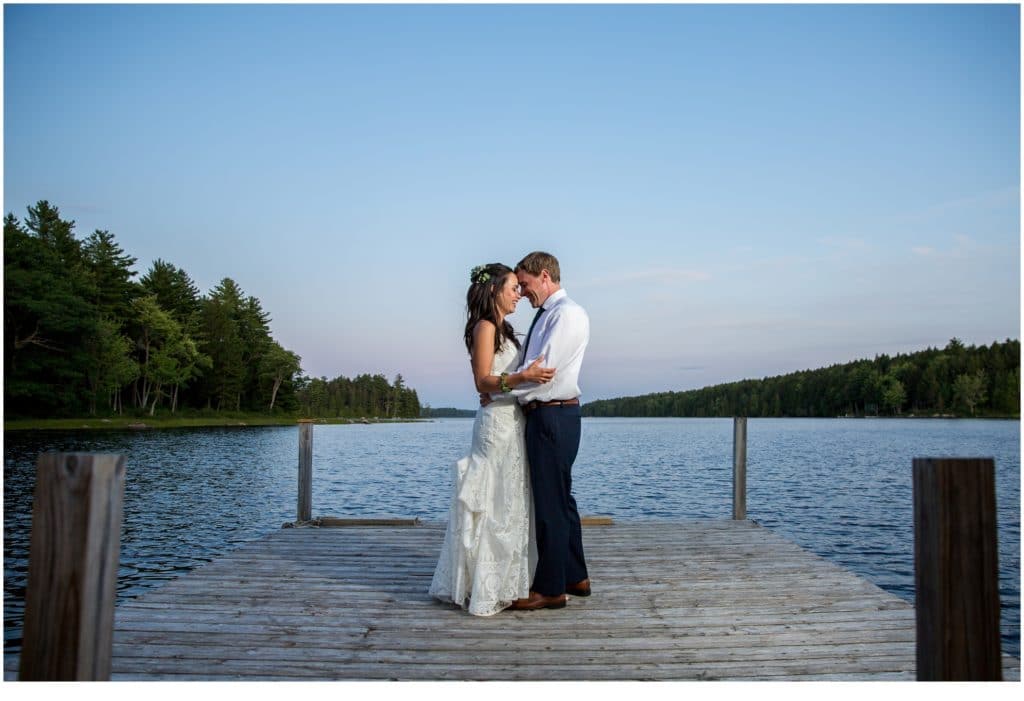 Nicatous Lodge
Family means a lot to Erin and Mike, who came to Maine to get married at the family's lakeside Lodge in Hancock County, Maine, along a long dirt road with absolutely no cell phone reception. Nicatous Lodge has so much meaning to the family, and it warmed my heart that they invited me to be their wedding photographer, giving me the opportunity to be part of their small family gathering and personalized ceremony. Such a beautiful lakeside wedding!
A Sweet First Look
Erin and Mike decided to forego the photos of themselves getting into their wedding day attire and instead kept their wedding day coverage to the core of the day, from the first look through the first few songs after the DJ opened the dance floor at the reception. The first look was in the woods, which fit the bohemian theme Erin had painstakingly put together for their wedding vibe. Her hair was down and curled, and her dress was made of stunning lace. When they met in the woods along the water, far from the eyes of family and friends, they shared an emotional moment of happy tears and gentle hugs.
The Ceremony
The arbor used for the ceremony was hand made of driftwood found along the lake and adorned with flowers. The wedding party was in dashing suits and white lace cocktail dresses, which added to the bohemian feel. Their little dog Cusco was even dressed to the nines in his own suit. I had never photographed a wedding where the bridesmaids wore white, and I have to say, it was absolutely stunning. They chose to write their own vows, and although they had rehearsed them dozens of times before the ceremony to avoid being over-emotional, neither one of them could hold back the tears as they read them aloud in front of their closest loved ones.
The Reception
The tables were set with an amazing array of mismatched antique blue and white china, blue goblets, and fresh floral arrangements. Each guest received a gift of rose quartz, which is meant to aid in loving relationships and bring a gentle energy to one's day. The speeches were heartfelt, funny, and emotional, and the first dance was choreographed! A lively song that surprised Erin's friends and family, who said they never would have imagined her, being a reserved person, doing this at her wedding.
What a fun day for a lakeside wedding in the woods of Maine. I'm so glad I was part of it!
The couple has chosen not to share any vendor information.