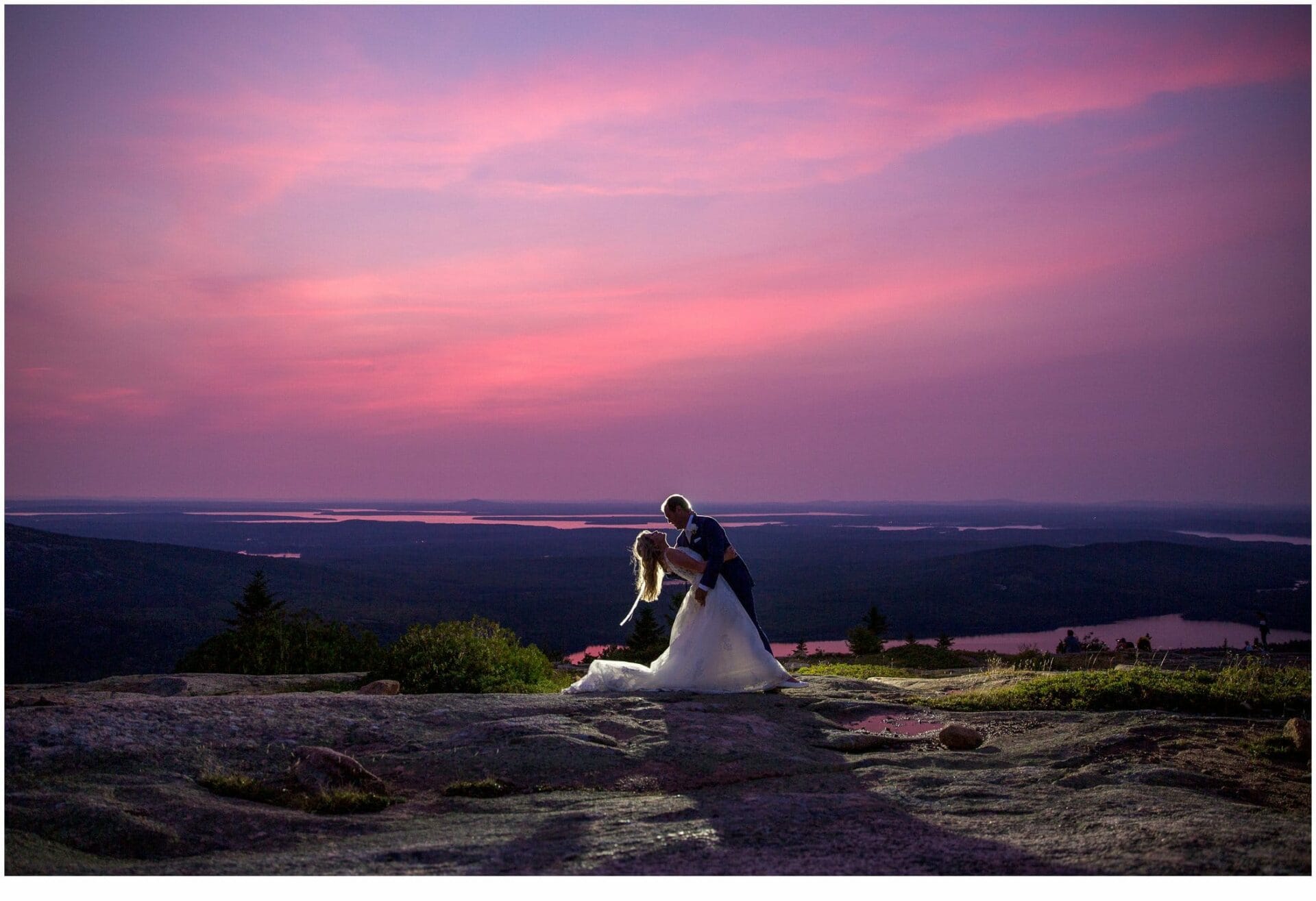 Diane contacted me to photograph her Bar Harbor elopement in Acadia National Park. She and her fiance, Brian, were planning to visit from Georgia and had a special plan for their wedding day. I worked with Diane to make sure we created some unique photos of their ceremony and unforgettable images throughout the park afterward.
THE MAGIC OF ELOPEMENTS
There's a very particular reason I love elopements so much: we are able to make our own plan. There are no guidelines. There are no expectations. It's just us creating something special. For Diane and Brian's elopement, they wanted to be married at the Harborside Hotel in Bar Harbor, which has a beautiful garden and manicured lawn. Diane is a yoga instructor and scheduled a psychic reading as she began her wedding planning, and was told that she was to be pronounced married at exactly 2:00 pm. So we made it happen!
HARBORSIDE HOTEL, BAR HARBOR
Diane knew Brian's heritage was important to him, so she hired a bagpiper as a surprise for the ceremony, and their officiant pronounced them husband and wife at 2:00 pm on the dot. Afterward, we spent some time at the Hotel taking photos in the garden and then headed down to the cove where low tide provided some gorgeous photos of the Maine coast.
ASTICOU GARDENS
One place that is quite stunning for photos, even if it's a bit of a drive from Acadia, is Asticou Garden. Briand and Diane wanted a range of settings for their photos, with each one celebrating the beauty of Bar Harbor. I recommended Asticou to them and they loved wandering the gardens with me for some fun photos. Diane let her young spirit shine as she jumped and played and the chemistry between the two of them was wonderful.
ACADIA
After Asticou Gardens, we took a break. Brian and Diane headed to dinner somewhere for about an hour and a half to celebrate on their own, refresh, and prepare for a second round of photos, this time in Acadia National Park. Knowing they needed a ticket for the summit of Cadillac Mountain at sunset, Diane planned ahead and timed it perfectly. We stopped at Jordan Pond first, and the two were adventurous enough to climb out onto some rocks for a perfect photo with the Bubble Mountains in the background, and then we headed to Cadillac where the pink sunset over Eagle Lake was absolutely spectacular.
Just for fun, at the end of the day, Brian decided to try a yoga pose (he's not a yogi), and Diane showed him something they could both do together for a fun photo. I love the romance that comes through in these sunset photos, too. I don't think any of us could have asked for a more perfect day for their Bar Harbor Elopement.
Vendors
Photography: LAD Photography
Wedding Dress: Wedding Angels Bridal Boutique
Groom/Brian's Suit: Little River Clothing 
Officiant: Bar Harbor Weddings
Venue: Harborside Hotel
Flowers: Queen Anne's Flower Shop
Wedding Dinner: Reading Room Restaurant at the Bar Harbor Inn & Spa
Rings: Key's Jewelry
Bagpiper: Acadia Piper, Ernie Smith
Bridal Hair and Makeup: Echo Salon